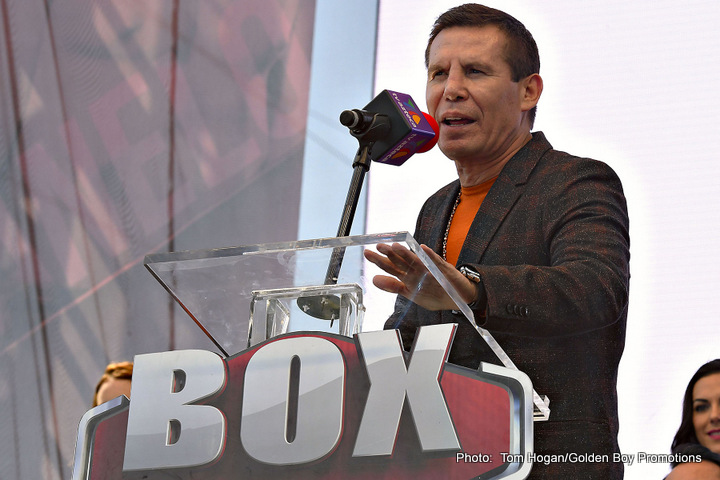 Simply unbeatable in his prime years – 1984 to 1993 – Mexican icon and all-time great Julio Cesar Chavez tore through the super-featherweight, lightweight and super-lightweight divisions, capturing world titles in each weight class and retaining them for a substantial amount of time.
Chavez ducked no-one and he hadn't even heard the term "cherry pick." Among the fine fighters Chavez defeated: Mario Martinez, Ruben Castillo, Roger Mayweather, Rocky Lockridge, Edwin Rosario, Jose Luis Ramirez, Meldrick Taylor (twice) and Hector Camacho.
And this, the prime, seemingly unstoppable version of Chavez didn't just beat these fighters, he busted them up and he ruined them. The sublime Taylor for instance – the man with arguably THE fastest pair of hands in all, yes, all, of boxing – was never, ever the same force again after his epic, unforgettable battle with Chavez. The March 1990 fight did see Chavez come closer to defeat than at any other point in his career (at that time), but the sheer damage Chavez did to Taylor before the infamous last-round, last-two-seconds stoppage that caused so much controversy and debate more than proved who was winning the fight, the war.
Taylor was winning the points, and his sheer guts along with his sheer class proved more than admirable, but Chavez had passed the ultimate test and he was now an incredible 69-0. Imagine, 69-0! And we laud over Floyd Mayweather's 50-0 ledger!
How would things have been had Chavez opted to retire, go out on top back in 1990? Would we all recognise Chavez as "T.B.E" today?
For a time it really did look as though Chavez would realise his dream of reaching the perfect record of 100-0; a quite unthinkable pro record for a modern day boxer. Only the slick cuteness of Pernell Whitaker, in THAT draw in 1993 prevented Chavez from reaching numbers that would likely have surpassed Rocky Marciano's 49-0 record as the most cherished in the sport. Chavez lost that day at the Alamodome, even if he has never admitted it, but one bad performance – against as tricky and as awkward a defensive fighter as you could ever care to mention – does not rub out all the great fights and victories that came before.
And if we do compare Chavez to Mayweather, as may fans do, it must be recalled how "Money" had that gift of a win over another Mexican warrior, in Jose Luis Castillo in their first fight.
Chavez fought on after thre Whitaker nightmare, and it was just three fights later when big underdog Frankie Randall – 24 years ago today – made it official and took away the Mexican idol's perfect, unbeaten record. Chavez was knocked down for the first time in his life against Randall, a sign that his best days had passed him. Chavez of course had been fighting for 14 long years at this point, a time in a career when many fighters would have been looking at the exit door. Again, just imagine if Chavez HAD retired after the win over Taylor, or shortly thereafter – would he today be ranked even higher the world over than he actually? Sometimes, as the great Don Dunphy once said, it is how you go out in boxing, not how you come in.
But Chavez, as natural a born fighting man as anyone you could point a finger at, fought on and on; winning the return with Randall (under controversial means) and continuing to defend his belt until he ran into the new superstar of the sport in Oscar De La Hoya. Chavez never got to 100-0, but he did have well over a 100 fights; winning most of them. He went on too long of course, losing his final fight in 2005, but Chavez has a special place in boxing history that no man will ever likely take from him: the distinction of being the greatest fighter his great country ever produced.
This honour, this distinction, means more to Chavez than a shiny 100-0 record ever could. And far, far more than any 50-0 record ever could! Heck, Chavez broke that record back in the 1980s.