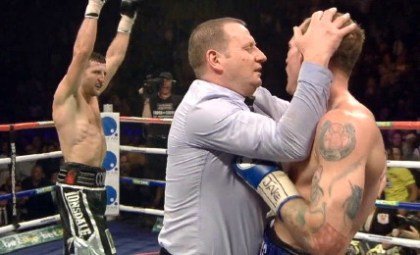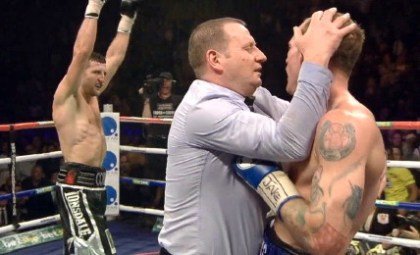 In the aftermath of his controversial 9th round victory over unbeaten George Groves, Carl Froch is left with an array of options. The manner of the stoppage win left many fans with more questions than answers after referee Howard Foster appeared to stop the fight prematurely. Groves protested that he was not that badly hurt and could have recovered, while the Froch camp argues that the referee stole a convincing knockout victory from them. Either way, the ending robbed both fighters of a satisfactory conclusion to the bout.
'The Cobra' recently suggested that he would prefer to "move forward" with his career and forget about the quick boxer-puncher whom he defeated in his last fight. Despite many people, his promoter included calling for a rematch, Froch seemingly wants to fight on without ever having to worry about Groves again.
Stylistically, this is a wise move. Groves' quick feet and hands gave Froch nightmares for much of the fight, and he displayed the power to stun the usually granite chinned Froch. He was hitting the champion with punches that he did not see coming; a right hand over the top dropped Froch in the first round, reminiscent of the punch Jermain Taylor landed to floor Froch for the first time in his career. Groves' angles and athleticism would provide a difficult assignment for Froch no matter how many times they met.
One thing many fans observed was Froch's apparent decline regarding how he looked physically. Despite keeping himself in good shape between fights, it seemed to me and many other people that his speed and reflexes had slowed somewhat. He was never a quick fighter in his prime, but the lack of head movement and slow reactions were alarming. At age 36, and with numerous wars under his belt, maybe father time caught up to him on that November night.
Over the last five years, Froch has fought a murderers' row tour of the 168 pound weight class, with perennial contender Yusaf Mack being the only respite from top echelon opposition. With this in mind, I would not begrudge Froch if he decided to follow a route that does not end in Groves'.
With his prime appearing to vanish, it looks as though he may cash out with one more big fight, possibly in Las Vegas. Julio Cesar Chavez jr, Andre Ward and Gennady Golovkin have been talked about as potential opponents who would satisfy an American audience, and Froch would like to perform in the fight city before he retires:
Froch said to the BBC Sport "I've boxed in America numerous times, but it would be an honour to fight somewhere like Las Vegas because I've never done that under the big lights with all the glitz and the glamour on the main stage."
He has talked about a rematch with Andre Ward, the only fighter whom he has not defeated. A fight with Ward would be a harder one to win than against Groves due to Ward's supreme skillset. However, I think there is less chance of him being hurt or stopped against Ward who is not a concussive puncher despite his pound for pound rating. Also, a loss to Ward would not be as damaging to his legacy compared to a loss to someone else. Ward will probably go down as the most skilled operator of his generation and a first ballot hall of famer. Froch could possibly join him in Canastota providing he doesn't suffer embarrassing losses at the end of his career.
Froch has always been known as warrior willing to face the best in his division, and as much as Groves may not like it, I think he is entitled to 'cherry pick' the second best fighter in the world, if you can indeed 'cherry pick' Ward.