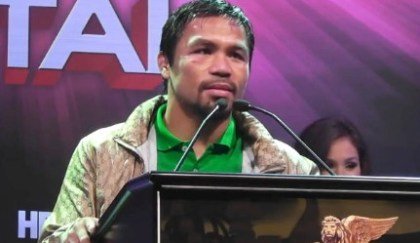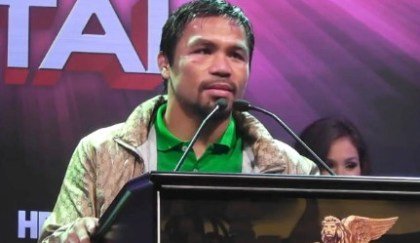 Anand G. (San Antonio, TX): Manny Pacquiao is now the mandatory challenger for Floyd Mayweather's WBC strap. How do you see this set of negotiations going between the two camps now that there's a governing body both men respect at the center of it?
Vivek W. (ESB): At the core of this drama between the two camps, we've seen it all and heard it all, but this new wrinkle marks a first! With Pacquiao being a mandatory challenger, it puts Mayweather in an odd situation. He owns the upper hand at the negotiating table, but does Pacquiao's mandatory challenger position carry enough weight to force Mayweather into taking a deal that isn't commensurate to what he rates at this stage of his career? No! Not at all. That said, I do think it serves as a breeding ground for new results. One thing few have considred is the fact that contrary to popular belief, Pacquiao doesn't have an exclusive deal with HBO.
Bob Arum has routinely stated in the media that the problem lies between the two networks being able to work together. Of all the media to interview him, I've yet to see one force him to explain such a statement. It's simply not true. At some point, it's going to be repeated again that "the fight can't happen, because the networks and teams didn't agree to terms", but let me be clear: the current situation presents the easiest path to terms between the two camps. Never in the past have we seen the path this clear for a collision course between the two icons. Initially, we had two mega stars. Now, we have one mega star, and another whose name lives on, yet his reputation remains on life support, evidenced by the abysmal 490K PPV buy rate with Rios.
Pacquiao has one victory since 2010, his finances and assets are few and frozen, and his body is changing as age sets in. Win, lose, or draw, there's nothing that should prevent him from forcing this fight now. We don't know how much he would make. But what we do know is that he will make more than he will against anyone else in the game today. This is the first time where Mayweather's once ridiculous 70-30 split offer is actually on solid ground. If there is any hesitation to sign even a deal that lopsided, it will remove all doubt in my mind about Top Ranks true interest in making this fight happen. Pacquiao can fight on Showtime with ZERO repercussions. He is not legally binded to the network.
Many have put the spotlight on Mayweather to see if he will vacate the strap or force the fight. I don't understand that logic, in the sense that Mayweather realizes his worth.
Right now he can make equal or greater money with, or without the strap. On top of that, he isn't particularly swayed by public opinion, so people questioning his legacy for vacating the title means absolutely nothing. At the end of the day, Mayweather realizes what his worth is. And a mandatory challenger, regardless of his name, isn't going to force him to take a penny less. I don't agree with it in some respects, but in all fairness, I've never been in the situation. If he felt he had the upper hand before and bowed out due to faulty terms, how anyone thinks he won't do the same now is beyond me. There's never a bad time for a good fight, but honestly…..I'm not holding my breath for this one! You shouldn't either!
Marian B. (Reseda, CA): Of all the fights this past Saturday night, Which performance stood out to you the most and where do you see next for the winners and losers of the night?
Vivek W. (ESB): I found the entire evening to be one major shocker! There were so many things to happen totally against the way I felt they would, confirming yet again that this is in fact (to quote HBO's Jim Lampley) the "theater of the unexpected". Going into the evening, I thought the "raw and unpolished" Shawn Porter would be outclassed. Right before my eyes I saw a level of maturation that all Champions in the making dream of. He took the fight to Alexander with power and speed, and a jab we've never seen. In Trout vs Lara, I earned a bit more respect for Lara. For once, he showed a bit of aggression, which I loved; but there still seems to be a penchant to take his foot off the gas, cruising to the finish line, rather than storming through it. Not an attribute that I care for, but nevertheless, it was a sign of improvement for a guy whose talent doesn't require much more.
In the Judah/Malignaggi fight, I felt Malignaggi would land more, but Judah would land harder and cleaner, giving him the nod on the cards in the end. What we got instead was a Judah that looked totally disinterested, but only after Malignaggi took the fight from him, and effectively took his heart and determination, as well. On the HBO side, Agbeko's very lackluster effort and Kirkland's return that saw him take a major lickin' and keep tickin' certainly raised my eyebrows! All in all, it was just a very awkward night. If I had to narrow things down to one particular performance, I'd have to say it was probably Shawn Porter's performance. I was just very happy to see him finally reach the upper echelon in the sport.
Regarding where I'd like to see these men go from here, staring with the winners, Porter has made it clear that coming down from 154 is manageable, and everyone at '47 should be on notice. The kid can take a punch and land even more. I'd take him over any several big name players at '47 right now. I'd love to see him face a Timothy Bradley or even a Danny Garcia. Kirkland, I'd love to see face anyone of the big players at '54. His relentless approach would make him hell in a hand basket for nearly anyone right now. Lara/Canelo is a fight I'd like to see happen.
Canelo had a problem with the skilled Mayweather. Lara would be an interesting outing. Malignaggi is a fighter I just like to see fight. Love his style and his passion. Judah is a guy I'd rather just see him walk away. If he can't get pumped up to fight in Brooklyn, I don't think it works out anywhere else. I have great respect for the guy, but the writing is on the wall. It has a red background with (4) letters in white. It says "STOP"! And I hope he does! The other guy that I'm very interested in seeing is Anthony Dirrell. I'd love to see him in against GGG, actually. Dirrell is far more skilled than he gets credit for, and I think he's a tough outing for everyone at '60. We'll have to see how it all unfolds, but what I like most about the results this past weekend is the fact that it practically set up another year worth of incredible action in 2014. Stay tuned.
Calvin H. (Charlotte, NC): I hear Andre Ward is trying again to get out of his contract again. Where do you think this process goes? And do you think it will result in any type of lengthy layoff like we've seen with other fighters?
Vivek W. (ESB): I think it's too early to say, relative to a potential layoff resulting from a legal battle. As far as "where the process goes", at this stage it's also clearly too early to know. According to sources, Ward has based his position on the strength of a situation that parallels his with Oscar De la Hoya who was allowed to get out of his contract with Top Rank under similar grounds. There are a lot of details involved that haven't and may never make their way to the headlines. Based on that alone, I think we have to kind of sit back and watch this play out, as the only ones who know the reality here are the two men involved, and God! What I will say is this: Andre Ward remains one of the perennial talents of this era. When you look at his resume, it's feasible to say his accomplishments over the past 3 months run circles around any one in the sport.
When we look at his success, and contrast it with the marginal compensation attached to that success, I think there lies the true angle of frustration…..and I can't say I blame him. Few outside of the promoter and the fighter know the specifics of the contract at hand, but what we do know is that Ward has not made the type of money commensurate to the performances we've seen him put in. Aside from that, he's on a network that hasn't always shown him the most respect. I think he's handled it all with class, but at the end of the day, water runs dry! The squeaky wheel gets the oil, and right now, Ward is squeaking! He feels he deserves a better contract, and without knowing the specifics, based on what I've researched, I think his argument holds good weight!
I've always respected Goosen on a business level and don't want to turn this into a bash session, but respectfully, he has his work cut out for him, as the stipulations in the contract Ward was given to sign back in 2004 apparently border non-compliance with state laws. This is something that has to be reviewed and addressed. According to sources contacted, that process is expected to be a rather swift one. In the end, hopefully we get an outcome that's fair and just, and both parties can move on. I can only hope so, as Ward has missed enough time from the ring and another lengthy layoff won't help. Stay tuned for new developments.
Casey N. (Orlando, FL): I found myself totally blown away with the skill level of Guillermo Rigondeaux against Joseph Agbeko. Mayweather is listed as the best fighter today, but I believe Rigo could be better in the end. What separates the two in your opinion?
Vivek W. (ESB): I would definitely say that Rigondeaux is a very comparable talent to Mayweather in many ways. Despite his brilliant performance, I don't think it's totally fair to say that this stage that he has unseated Mayweather, considering the relatively short tenure on the pro level. But without doubt, his talent is as polished and refined as anyone in the game today. Although Andre Ward is the lock for the #2 spot (P4P) in the sport, and Broner employs the antics of Mayweather, I've always said that Rigo is in fact the closest thing we have to him in the sport today. I can't think of one person in the sport not named Mayweather who uses ring generalship on that level to completely control the opponent. There's literally no way to attack. He's like a King Cobra. He's lightening fast, and he strikes with precision every time there's an opening.
When comparing he and Mayweather head on, I think there's still a few gears to the Mayweather blueprint that we simply haven't seen from Rigondeaux. Both are lightening fast. Both are far better punchers than people seem to give them credit for. Neither one is a feared puncher entering the ring; but that all seems to change when the precision punches they throw find a target. If I really had to narrow down a true different between the two, with Rigondeaux, he's more prone to stay outside the pocket and systematically pick you apart. Mayweather will literally stand in your face within your striking distance, and eat you alive! It's uncanny to see a persons reflexes so sharp, and it's a thing of beauty.
In Mayweather you have a guy who has just done it at such a high level for so long that it's literally impossible to try to take that from him. He's an amazing talent and to be quite frank, in my era, I've never seen one nearly as skilled and/or fundamental. When you look at each of the categories we grade fighters on – things like speed, reflexes, offense, defense, etc – this is a guy whom even at this age still performs like he's in his prime, and continues to show improvement each step of the way. If Rigo is blessed enough to have this level of longevity and remain undefeated, we may have something to debate. But until then, I think it's a non-topic, as Mayweather is simply on a different level. This isn't a knock on Rigo. It's simply a strong acknowledgement to the talent of a fighter who simply is out of this world. At the end of the day, both men have the stuff legends are made of. Enjoy them while you can!
(Vivek "Vito" Wallace can be reached every Tuesday night on "Left-Hook Lounge Radio" at 949.943.1665. He can also be reached at wallace@boxing247.com, Facebook, Twitter (@vivekwallace747), and Instagram (ViveksView).