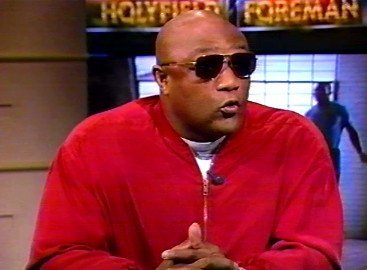 Thirty years ago, to the attention of practically no-one, former heavyweight king George Foreman began training for a comeback that was mostly, if not exclusively inspired by a need for money. "Big George," aged 37 and having been largely forgotten by the sports world, had not boxed, or even clenched his fist in anger (as he would say himself later) for a decade.
It was a dangerous decision to attempt a ring return, and if George had listened to the "experts," he would not have donned the gloves again and tried, quite ludicrously the critics would say, to lure reigning heavyweight champ Mike Tyson into defending against him. We all saw this past Saturday how perilous it can be for a once great fighter to try and do it again when at an advanced age. And even if Foreman was far, far younger in his first comeback fight than Bernard Hopkins was in his (hopefully) final one, the age of 37 was seen as too advanced to be returning to action after ten years out – certainly in 1987 it was.
But Foreman, who would eventually box on at a similarly advanced age to that of the former middleweight and light-heavyweight marvel (George fighting for the final time against Shannon Briggs at the age of 48 and leaving the ring on his feet instead of via the ropes as was Hopkins' fate against Joe Smith Jnr) single-handedly changed boxing history. Slowly – too slowly for the same "experts" who called his comeback a joke yet by the time of his 12th fight or so wanted Foreman to get in there with a top-10 contender – George worked off the rust as he worked over smaller, over-matched opponents.
It caught on with the fans, who regularly tuned into Foreman's fights on ESPN and the like. Soon, magazines of the day such as KO and Boxing Illustrated starting receiving a ton of letters from fans arguing how George could do it – as in beat Tyson. Still the "experts" were having none of it, but Foreman, never too far from a witty line or a self-deprecating joke unashamedly hurled towards himself far sooner than his critics could come out with one, never gave in.
His weight fluctuated – between 267 to 235, to a steady and comfortable (for him) 255 – and Foreman eventually got a crack at regaining his title. Who can forget that April night in 1991, when Foreman, flanked in the ring by his former foes, Joe Frazier and Muhammad Ali, fought an unbeaten Evander Holyfield? Foreman lost the fight yet he confounded the "experts" by going all 12 rounds in a great, sometimes fierce fight.
Not too many people felt the crown would again belong to George, despite how well he had done against "The Real Deal." Yet quite astonishingly, Foreman – after being battered by the recently departed Alex Stewart and out-pointed by Tommy Morrison in a dire effort – had one last great fight, or punch, up his sleeve. If precious few fans who were there will ever be able to forget the incredible Foreman-Holyfield fight, even less will ever be able to forget Foreman's stunning, come-from-behind KO of Holyfield's successor Michael Moorer.
At the age of almost 46, and some seven years and eight months after launching his "foolish" comeback, the king from the early/mid 1970s was at the top of the mountain again – smack bang in the middle of the '90s! It was a beautiful sight, seeing Foreman give a prayer of thanks in a corner as the previously unbeaten Moorer (the first southpaw heavyweight champ in history) was still trying to figure out what had just happened.
And through it all, with all of his logic-defying and "expert" defying success, George never once uttered the words, 'I told you so.' Nor did the gracious, even modest living legend hold a grudge against those "experts" who had so badly ridiculed him and his comeback dream. Thank God – as George did and continues to do himself – this heavyweight miracle was not talked out of taking place. How different would the boxing world be today if Foreman had let his Youth and Community Centre go under due to lack of funds at the tail end of the 1980s?
Vastly different, and a whole lot less inspirational, that's how different. Foreman, more so than any other prizefighter in history, proved to us that taking a risk, even a huge one, can be worthwhile.
Would we even be talking about "Big George" Foreman these days if he had stayed retired after the truly life-changing experience he went through in that sweltering Puerto Rican dressing room in March of 1977?
So remember, miracles can come true. Merry Christmas!