Saturday's World Champion Boxing® telecast begins at 10:00 p.m. ET/PT. Opening the telecast at The Hard Rock in Atlantic City, NJ is light heavyweight titlist Dmitry Bivol taking on Isaac Chilemba in a 12-round bout.
In the main event light heavyweight champion Sergey Kovalev defends his title against Eleider Alvarez in a 12-round bout.
Official Weights from Atlantic City:
Sergey Kovalev: 174 lbs.
Eleider Alvarez: 174.4 lbs.
Dmitry Bivol: 174.6 lbs.
Isaac Chilemba: 175 lbs.
Please Note: Start time for the first bout in the exciting "Super Men" fight card at the Hard Rock Hotel & Casino's Etess Arena on Saturday, August 4, has now been changed.
The new start time for the first bout is 5:30 p.m. ET.
This does not affect the rest of the schedule. The HBO World Championship Boxing broadcast start time remains the same, 10:00 p.m. ET and PT.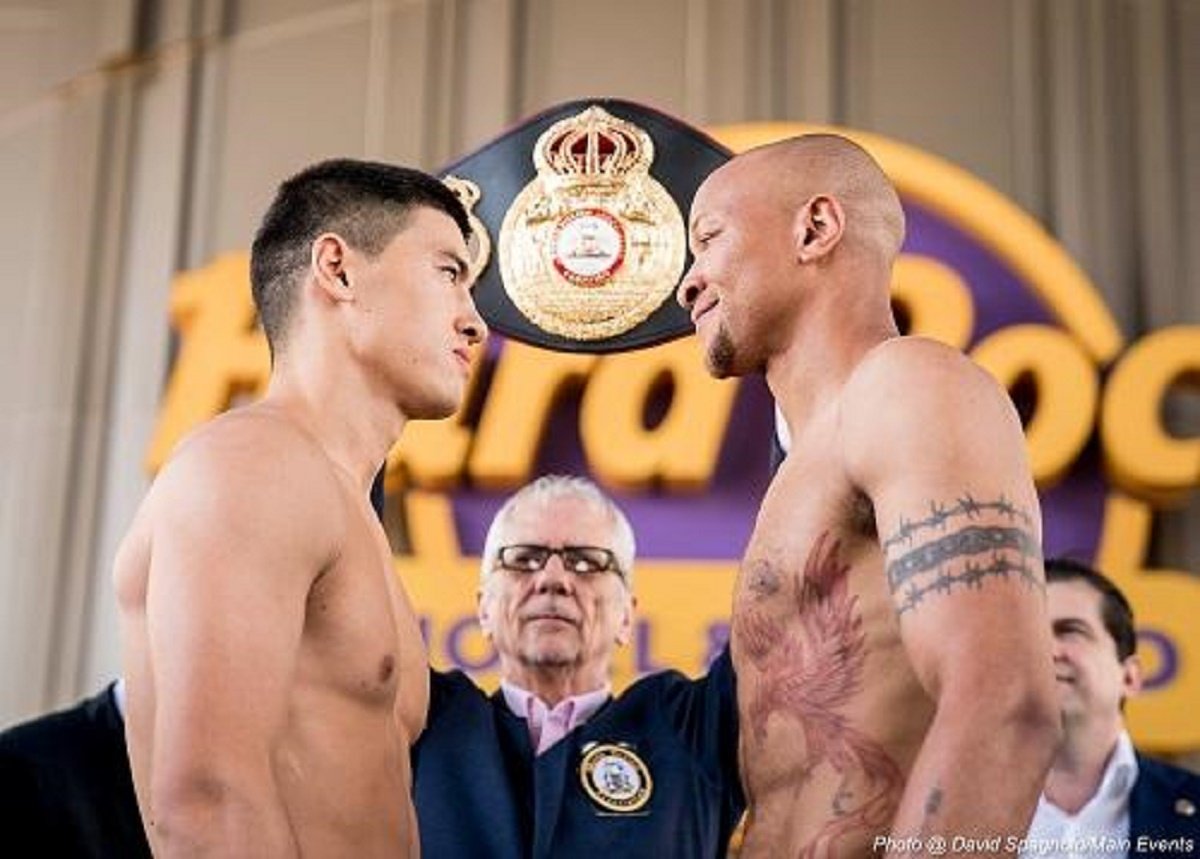 Sergey "Krusher" Kovalev
Eleider "Storm" Alvarez
Chelyabinsk, Russia Montreal, Canada
32-2-1, 28 KOs 23-0, 11 KOs
Weight: 174.0, Trunks: Russian Flag Weight: 174.4, Trunks: WHT/BLK
Bivol vs. Chilemba
Dmitry Bivol Isaac "Golden Boy" Chilemba
St. Petersburg, Russia Malawi
13-0, 11 KOs 25-5-2, 10 KOs
Weight: 174.6, Trunks: Black Weight: 175.0, Trunks: GLD/BLK
Nursultanov vs. Batista
Meiirim "The Sultan" Nursultanov Jonathan Batista
Astana, Kazakhstan San Pedro, Dominican Republic
7-0, 6 KOs 17-14, 10 KOs
Weight: 159.4, Trunks: Red/BLK Weight: 164.0, Trunks: BLK/WHT
Murtazaliev vs. Carcamo
Bakhram Murtazaliev Fernando Carcamo
Grozny, Russia Ciudad, Mexico
12-0, 10 KOs 23-8, 18 KOs
Weight: 153.0, Trunks: Pink Weight: 164.0, Trunks: Green
Galarza vs. Duarte
Frank Galarza
Alex Duarte
Brooklyn, NY New York, NY
19-2-2, 11 KOs 13-5-1, 10 KOs
Weight: 154.4, Trunks: WHT/Blue Weight: 151.6, Trunks: Red/Blue
Ashkeyev vs. Flores
Madiyar Ashkeyev Eduardo Flores
Merki, Kazakhstan Quito, Ecuador
9-0, 5 KOs 24-29-4, 14 KOs
Weight: 153.0, Trunks: Red/BLK Weight: 153.0, Trunks: YLW/BLK
Alexander vs. Douglin
Vaughn Alexander Denis Douglin
St. Louis, MO Marlboro, NJ
12-0, 8 KOs 19-6, 12 KOs
Weight: 166.4, Trunks: BLK/Red Weight: 167.2, Trunks: BLK/GLD/Blue
Dargan vs. Perez
Karl "Dynamite" Dargan Jonathan Perez
Philadelphia, PA Barranquilla, Columbia
17-1, 9 KOs 37-22, 29 KOs
Weight: 135.6, Trunks: BLK/GLD Weight: 136.0, Trunks: Red/WHT
Gogokhia vs. Montes
Enriko Gogokhia Ronald Montes
Zugdidi, Georgia Barranquilla, Columbia
7-0, 3 KOs 18-9, 16 KOs
Weight: 147.4, Trunks: WHT/Red Weight: 148.8, Trunks: Blue
Villarreal vs. Hooks
Ismael Villarreal Kieran Hooks
Bronx, NY Philadelphia, PA
2-0 3-0-1, 1 KO
Weight: 156.4, Trunks: Red/BLU Weight: 156.4, Trunks: WHT/Red