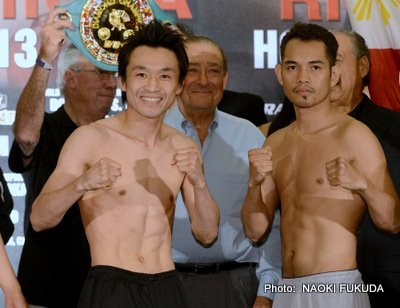 By Joseph Herron: Earlier today from the Marriott Manhattan Beach on the southern California coastline, all four marquee fighters participating in tomorrow night's HBO Boxing After Dark double header, Donaire vs. Nishioka and Rios vs. Alvarado, stepped on the official California State Athletic Commission scale to gain their respective division eligibility.
If the crowd in attendance anticipated some heated moments throughout the media event, they were ultimately disappointed. All four combatants were professional and courteous to their respective foes during the entire Top Rank special presentation.
The big question going into the official weigh-in was whether or not Brandon Rios was finally going to make the division weight limit to become eligible to compete for the WBO Latino Junior Welterweight title tomorrow night.
Before his previous two bouts, "Bam Bam" twice failed to make the Lightweight division limit of 135 pounds and wasn't permitted to compete for the WBA lightweight Championship, although ultimately being cleared to fight.
Before the event, trainer Robert Garcia insisted that Brandon would be able to make 140 pounds comfortably.
"Brandon was a 140 pound fighter competing in the Lightweight division before," stated Garcia. "He could no longer make the weight, so that's why we moved up to Junior Welterweight. You will see the best version of Brandon Rios on October 13th."
The world renowned trainer was prophetic, as the former WBA Lightweight Champion weighed in at exactly 140 pounds.
Although his challenger, undefeated Mike Alvarado, is considered to be the naturally larger fighter, the "Mile High" based fighter weighed in at approximately 139.8 pounds.
While most fight fans are expecting a heated battle during the co-main event tomorrow night, both fighters were smiling and very respectful throughout the customary face-off for the crowd in attendance.
In the final weigh-in of the event, both fighters weighed in below the Super Bantamweight division limit of 122 pounds.
The current WBO and IBF Champion, and heavy crowd favorite, Nonito Donaire weighed in approximately 121.6 pounds. The "Filipino Flash" greeted his fans with a big smile and made the traditional weigh-in poses before the customary face-off.
The WBC Champion Emeritus, Toshiaki Nishioka, weighed in at approximately 121.8 pounds and seemed genuinely excited to participate in the media event.
Both men were very polite and respectful as they faced each other for the fight fans that were present. The Tokyo, Japan based fighter was draped in a towel to stay warm, and the two fighters were sprightly and jovial throughout.
As the four fighters left the venue, the crowd in attendance knew that they had just witnessed the proverbial "calm before the storm". Fight fans worldwide realize the competition in the ring tomorrow night will be a very special and competitive event.
Official weights:
Nonito Donaire 121.6 – Toshiaki Nishioka 121.8
Mike Alvarado 139.8 – Brandon Rios 140
Jose Benavidez, Jr. 143.4 – Pavel Miranda 144.2
Jose Roman 136 vs. Javier Garcia 135.6
Evgeny Gradovich 125.6 – Jose Angel Beranza 125.4
Trevor McCumby 174.4 – Eliseo Durazo 178.4
Ronald Ellis 168 – Katrell Straus 167.2
Saul Rodriguez 129.6 – Cesar Garcia 130
Victor Pasillas 121.2 – Jazzma Hogue 120.8