All photos: Paul "Paparazzi" Jones – Over the weekend, Bowie State University (BSU) – a Historically Black College/University (HBCU) in Maryland – hosted an inaugural fight card at the Leonidas James Complex. Here is my scorecard and roundup, highlighting noteworthy bouts from the card:
Scorecard: Middleweight contender Alantez "SlyAza" Fox shutout veteran gatekeeper Elvin Ayala on Saturday night, earning a unanimous decision win.
Scores were 80-72 (Thrice) for Fox, running his record to 24-1-1 with 11 KOs
Ayala fell to 29-11-1 (13 KOs), losing his third consecutive fight.
Eastsideboxing's unofficial score: 79-73 (Fox)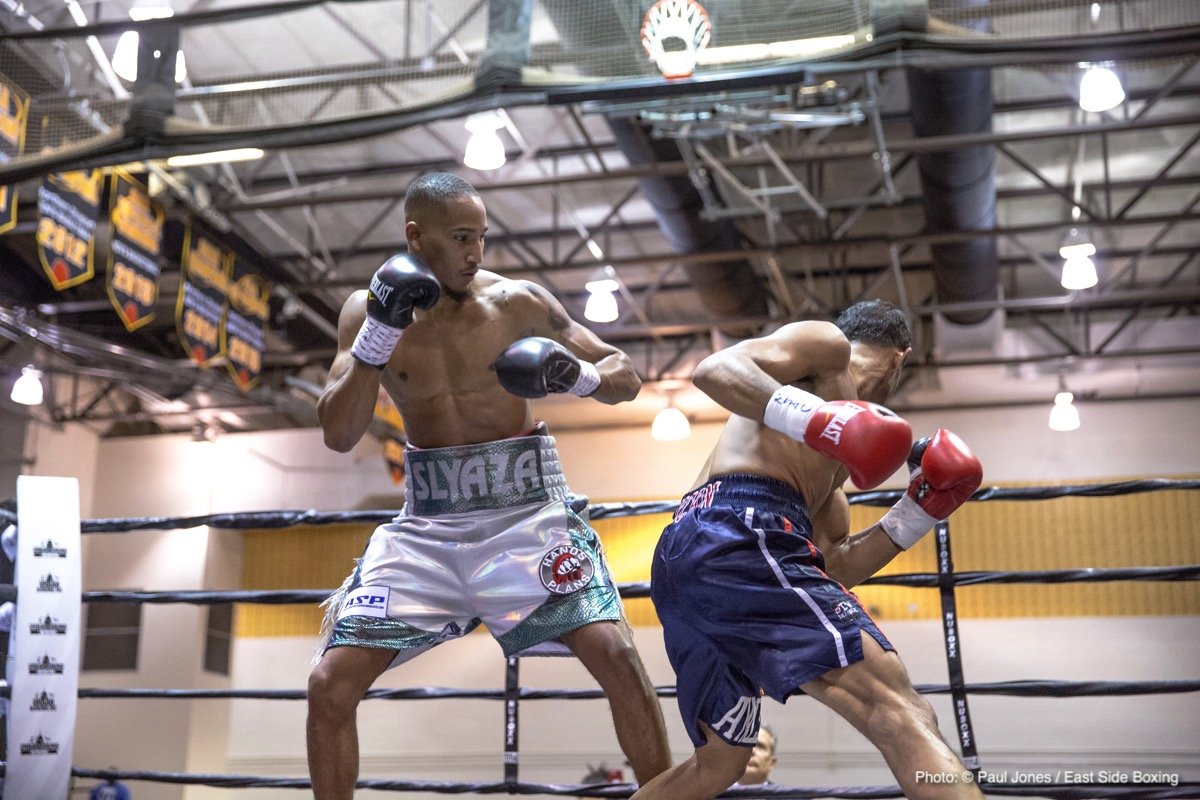 Roundup: After suffering his first loss at the hands of Demetrius "Boo Boo" Andrade (25-0, 16 KOs) in 2017, many boxing writers wrote off Fox due to his poor showing versus Andrade. Of course, the undefeated Andrade is no slouch, having held world titles at junior middleweight and fighting WBO World Champ Billy Joe Saunders (26-0, 12 KOs) in October for Saunders' middleweight strap.
Nevertheless, given Fox's physical gifts (standing 6'4" with nearly an 80" reach) and experience fighting on nationally-televised cards (e.g., ShoBox), it was hard to explain why Fox struggled to generate any offense against Andrade throughout the fight. However, several days after the bout, ESPN's Dan Rafael reported that Fox had torn his rotator cuff during the fight, which helped to explain, at least in part, why Fox's punch output was uncharacteristically low.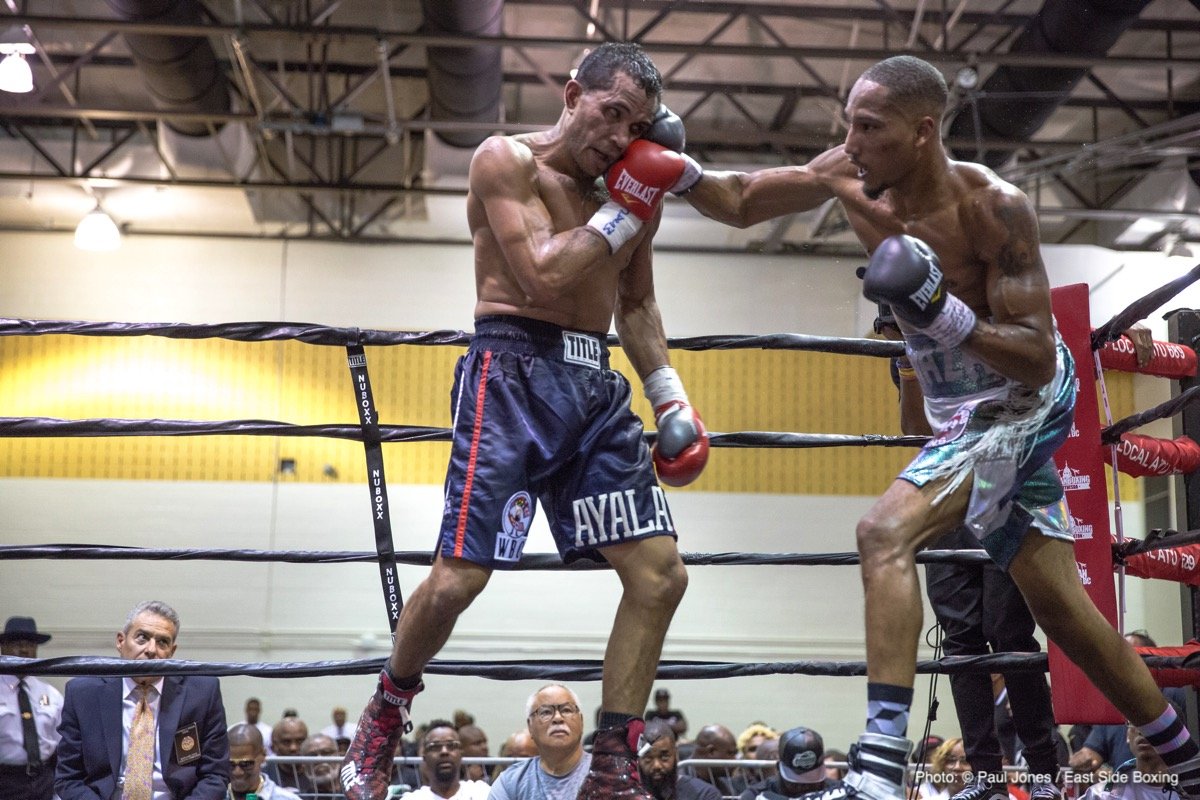 Fast-forward to Saturday night when Fox returned to action after nearly a year-long layoff against Elvin Ayala, a savvy veteran who's fought a who's who of middleweight champions and contenders, including Sergiy Derevyanchenko (12-0, 10 KOs), Curtis Stevens (30-6, 22 KOs), David Lemieux (40-4, 34 KOs), and Arthur Abraham (47-6, 30 KOs).
Although it was clear from the outset that Ayala came to win and had no problem with brining the fight to Fox, Fox's jab, range, and work rate were simply too much for Ayala to overcome.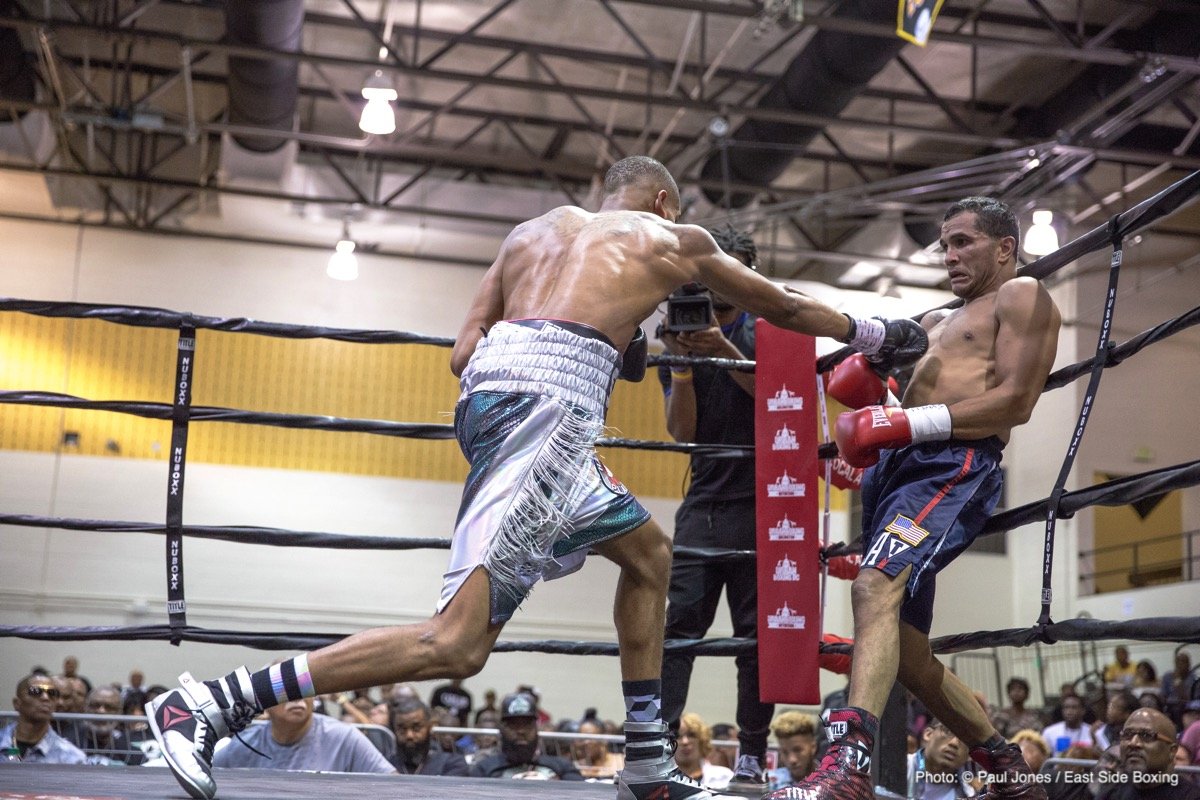 From rounds 1 to 8, it was rinse, cycle, and repeat for Fox, who used his jab effectively to keep Ayala at bay. Occasionally, Fox also sprinkled in crisp power shots as Ayala tried to work his way inside – shots that made Ayala think twice before simply charging in.
Although Ayala deserves credit for applying consistent pressure throughout, Fox remained composed and stuck to his fundamentals making it difficult for Ayala to turn the fight into a slugfest.
When the final scorecards were read, all three judges were unanimous in awarding Fox with a decision win.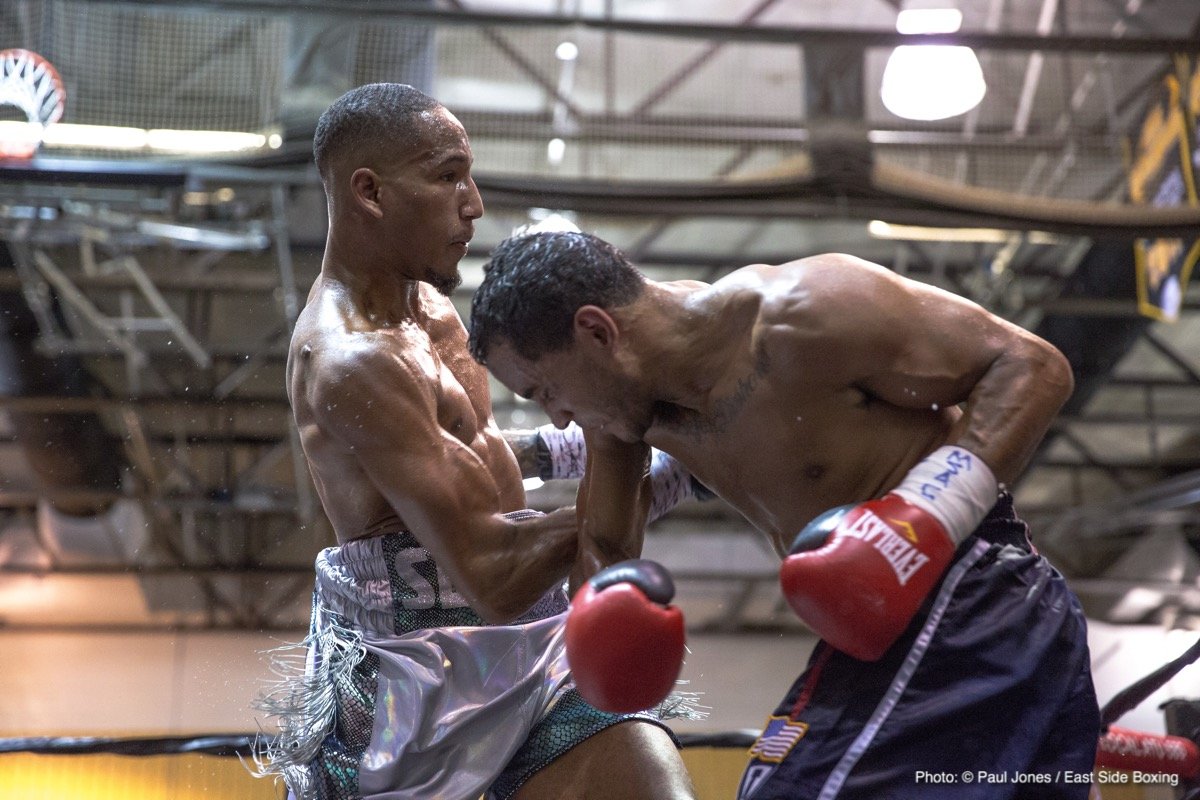 Equally important, Fox showed no lingering effects in his surgically repaired arm.
Satisfied with the win, Fox proclaimed: "We're comin' back, better than ever."
* * *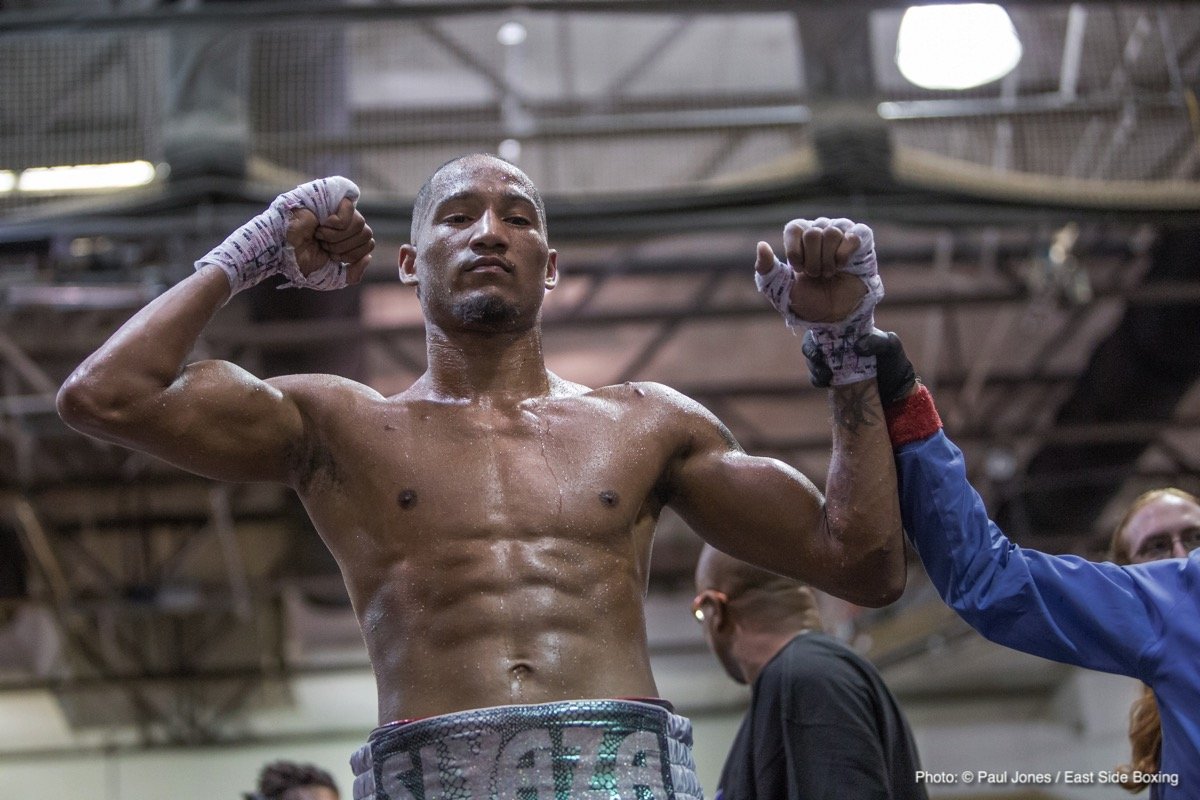 Scorecard: Super lightweight prospect Greg "Sharpshooter" Outlaw (6-0, 2 KOs) cruised past journeyman Rashad Bogar on Saturday night to earn a unanimous decision win in the main event of the Bowie State University (BSU) fight card.
Scores were 60-54, 59-55, 58-56 for Outlaw, who remains unbeaten.
Bogar falls to 4-9-1, upping his losing streak to five fights.
Eastsideboxing's unofficial score: 60-54 (Outlaw)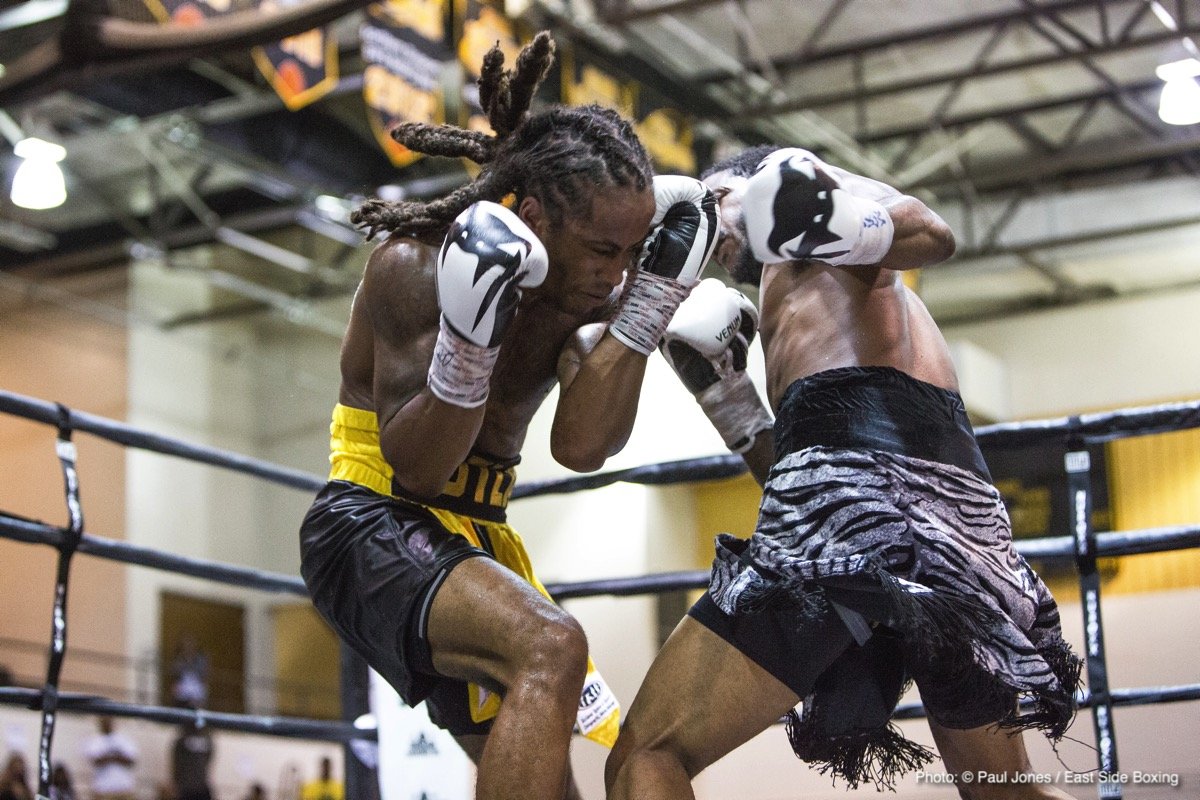 Roundup: Bringing boxing to BSU was the brainchild of co-promoters Evander Holyfield (Real Deal Boxing) and Shabazz Brotherz Boxing.
Therefore, featuring Outlaw, a 25-year-old Bowie resident and university alum, in the main event was organic.
Nevertheless, Outlaw didn't disappoint. After a slow start, Outlaw picked up the pace and began to pick apart Bogar, drawing first blood midway through the opening round.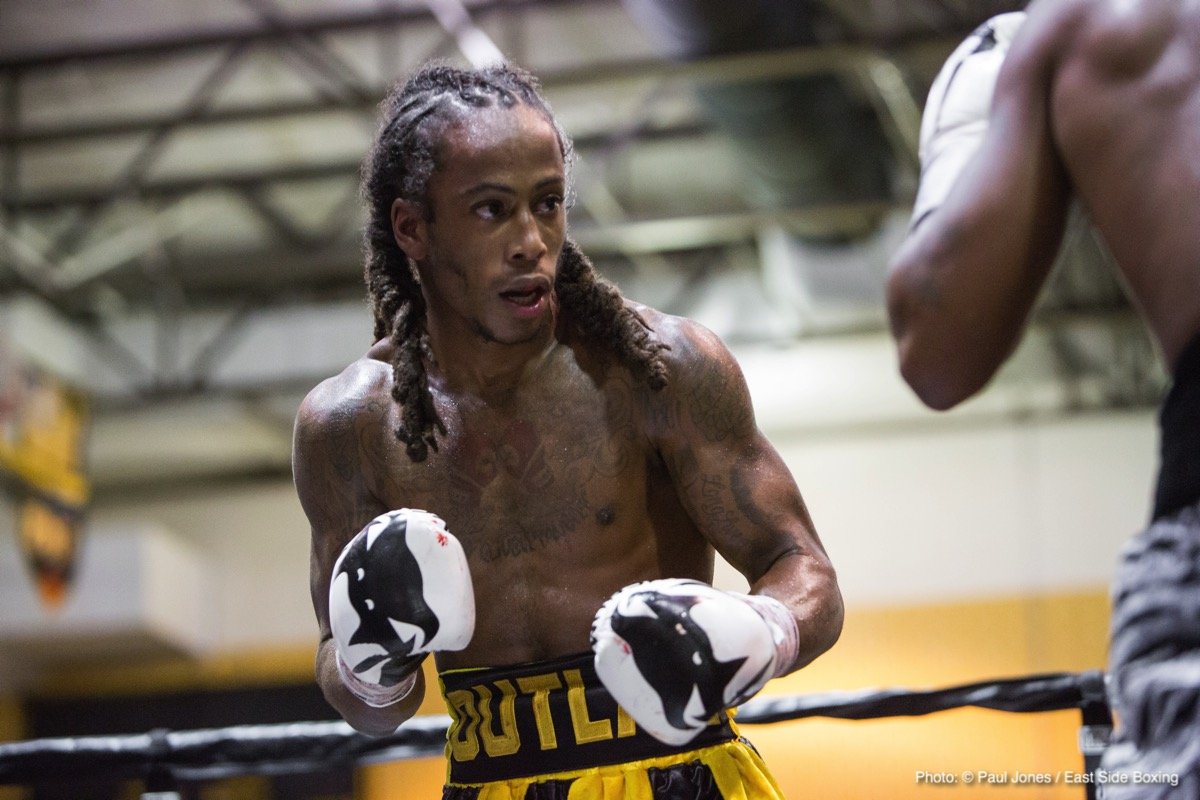 By round two, Outlaw was building a lead on the cards, touching Bogar to the body and head with clean combinations and controlling the tempo.
After four rounds, it was all academic. Outlaw, who buzzed Bogar in one exchange that nearly sent him through the ropes, was simply the better fighter on paper and in the ring.
Although Bogar fought with urgency, he simply had no tenable plan to beat Outlaw.
The final scorecards reiterated this fact with Outlaw earning a unanimous victory over Bogar.
Other News and Notes
• Hometown favorite, Dusty Hernández-Harrison (30-0-1, 16 KOs) is slated to make his return to the ring on December 1, 2018 at St. Elisabeths' Entertainment & Sports Arena in Washington, DC. Hernández-Harrison, who severed ties with promoter Roc Nation back in January, has been out of the ring for over two years since beating Thomas LaManna (26-2-1, 9 KOs) and receiving a controversial draw against Mike Dallas Jr. (21-3-2, 10 KOs) in 2016. No opponent has been officially named and the fight card may be subject to change.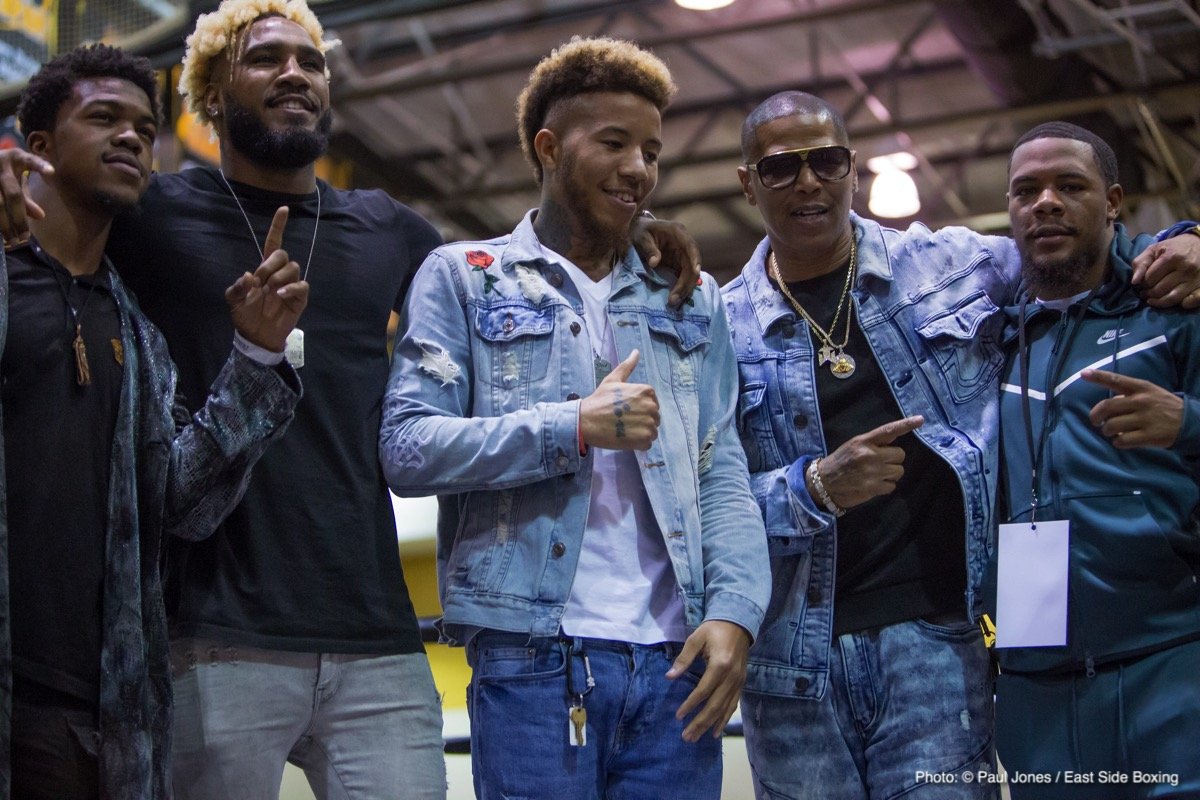 • Also on hand for Saturday's festivities were several DC, Maryland, and Virginia-based fighters, including (but not limited to) IBF/WBA (Super) Champion "Swift" Jarrett Hurd (22-0, 15 KOs; above), Lamont Roach Jr. (17-0-1, 17 KOs; above), Hernández-Harrison (not pictured), and Mike "Yes Indeed" Reed (23-2, 12 KOs; not pictured).
Paul jones is a writer and photographer for East Side Boxing. Follow him on Twitter @boxingepicenter.
More from Pau:
• Russell Jr. Pushed to the Limit by Diaz Jr., But Retains WBC Title; Eyes A Featherweight Unification Bout or Will Move Up in Weight
• Photo Gallery: Official Weigh-In Results for Gary Russell Jr. (125.5) vs. Joseph Diaz Jr. (126.0) — Santa Cruz, Mares, Selby, Valdez, Frampton, More!
• ESB Best of 2017! Lomachenko, Crawford, Joshua, More!
• Boxing Bros. | ESB Best of 2016! Frampton, Thurman, Álvarez, More!