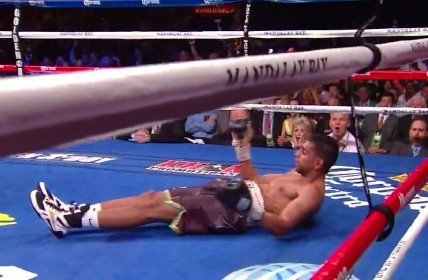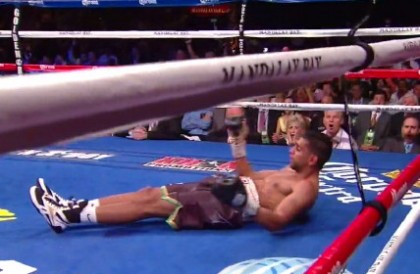 The World Boxing Council updated their rankings this week and installed Amir Khan (27-3, 19 KO's) as their number #2 contender at 147. This is a clear move to put Khan in line for a title shot against WBC welterweight champion Floyd Mayweather Jr. because there's no other way of looking at it. The WBC has positioned Khan for Mayweather and it seems like that's a fight that the WBC wants because why else would they rank a fighter whose career is sinking at the moment.
Khan has never fought at 147 before during his career and he's lost two out of his last three fights since 2011. The WBC giving Khan – or any fighter – a #2 ranking after having lost two out of their last three fights is incredibly disappointing because it seems so transparent what the WBC is trying to do. I won't be surprised if Khan is moved to the #1 position if he gets beaten by Julio Diaz this month on April 27th in Sheffield.
The WBC is really doing Khan no favors because he's not ready to fight Floyd Mayweather Jr. or any other top welterweight division. Khan was knocked out by Danny Garcia in the 4th round last year in July, and before that he was beaten by Lamont Peterson in a close fight in December of 2011. Khan still hasn't avenged either of those defeats, and his promoters at Golden Boy has put him in a mini light welterweight tournament where all he has to do is beat Julio Diaz to get to the finals. The other fighters – Zab Judah, Danny Garcia, Lamont Peterson and Lucas Matthysse – has to fight twice to get to Khan.
Some boxing fans feel that Khan deserved the victory over Peterson but he really didn't deserve it in my view because he was shoving Peterson all night and pulling his head down to escape the punishment he was receiving in the fight. You take away those defensive strategies and Khan would have clearly lost the fight. Shoving saved him in a lot of cases from taking punishment, so he deserved to have points taken away because he was going overboard with these tactics.
If Mayweather is inclined to fight Khan then he won't have any problems setting the fight up now that the WBC has ranked Khan at #2 at 147.
The other top contenders at 147 probably don't feel too good seeing Khan positioned above them without having done anything to deserve it. If losing two out of your last three fights is good enough to get a fighter ranked #2 by the WBC, then I think we may be seeing a new trend in the sport where it pays to lose.