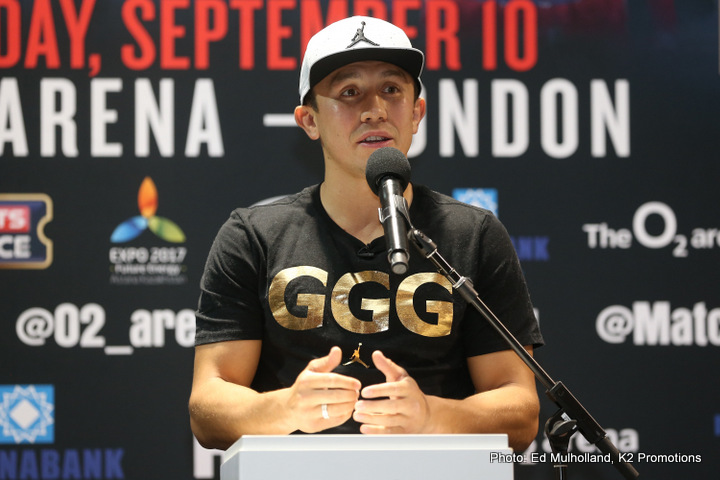 It's proven far longer than initially expected for the middleweight title fight between world ruler Gennady Golovkin and secondary WBA middleweight champ Danny Jacobs to get done, but it looks like the new working date of March 18 will see the fight take place. As Dan Rafael of ESPN.com reports, the WBA sent a letter to both teams this week, informing them that they now have seven days in which to come together with a deal – if no deal is reached the fight will go to purse bids.
The targeted date of March 18 would see the fight take place on regular HBO at Madison Square Garden in New York. Hopefully, a deal will be reached. Tom Loeffler who promotes Golovkin told Rafael that he is optimistic the fight will get finalised.
"I think it's always been likely we'll get a deal done," Loeffler said. "Every discussion I've had with Al [Haymon, promoter of Jacobs]has been that Jacobs wants the fight and that it's matter of finalising the deal points, which is what we're working on now."
Fight fans may ask, why then the delay? GGG-Jacobs was to have taken place this month, meaning we would have seen Golovkin – arguably the most exciting fighter out there today – in action three times instead of the two fights of his we have been forced to make do with in 2016. Hopefully this fight does go ahead in March and then, assuming Golovkin wins (as most fans feel will be the case) the 36-0(33) champ will have a busier year in 2017.
As exciting as he is to watch, we fans could do with at least three, ideally four, doses of Triple-G dished out over a 12-month period. Can Jacobs, a good, fast and reasonably powerful fighter who has been beaten only once during his career, derail The Golovkin Express? Again, most fans seem to doubt it, but there are some good judges out there who feel "The Miracle Man" will give Golovkin his toughest fight to date.
March could be a busy month in boxing if this fight is made, joining as it would the Keith Thurman-Danny Garcia and David Haye-Tony Bellew fights – with Wladimir Klitschko-Anthony Joshua and Deontay Wilder's ring return also possibilities for March.