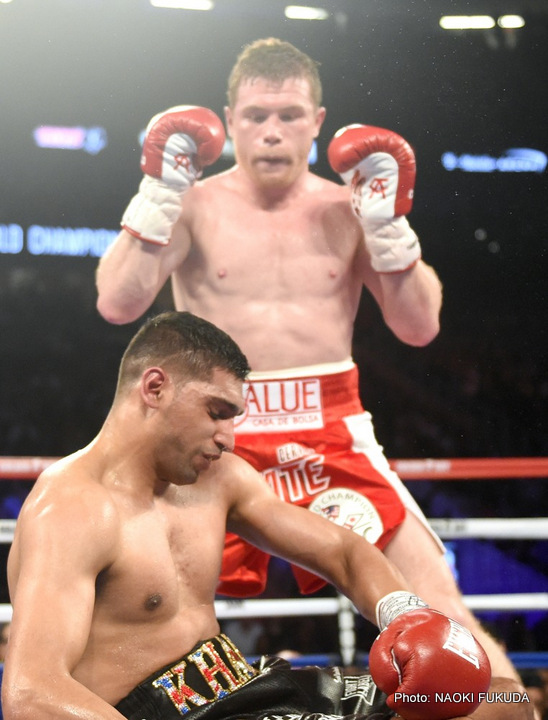 Golden Boy's Eric Gomez spoke with RingTV.com today, the subject of conversation being the plans for Mexican superstar Canelo Alvarez's next move. As Alvarez continues to heal – he fractured his right hand during his September win over Liam Smith – he also looks forward to his next fight. Gomez says Alvarez will not vacate the WBO 154-pound belt he won from Smith, as his next fight could be a defence of the strap.
That's if Canelo is fit and ready to fight in the first quarter of next year; if not then Alvarez will return to action in May – at middleweight. Gomez also said that the ultimate plan remains the same: for Canelo to fight middleweight ruler Gennady Golovkin in September of 2017.
"If it's the first quarter (of next year when Canelo returns), then he likely stays at 154," Gomez told the website of The Bible of Boxing. "If it's in May, then the likelihood is that it will be at middleweight. But the plan is Golovkin. There's no secret. We've been in discussions. We've been negotiating. I feel that we're close. That's his objective. That's what Oscar wants. That's what Canelo wants. That's what we're trying to make happen."
Golovkin-Alvarez is the fight all of boxing wants, and has wanted for quite some time. But before the planned date of the super-fight will come one or maybe two prior fights for Alvarez. There is no word on who Alvarez would defend his 154-pound belt against if he does stick around at that weight but two names have been mentioned as possibilities for Canelo's middleweight debut: reigning WBO champ Billy Joe Saunders and former IBF middleweight ruler David Lemieux.
Either opponent would make for an interesting fight for Canelo's 160-pound debut but he would be heavily favoured to defeat either. And then, here's hoping Canelo moves into that September sizzler with Triple-G. Fight fans, and the two fighters themselves, have waited long enough for this can't-miss classic already.