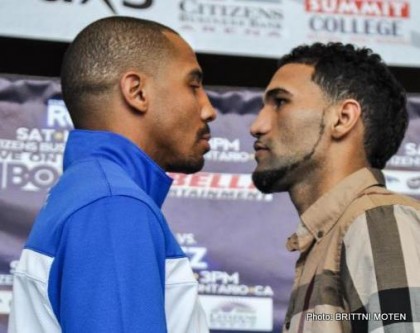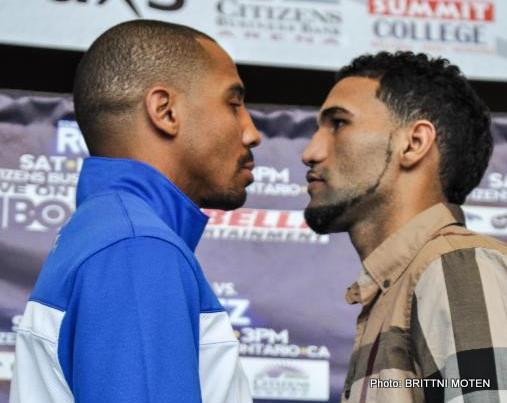 It will have been just over 14 months since the last time Andre Ward graced the HBO airwaves as a fighter when he enters the ring this Saturday to face unbeaten Edwin Rodriguez.
Sidelined with a shoulder injury much has been said and written about Andre Ward.
Some of it was said using facts.
While other articles, tweets, and forum posts clearly had biasness oozing out of it, whether directed at Ward personally or at the way in which he was taught to fight.
The style of fighters and fans vigorously debating over the topic is nothing new.
I will never forget some of the arguments that my grandfather, the man that introduced me to the sport, and I had over who was better fighter and why between Marvelous Marvin Hagler and Sugar Ray Leonard.
As much as we loved the sport my grandfather Joe was on one side of the room while I sat on the other for the Leonard vs. Hagler fight.
He loved Barry Sanders and the way he would hand the ball to the ref after scoring a touchdown.
I loved when Deon Sanders would start to high step at the 25 yard line on his way to the end zone.
Blue collar hardnosed tough guys versus fighters with speed, finesse, and flash will always create passionate arguments in the sport of boxing.
It can also create deep rooted bias towards a fighter that may be a rival to a fans favorite fighter.
Boxing is not like the more popular team sports of football or basketball.
Sure there's plenty of debate in all sports but the intensity of the moments before, during, and after a fight can bring out the most prehistoric behavior.
Ok that may be overstating it or going too far back with the prehistoric comment.
My point is all that energy you hear and feel at a football stadium on a third down rooting for the home team defense or scoring a touchdown, is multiplied several times over to equal the feeling fight fans have when a huge event with months of hype and banter can play out in a matter of minutes.
Instead of a whole team, all that support and love is about one person with no helmet or pads just the basic essentials.
You can't call a timeout and if the ref misses a call the fighters must control themselves to stay focused on what's in front of them.
This article is not just about boxing fans hating each other, or Andre Ward and the criticism he has received when on the shelf, so let's switch the subject to the fight and his opponent Edwin Rodriguez.
Rodriguez was a decorated amateur fighter before turning pro in January 2008.
He was moved properly on the way of building a 24-0 record with 16 wins coming by knockout.
He had the best of both worlds while being groomed for a title shot. He stayed very active besides some time off for injury and was able to get the much needed exposure on basic and premium networks.
This year he took full advantage of an opportunity to fight in a 4 man catch weight tourney that took place in Monte Carlo.
He earned two solid checks setting the stage to make real run at a big fight and boy did he get a big fight for some real life changing money.
Every prospect has a least a minor setback whether it be injury, management, politics, or a lack luster performance.
Edwin was able to push through any adversity enough not to force him to take a step backwards in his career.
His last five opponents featured three unbeaten fighters none in the same ballpark as the "S.O.G" of course.
Rodriguez won't be fighting in Ward's hometown of Oakland instead it will take place at the Citizens Business Bank Arena, in Ontario, Ca.
So it's still in the west which is one of the few major complaints from the fans who rightfully so thought it was unfair for Ward to have home field advantage in all but one fight in the Super Six.
Rodriguez will have a substantial reach advantage on Ward. Only time will tell if it's truly an advantage that he can actually use with most assuming he won't be effective on the outside for majority of this fight.
He can push the pace behind his skillful offensive weapons that seem to have increase power wise by sitting down on his punches more often of late.
Rodriguez can land to the head and body with accuracy and speed.
He also can get careless or maybe lackadaisical is a better word for some of the shortcomings that may be exploited on Saturday by Andre Ward.
Edwin's biggest mistakes that I've notice have been standing right in front of his opponent with an upright somewhat euro style stance.
It's happen more than a few times and he has taken some punishment for that bad habit by the hands of far lesser fighters than the one he will be sharing the ring with.
Not that he will have time to be bored versus Ward but I have noticed if he can't stop or hurt his opponent he, at times, can lose focus and leave his hands too low.
Along with reach, the rust that could take at least a few times to shake for Andre Ward could be the only 2 advantages that favor Edwin.
With that said it doesn't take a genius to know that it's more important than ever for Rodriguez to get off to a fast start behind his crisp jab.
Rodriguez is a fighter with very good hand speed and if he can apply pressure early before Ward gets his timing back he could have enough rounds in the bank to make it a close fight heading into the championships rounds.
Even with all the recent and ongoing hate or pressure from the fans one thing is undeniable, and that's Andre Ward's skill.
Ward has a mix of Bernard Hopkins on the inside able to get rough when need be, along with Mayweatherish ring savvy, counter punching ability, and a tight defense to boot.
You may love Ward or hate him. You may thing he should travel to Canada or England. You can accuse him of leading with his head at times.
None of that can exclude from being at least at top 10 pound for pound fighter in the sport period.
But everyone is human and there is a real chance that he could get behind on the scorecards forcing Ward to dig deeper late in the fight when he has normally already figured a fighter and is in cruise control dominating the action.
Can Rodriguez use that reach and be sharp enough on both ends to make Ward come to him?
Even if he tries to box on the outside will that be enough to keep Ward from winning the fight?
Andre Ward knows how to come forward as he showed in his fights with Mikkel Kessler and Allan Green.
I can see Ward winning on the outside using his stiff and active jab to keep Edwin at bay.
I won't be the least bit surprised if he jabs his way inside enabling him to land to the body, something that is an underrated skill of Ward's.
When the announcer reads the scorecards or outcome, reach and ring rust won't be enough for Edwin Rodriguez to dethrone the king of the super middleweight division Andre Ward.
My official prediction is Andre Ward by late stoppage or unanimous decision.
I do however feel that Edwin does have a bright future facing other 168 pounders.
As long as he shows up to fight and is not just satisfied with his million dollar paycheck, he will have a chance to get plenty big fights in 2014 and beyond.
Written by Chris Carlson Owner and Host of Rope A Dope Radio at www.blogtalkradio.com/ropeadoperadio
Follow Chris on Twitter @RopeADopeRadio & http://ropeadoperadio.wordpress.com/