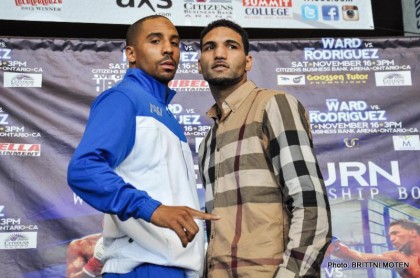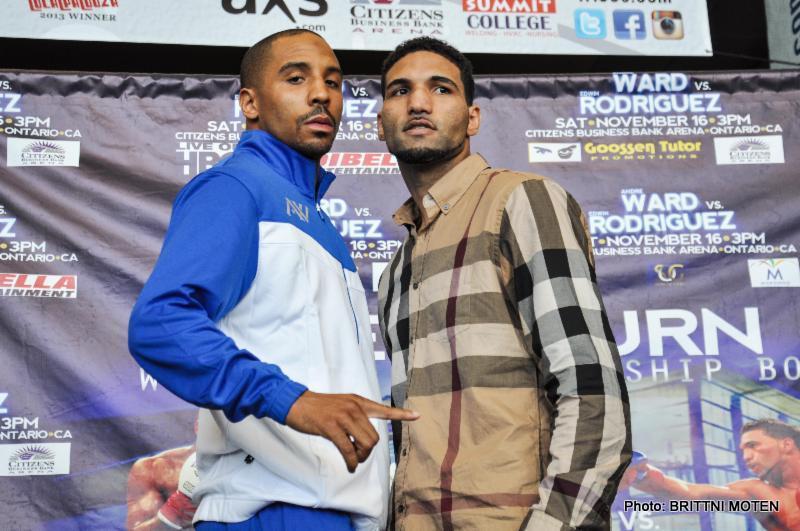 OAKLAND, CALIFORNIA – November 14, 2013 – WBA and Ring Magazine Super Middleweight World Champion Andre "S.O.G." Ward (Oakland, Calif.) is just 48 hours away from his return to the ring, and he's locked and loaded for his first fight of 2013. Ward will face off with undefeated contender Edwin "La Bomba" Rodriguez in a super middleweight title bout on Saturday night at the Citizens Business Bank Arena in Ontario, Calif., and live on HBO World Championship Boxing.
The 29-year-old is excited to finally return to the ring after a 14-month layoff and he shared his thoughts on a variety of subjects over the past couple of days as he finalizes preparation for Saturday's showdown.
On his 16-year winning streak: "I love to compete. I love to win and it's just as simple as that. There are no simple formulas. God blessed me with the talent. I take my job very seriously and I think that's a major thing that's benefited me in the ring. When I get in there, I just love to compete."
On his training camp for Edwin Rodriguez:
"You know you had a good training camp when you're happy it's over. That's when you know you had a thorough training camp, when you've made every single day count and that's what we did. I'm happy training camp is over. I'm excited to showcase that and remind people who the super middleweight champ is."
On the layoff:
"It's very difficult. You never want to be off. You never want to be on the sidelines, especially against your will. The silver lining is that I've been in this sport 20 years. I'm a max effort type person when I train and prepare so I think my body thanked me for it. My body got a chance to relax from the combat, even though I was still working. That was the silver lining. It's very difficult, but it's my story."
"I'm not worried about the 14-month layoff. I'm excited to get back. I'm sharp. I'm ready. I'm going to be better than ever. Like Floyd Mayweather said, 'We've been here before. This is not my first rodeo.'"
On Edwin Rodriguez:
"His greatest strength is his eagerness and his willingness to fight, but that's also going to be his downfall. He doesn't always mind his defense and I think he's falling in to the same trap that a lot of guys fall in to with me. The perception from a distance is, 'Oh, we're gonna walk through this guy.' His mindset is going to be, 'I'm going to blow this guy out.' He's going to find out that it's a little bit different then what it looks like on the outside."
On his pre-existing shoulder injury:
"I injured it in amateur fight when I was 12 or 13-years-old and we just built up the muscles around it. Now that it's fixed, I have a lot more pop in this arm and I'm excited about it. I'm excited to showcase it on Saturday. Even though it was a rough road back. I look it like it was a positive to get that fixed finally."
On the fight:
"I let these guys do all the talking for this fight. This is his first time at this level when he has cameras in his face, doing more interviews than he's ever done before. I let him and his coach do all the talking. They've been doing a lot of talking and I've been working. I've been grinding so come Saturday night, we're gonna talk. I'm going to be locked in."
"Once again, they misread the scouting report. They think they're going to bully me, push me back and, 'we're going to make him fight.' I've been through my ups and downs in the ring. I've been dropped and have been able to get up and battle back. I've been buzzed in a fight. I've been cut in a fight. The question is – has he?"
"For some reason when you're dominant for a certain period of time, people think you haven't been tested. People think you haven't gone through anything. I'm locked in, I take this sport real seriously and he's going to find that out come Saturday night."
About: "Ward vs. Rodriguez – The Return"
2004 U.S. Olympic gold medalist and WBA and Ring Magazine Super Middleweight World Champion Andre "S.O.G." Ward makes his highly anticipated return to the ring defending his WBA and Ring Magazine Super Middleweight title against Edwin Rodriguez on Saturday, November 16 at the Citizens Business Bank Arena in Ontario, Calif.
Following slightly more than a year absence from the ring due to injury, Ward (26-0, 13 KOs) will put his world titles on the line against the undefeated Rodriguez (24-0, 16 KOs) in a scheduled 12-round World Championship main event, which will be televised live on HBO World Championship Boxing® beginning at 10:00 p.m. ET/PT.