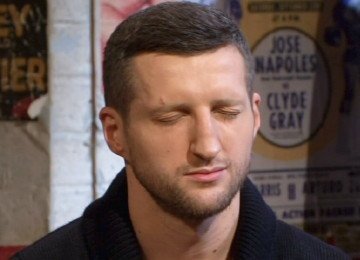 When it comes to leaving no doubt in the eyes of the boxing press and the fans, 'Son Of God' is a virtuoso. Being a second best pound-for-pound fighter in the world, Andre Ward has to not only sweat bullets when it comes to training, but perform in a way that suggests his absolute dominance from bell to bell.
Yesterday, after the longest layoff in his career paired with a shoulder surgery, Andre Ward left his ring rust at home, dominating the previously unbeaten Edwin Rodriguez in a fashion that proves his ownership of being a true pound-for-pound champion, dictating that Ward is a force that just might plow through the rest of the top rated competition in a similar fashion.
Ward looked as quick, accurate, and technically perfect as ever, if not more. His punches were crisp and landed when and where he had intended them to. As the fight progressed, it was evident that Rodriguez was starting to become aware that he will not be outboxing his opponent tonight. As the rounds began winding up, Edwin was throwing anything and everything in hopes of landing a shot with some substance.
After the bout, the inevitable question was asked, and Andre's reply was as expected. When Kellerman inquired about Ward's future opponent, Andre deflected the question, saying that he would have to consult his team and see what the future brings.
You and I both know that there is a name that falls right into place, a fighter that of all available competition suits the need for a true challenge the most: Gennady Golovkin.
GGG is climbing the ranks at an astounding pace, and his fan base has exploded in the past year. A fight against Golovkin would be the biggest one that Ward can expect. And if styles really do make fights, than this matchup would be much more of a challenge to Golokin than Ward. Having the ability to throw bombs from bell to bell might be enough to send most fighters to the canvas, but in facing a slick defensive genius like Ward, Golovkin would find himself looking much harder for a clean shot to land. Of all things that Andre Ward does flawlessly, his ability to give angles and throw accurate punches from any of them, is frustrating and damaging to any opponent, and would probably be even harder to deal with for a strict power puncher like GGG.
Of course there is the possibility of Froch vs. Ward II, which has been talked about ever since their first bout at the end of 2011. Both fighters are established and carry a certain degree of top notch ring experience, the kind that fighters including Golovkin simply had no time or opportunity to acquire. Thanks to the Super Six, both men were forced to fight the best available rivalry, giving them the opening to show their abilities and heart.
Of the two fights, which one would make more sense for Ward, and would be most welcome by the boxing community?
More @ http://cgboxing.blogspot.com/
https://www.facebook.com/VitaliFightPress