Vergil Ortiz Jr (16-0, 16 KOs) and former WBO 140-lb champion Maurice 'Mighty Mo' Hooker (27-1-3, 18 KOs) both weighed in at 147-lbs for their official weights on Friday afternoon for their clash this Saturday for the WBO International welterweight title at the Dickies Arena, in Fort Worth, Texas.
Hooker, 31, and the 22-year-old Vergil Ortiz will be in the headliner on DAZN this Saturday night. #2 WBO Ortiz, who has yet to taste defeat, faces Hooker in a crucial fight that will show whether he's ready to take on WBO welterweight champion Terence 'Bud' Crawford next.
That's the guy that Ortiz and his promoter Oscar De La Hoya are targeting next. But before get to that fight against the 33-year-old Bud Crawford, Ortiz needs to beat his team member Hooker, who is a huge puncher.
De La Hoya sees similarities between Hooker and Crawford with their slickness and the ring IQ. Hooker fell apart when he fought Jose Ramirez in 2019 in losing by a sixth-round knockout.
The pressure that Ramirez put on Hooker broke him down quickly until the fight was halted after Hooker was hurt in the sixth. It's fair to say that Vergil Ortiz Jr is a younger, stronger version of Ramirez. Unless Hooker is sturdier at 147 than he was at 140, he may not last long against Ortiz Jr on Saturday night.
"You know, I think it's going to be a long fight," said Golden Boy Promotions boss Oscar De La Hoya to Fighthub in predicting a long fight between Vergil Ortiz and Maurice Hooker on Saturday night.

"I think it might be a little frustrating for Ortiz in the beginning just because Maurice Hooker has a unique style. He's very elusive, he's fast, he can think, he has a lot of experience," said De La Hoya.
Hooker has fought only a handful of good opponents during his career, and he's really struggled. It's fair to say that Hooker should have additional losses on his resume because his three draws came from fights that he appeared to lose against these guys:
Abel Ramos
Darleys Perez
Tyrone Chatman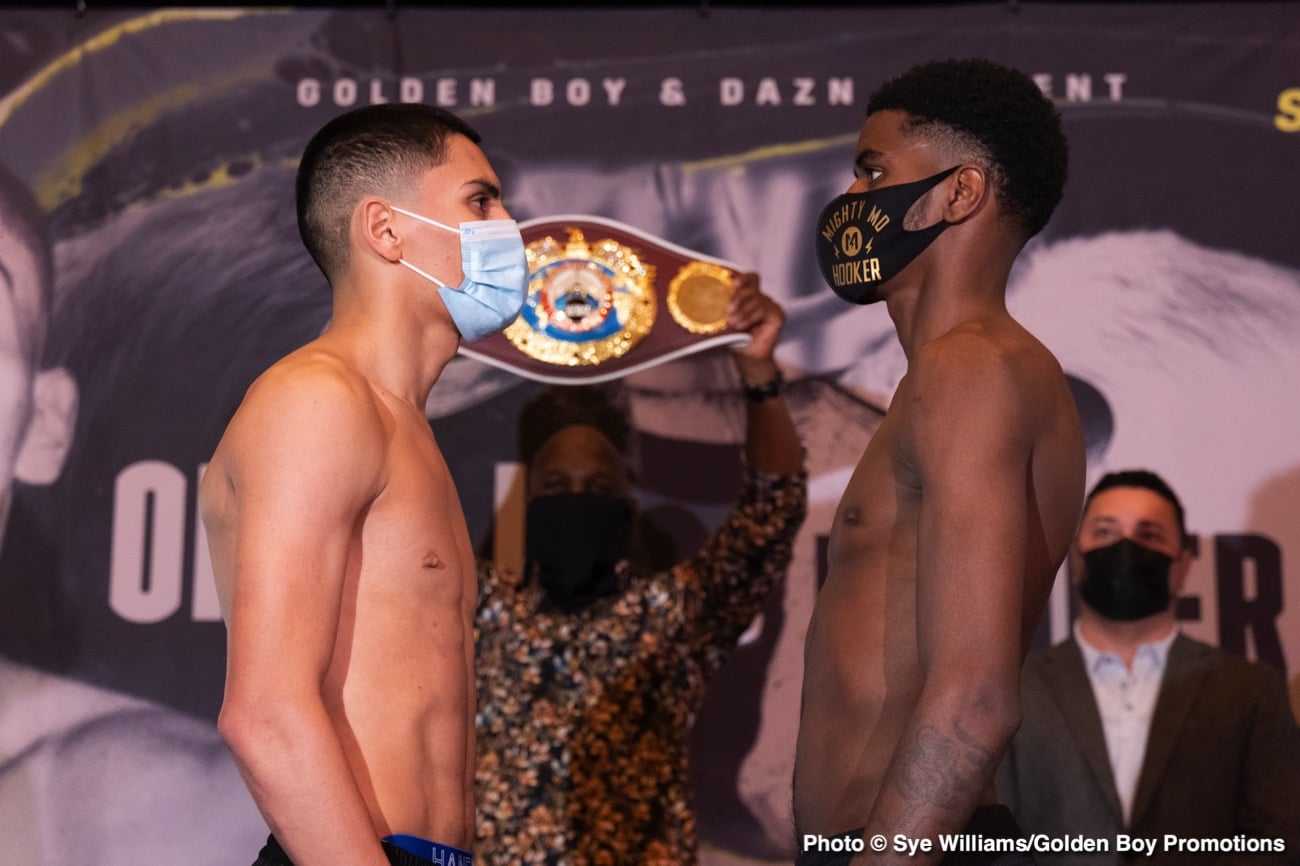 Hooker was put under huge pressure in all three of those fights, and he struggled and was beaten up on the inside. Perez and Ramos clearly got the better of Hooker, but they were found out the hard way how difficult it is to beat a highly rated A-side fighter.
Ortiz will have to look like a million bucks in beating Hooker for him to be taken seriously as a future opponent for Crawford.
I mean, after the way that Jose Ramirez tore through Hooker like he was nothing, Ortiz has going to have to do the same but better because he fights at 147, and supposedly he's stronger than Ramirez.
If Ortiz has any trouble whatsoever with Hooker, he needs to forget about fighting Crawford right now. In that case, Vergil needs to pick up more experience for a couple of years and let Crawford age.
He's 33 now, and in a couple of years, he should be vulnerable enough for Ortiz to beat him. But if Ortiz looks like a superstar in destroying Hooker on Saturday, by all means, he should go after Crawford and break him with pressure.
Hooker is a good practice opponent to show where Ortiz Jr is right now. As most fans would agree, the lanky 5'11" Hooker has no business fighting at 147, and he's going to get found out quickly, possibly on Saturday.
The blueprint in how to beat Hooker has out there for years, so there's no mystery about what Ortiz needs to do for him to beat him. Just put constant pressure on Hooker and wait for him to fold up.