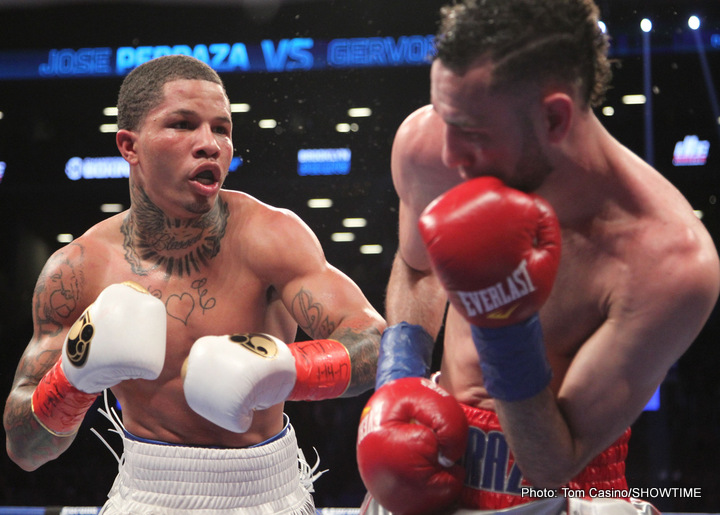 There are plenty of fans who are critical of the upcoming, fast-approaching Floyd Mayweather-Conor McGregor "Super Fight;" with plenty of these same fans declaring how they will boycott the August event buy not paying for it. Fair enough, if the crossover bout is not your thing, but will a good number of fans find themselves getting pulled in by a stellar under-card?
The main event may not inspire you to buy the pay-per-view, but red-hot IBF super-featherweight ruler Gervonta Davis, who will be making the first defence of his belt on the Las Vegas card, just might. So far there is no confirmed challenger for the 22 year old southpaw who is currently 18-0(17) – Davis told TMZ Sports that there are two names in consideration and that "both of 'em is getting knocked out!" – but the presence of the hugely talented Davis will certainly help the card get more buys.
Davis, for many a guaranteed superstar of the future, seems to have everything: speed, power, flash, substance and a ton of skills. With further fights set to be added to the August card, such as, possibly, Badou Jack (another Maywather fighter) moving up to challenge light-heavyweight titlist Nathan Cleverly, fans who currently feel they will not be buying the pay-per-view may well change their minds.
Meanwhile, to further hype the event, Mayweather and McGregor will both embark on a four-city press tour. Starting in Los Angeles next Tuesday, the two superstars will then visit Toronto on Wednesday, New York on Thursday and finally London on Friday.
Who knows how the two rivals will conduct themselves when they come face-to-face for the first time. With the hype in full swing, and with emotions running high, it wouldn't be much of a shock if things turned a little nasty. We've seen many episodes at boxing pressers recently, with everything from pushing and shoving, punches being thrown and even furniture being thrown around on display.
What surprises might Mayweather and McGregor have for us next week?