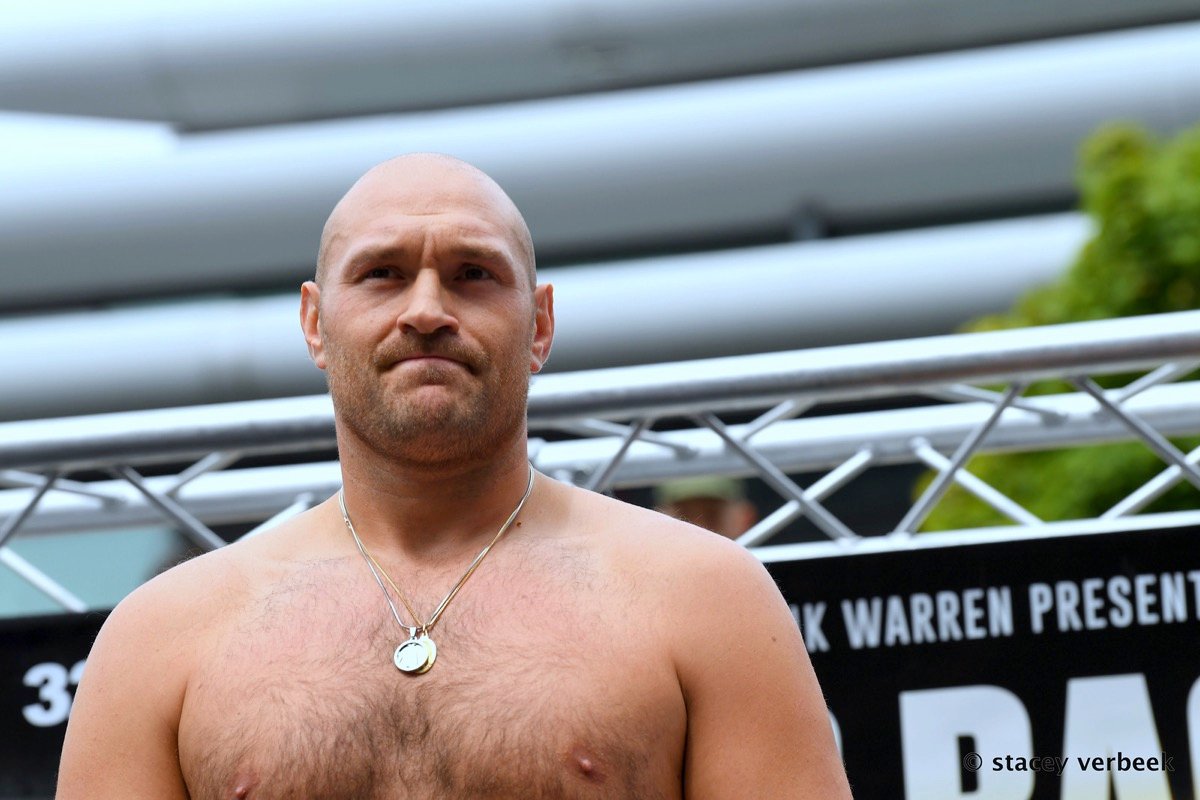 TYSON FURY believes that Francesco Pianeta will be in the mood to cause a huge heavyweight upset when they meet.
Fury (26-0) faces the Italian at Belfast's Windsor Park on Saturday August 18, when they share top billing with Carl Frampton.
Pianeta (35-4-1), a 6ft 5in southpaw who weighs around 245lb knows a shock win could earn him a third world heavyweight title challenge and ruin Fury's hopes of dominating the division once again.
Pianeta fell short against Wladimir Klitschko and Ruslan Chagaev, but Fury who recently returned after a two and a half year break said: "There is a target on my back.
"Pianeta is just one win away from being back right there among the best.
"Everybody brings there A game when they face me. They know it's a lottery win if they can beat me."
Fury doesn't need to study Pianeta having sparred with him when his rival was an unbeaten world ranked prospect.
Former world champion Fury who beat Sefer Seferi on his comeback in June recalled: "I sparred with him in Germany when he was 26 and 0.
"He was tough, strong and he is a good opponent – very good.
"It was before he went on to fight Klitschko and Chagaev for world titles, but I was impressed.
"People say this is a big step up from Seferi and they can say what they want, but Seferi went the full distance with a current world heavyweight champion, Manuel Charr.
"He looked terrible against me, but that has happened to so many people. Wladimir Klitschko didn't look much better against me than Seferi to be honest."
Tyson isn't cutting corners setting up camp in Manchester and staying at a hotel on the outskirts of the city away from his family.
Fury said: "I'm training hard in the gym every day. I've had no time off since the last fight. I'm getting in great shape and really focused on my job.
"I can't wait to get in there and put on a show in Belfast.
"Time is flying and it does when you're having fun. I have a great team around me and we have got everything bang on. I've never, ever been this happy with my training and routine.
"I've got everything sorted. I've got the right promoter, the right lawyers, have good people around me and I'm in a good gym atmosphere."
Local idol and two time world champion Frampton defends his interim WBO featherweight crown against Australian Luke Jackson on the bill that is nearing a sell-out.
In only his sixth professional fight, Frampton's great friend Paddy Barnes challenges WBC flyweight champion Cristofer Rosales.
The bill also includes a light-heavyweight clash between Belfast's Steven Ward and Dubliner Steve Collins Jr. Also in action is WBO European middleweight champion Luke Keeler, Conrad Cummings, KO king Lewis Crocker, Marco McCullough, Sean McComb and Steven Donnelly.
Very limited remaining tickets are available from www.ticketmaster.ie priced at £80, £100, £120, £150, £250, £400 (includes hospitality). Buying tickets over the phone – 0844 847 2455. To purchase Accessible Seating – 0333 321 9996
Trainer Ben Davison wants a serious approach this time
TYSON FURY HAS vowed to abide by team orders and keep it strictly business when he turns to the second chapter of his comeback story against Francesco Pianeta in Belfast on August 18.
The lineal world heavyweight champion took showboating to a new level in the first of his return bouts against Sefer Seferi at the Manchester Arena in June, first setting the mood for the evening by planting a smacker on the equally game for a laugh Albanian.
Tyson now reveals that, for his duel with former world title challenger Pianeta, his trainer Ben Davison wants him to have his serious head on and not play to the expected sell-out crowd at Windsor Park, which also plays host to Carl Frampton defending his WBO world interim featherweight title against Luke Jackson as well as the WBC world flyweight title challenge of Paddy Barnes to the champion Cristofer Rosales.
"We saw the joker in the last camp, we saw the showman, the entertainer," explained the 29-year-old.
"Ben wants a serious approach this time and that is what he'll get.
"All business in Belfast!
"Everything is great, but if he wants me to be serious about this fight then I will be serious," added Tyson, who reflected that he doesn't have much of a track record when it comes to playing it straight.
"I'm not serious about anything in my whole life, everything is like fun and games – even Klitschko. I wasn't serious – I was doing all dance moves, everything.
"But listen, if Ben wants serious, Ben will get serious. I'll go in there and do my job and that's it.
"I won't even smile once!"
Frank Warren echoes the thoughts of trainer Davison and the Hall of Fame promoter believes Tyson is more likely to stick to the script because of the more perilous nature of the assignment this time around.
"I don't believe we will have him playing up to the crowd on this occasion because he will need to be more business-like in a riskier fight and also because of his desire to start putting a marker down once again in the heavyweight division."
Also featuring in undercard combat is a cracking Belfast v Dublin clash between Steven Ward and Steve Collins Jr. Lewis Crocker, WBO European middleweight champion Luke Keeler and Marco McCullough are also in action.
Limited remaining tickets are available from www.ticketmaster.ie. priced at £80, £100, £120, £150, £250, £400 (includes hospitality). Buying tickets over the phone – 0844 847 2455. To purchase Accessible Seating – 0333 321 9996