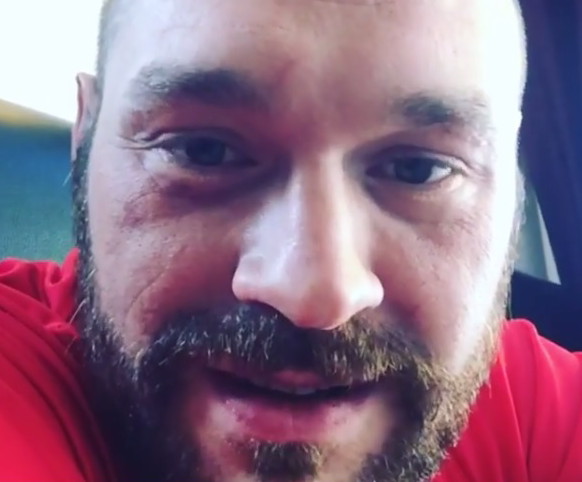 Former heavyweight champion Tyson Fury has started training, and he's looking very good for a fighter that is still overweight. In the training video released, Fury is showing the movement and athletic skills that made him the No.1 heavyweight in the division 2 years ago in 2015.
The only thing that's different is the weight. Fury looks a little overweight, but not like before. He's dropped a lot of weight, and It's easy to see that he's going to be able to get back to his old fighting weight of 250 pounds very soon. That's bad news for the other top heavyweights in the division.
Fury, 29, is still waiting for the UK Anti-Doping hearing for him to be given the green light to start fighting again. They're expected to be meeting soon to decide Fury's case.
It would be good to see Fury take on some decent contenders in tune-up fights. Here are some good options for Fury:
• Shannon Briggs
• Fres Oquendo
• Manuel Charr
• Tom Schwarz
• Otto Wallin
• Amir Mansour
• BJ Flores
Those are decent fighters with names, but not talented enough to give Fury problems, as long as he's in shape. Briggs, 45, has already come out on social media to call Fury out. That's an easy fight that can be made by Fury.
In the video, Fury showed excellent mobility and flexibility that we've seen from him in the past. There aren't too many heavyweights in the division that can move like the 6'9" Fury.
If Fury can take off the remainder of the weight and few tune-ups under his belt, he'll have a good chance of beating IBF/WBA heavyweight champion Anthony Joshua next year. Fury has size, defense and more importantly the stamina to give Joshua fits. Fury might not be able to knockout Joshua, but he can definitely frustrate him for 12 rounds with his slapping punches. Joshua vs. Fury will be the biggest fight in boxing in 2018. Fury just needs to get his boxing license back, and take the weight off.
For Fury's sake, he needs to lose weight, and get some fights under his belt before he faces Joshua. If Fury rushes into the Joshua fight, he'll probably lose. When you've been out of the ring for 2 years, as Fury has, you need to build back up slowly to get to where you were before. Most boxers don't do that. They try and jump straight into a big fight, and they end up losing and retiring. Ricky Hatton is a perfect example of that. He was out of boxing for 3 years from 2009 to 2012. Instead of taking a tune-up when he returned to the ring in 2012, Hatton fought former welterweight champion Vyacheslav Senchenko, and ended up getting stopped in the 9th. Hatton then retired. It was the wrong way for Hatton to make a comeback, and the results were predictable. Fury needs to learn from the mistake Hatton made.
Joshua's promoter Eddie Hearn is in a real hurry to make the fight with Fury. Hearn is even willing to help Fury out so that he can get his license back. Hearn wants the Joshua-Fury fight in 2018. He doesn't seem to want to wait until Fury is at his best once again.