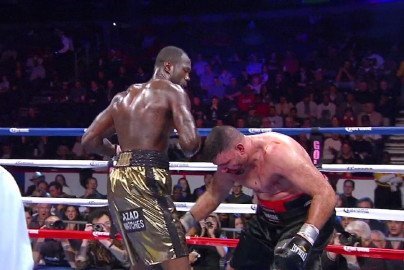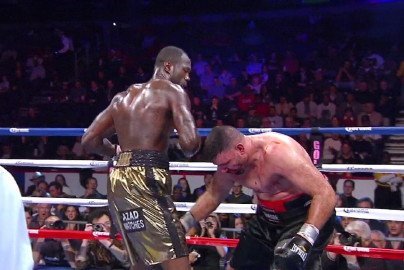 Ladies and gentlemen, I don't know about you, but I think the heavyweight division can be exciting once again. The idea is to begin matching up the young guns and letting them go at each other.
There is one thing I've noticed in quite a few recent fights involving heavyweights not named Klitschko. The heavyweights are letting their hands go and producing interesting and entertaining fights. It started a few years back on NBC, NBC Sports, and CBS where some up and coming prospects decided to do something that has been missing in years… a thing called PUNCHING! The results of those fights were that the networks signed up for more fights.

The thing that should be done now is to put fight just like the proposed Wilder/Fury bout on NBC or CBS so that a bigger national audience can see it. I wouldn't even mind bringing in (needing no introduction The World Over) the loquacious Don King to oversee a heavyweight tournament.
The network could have three heavyweight fights each time out and maybe three rounds. The fights would produce fireworks because these fighters would come to win.
Fury, via twitter said:
@BronzeBomber: "You talk the talk, @BronzeBomber, now it's time to walk the walk!" Fury tweeted. "Wilder v Fury at the Phones 4U Arena February 8th – Let's get it on!!
Team fury will do every thing in r power to make @BronzeBomber fight happen. It's up to team bomber now. I'm the best heavyweight on earth!

— Tyson Fury (@Tyson_Fury) November 19, 2013
"You and me is the biggest and most exciting fight in world boxing! You've had banter with me and my promoter @HennessySports so get someone to call Mick and let's give the fans a real fight!!"
I think this fight would be great, not only for the fans watching on television but definitely for the nearly outdated heavyweight division. It's time to spark some life back into the division and what better person than The Don? I wish Don could sit down with major network executives and cut a deal. Give the old man one last run!
I could see Fury and Wilder along with Robert Helenius, Bryant Jennings, Chris Arreola, Bermane Stiverne, Alexander Povetkin, Amir Monsour, and a couple of others.
I'm not sure I'd want to open the tournament with Wilder and Fury taking on each other. I'd put them in separate brackets and hope they'd see each other in the final.
Of course there are numerous logistics involved in such a venture. If a tournament can't be made, then bring us Fury vs. Wilder. If so do us a favor- market it to as many potential cross-over fans as possible. It might not hurt to add a couple of other young heavyweights on the same card. Slowly but surely, network television is getting the right idea. Hopefully boxing will get this one right. Stay tuned.