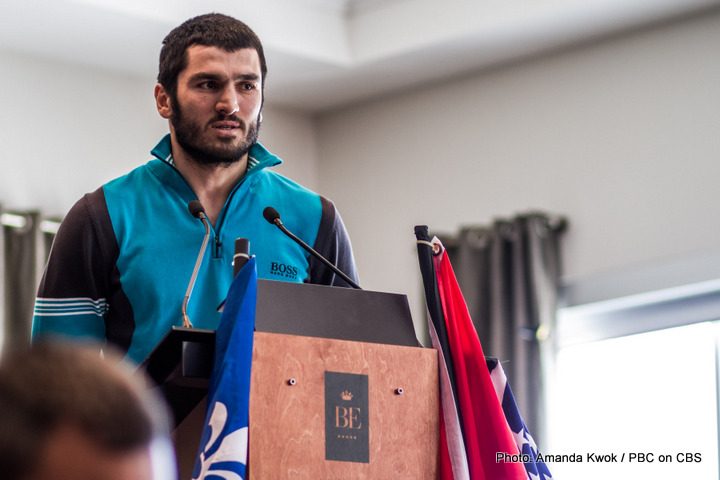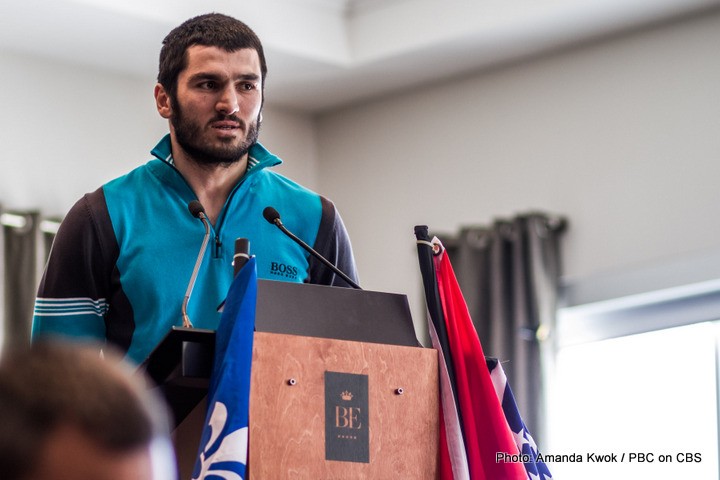 Two highly-skilled undefeated knockout artists who have positioned themselves to become potential world champions in their respective divisions are heavyweight Anthony Joshua and light heavyweight Artur Beterbiev.
Joshua (13-0, 13 KOs), the orthodox knockout destroyer from Watford, Hertfordshire is seen as an emerging contender in the heavyweight division. He went 7-0 last year with all of his fights ending in a knockout, most of them in the first round. He defeated veteran countrymen Matt Shelton and Michael Sprott, as well as Denis Bakhtov for the WBC international heavyweight title. This year he took out three more opponents, Jason Gavern, Raphael Love, and world title challenger Kevin Johnson all before the third. His opponents have yet to reach the fourth round. At an impressive six feet six inches and approximately 240 pounds, the former 2012 United Kingdom Olympic Super Heavyweight Gold Medalist is an ideal size for his division and always displays his fantastic conditioning with great agile footwork, speed, and a commanding jab. He's ranked second by the WBC, third by the WBO, thirteenth by the WBA, and fourteenth by the IBF.
The most impressive victory of his young career was his last outing against Johnson in May. Johnson had never been stopped before: he had only been knocked down once, had never really been in trouble in a fight, and went 12 rounds with former world champion Vital Klitschko in his only world title shot. Yet, Joshua dominated Johnson, knocking him down twice in the first round and then once more in the second, leading referee Ian John-Lewis to mercifully stop the one-sided bout. Joshua took command over Johnson at the start of the bout and landed whatever he wanted while Johnson operated in survival mode for a round and half and barely threw any punches. Granted, Johnson hasn't displayed the same skills as he once did and lost four of his last five matches coming into this bout. However, he had never been so brutally beaten up as he was against Joshua, despite the fact he has faced good opposition in the past and Joshua was taking a step-up in competition. With his victory over Johnson, Joshua received the WBC international heavyweight title.
Joshua's promoter, Eddie Hearn of Matchroom will have him face undefeated Gary Cornish (21-0, 12 KOs) for the vacant Commonwealth heavyweight title at the O2 in London on September 12th live on Sky Sports. As long as he prevails in that match up, he'll fight Dillian Whyte (14-0, 11 KOs) in November or December. The exact date and venue are still to be determined. Whyte is an extremely powerful puncher in his own regard as none of his opponents have reached beyond the fourth round. He already owns a victory over Joshua in the amateurs in 2009 and scored a knockdown in that bout. Their strong dislike for one another has intensified over the last couple of months, making their bout even more intriguing. Both of these fights will be a good step-up in competition for Joshua and give the boxing world a better indication as to how good he really is.
If the 25-year-old pugilist prevails over Cornish and Whyte and wins another bout or two next year against formidable opponents, he'll be in a great position to fight for world title in 2017 if not sooner. Given Joshua's size, skills, and early results thus far, he'll have a good chance to prevail when he's given the opportunity to face the best boxers in the heavyweight division like current title holders Wladimir Klitschko and Deontay Wilder.
Beterbiev put the boxing world on notice with his dominant performance last year (4-0, 4 KOs) and scored consecutive, devastating second round knockouts against former IBF world title holder Tavoris Cloud and undefeated prospect Jeff Page, Jr. His knockout victory over Cloud garnered him the vacant WBA-NABA light heavyweight belt. He knocked down Cloud four times before the bout was stopped; it was the first time any fighter knockdown, let alone knockout, Cloud. Beterbiev (9-0, 9 KOs) followed up that victory with another stellar performance over Page Jr., despite being knocked down for the first time at the professional level. His win over Page Jr. earned him the vacant WBO-NABO title and the vacant IBF North America strap to add to his expansive collection of world titles. He also successfully defended his WBA-NABA strap.
His awe-aspiring performance continued this year as he crushed former IBF world champion Gabriel Campillo in the fourth round and recorded his first defense of the IBF North American title. Beterbiev then scored a seventh round technical knockout victory over Alexander Johnson in June. He registered two knockdowns in both the fifth and seventh rounds after which referee Mark Nelson stopped the bout. This was the first fight that Beterbiev was extended beyond four rounds. He claimed the vacant WBA-NABA title again and garnered the WBO international title.
At 30-years-old, he's a bit older than most boxers who begin their quest for a world title, yet he's quickly making up for lost time with a rapid ascent up the light heavyweight division's rankings. Beterbiev is ranked seventh by The Ring Magazine, second by the IBF, third by the WBO, and fourth by both the WBC and WBA. The hard-hitting orthodox Montreal, Quebec, Canada native is promoted by Yvon Michel of Group Yvon Michel, and is a former two-time Russian Olympian, 2009 Amateur Boxing Champion, and 2006 and 2010 European title holder in the light heavyweight division.
Beterbiev has yet to face the best boxers in his weight class. He declined to face current undefeated WBA, IBF, WBO world champion, Sergey Kovalev on November 28th in Moscow, Russia. Beterbiev defeated Kovalev twice in the amateurs, although Kovalev has greatly improved over the last couple of years at the professional level. If these two powerful boxers fight one another, hopefully next year, it'll be a great action packed bout that will almost certainly end in a knockout. Given Beterbiev's amazing punching power in both of his hands, his great inside fighting game, and impressive overall fundamental skills in every facet of the sport, it gives him a decent chance at prevailing over Kovalev or reigning Ring Magazine and WBC light heavyweight champion Adonis Stevenson.