After outscoring the seasoned Mexican fighter Lara with scores of 118-109, 116-111 and 118-109, Leigh Wood has reclaimed his WBA featherweight champion title. In February, the 34-year-old Lara managed to defeat Wood, leading to a quick organization of a rematch. There were hints of Lara not being at his peak prior to the initiation of the fight.
By the middle of the week, it was evident that Lara couldn't achieve the required weight, weighing in above 129lbs, leading to the loss of his belt. This situation left Wood as the only competitor for the title.
Despite this, there were uncertainties for the British fighter as Lara's heavier weight might pose an advantage, making it more challenging for Wood to triumph. These concerns were unnecessary as Wood showcased a masterful performance.
In the chief support bout, light welterweight Jack Catterall (27-1, 13 KOs) pounded out a wide 10 round unanimous decision win Darragh Foley (22-5-1, 10 KOs) in a tune-up level fight.
The highly ranked 140-lb contender Catterall, knocked the over-matched Foley down in rounds seven and nine. Catterall was docked a point in round seven for hitting Foley after he got up from a knockdown.
The scores:
Female WBA junior middleweight champion Terri Harper (14-1-1, 6 KOs) beat Ivana Habazin (21-5, 7 KOs) by a competitive, action-packed ten round unanimous decision. The judges scores were 97-93, 97-93, and 98-92.
Unbeaten Super featherweight Aqib Fiaz (12-0, 1 KOs) boxed his way to a narrow eight round point victory over the tough pressure fighter Costin Ion (10-4-2, 5 KOs). The referee score was 76-75.
Fiaz, 23, was seemingly in control of the fight when he was dropped in the sixth by a powerful left hook from the Romanian Ion.
Campbell Hatton (12-0, 5 KOs) stayed unbeaten with a fifth round referee stoppage of Michal Bulik (6-3, 2 KOs) in light welterweight action. 
Hatton pummeled Bulik in the fifth round, hurting him with a big shot, causing the referee John Lathan to waive it off.
It was a bit premature, but the referee decided to stop the bout since Bulik was just soaking up punishment not doing much in rturn. The official time of the stoppage was at :38 of round five.
Danny Ball (13-1-1, 6 KOs) dominated an overmatched James Robinson (15-6-2, 4 KOs), scoring an eighth round corner stoppage to win the vacant English welterweight title.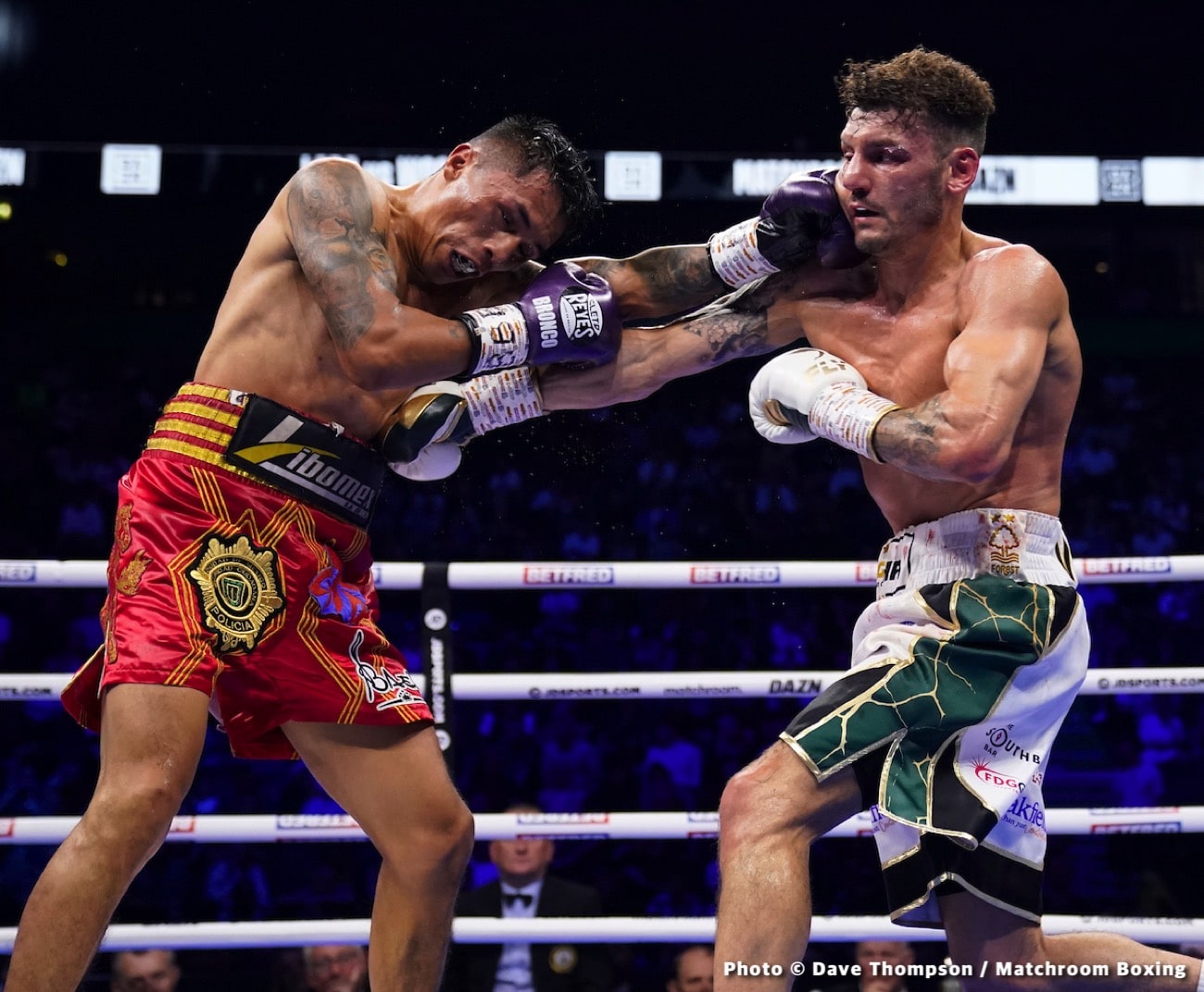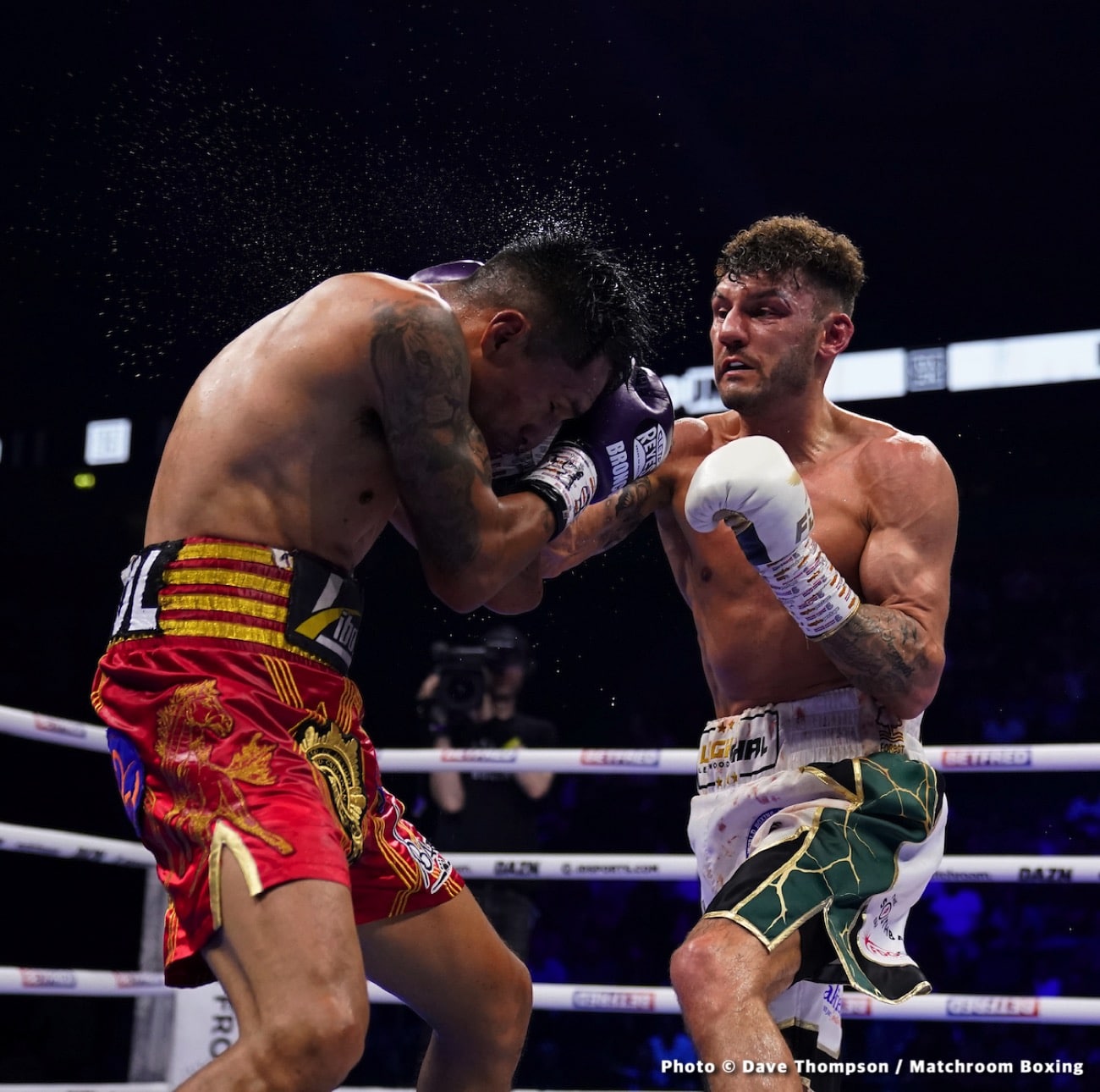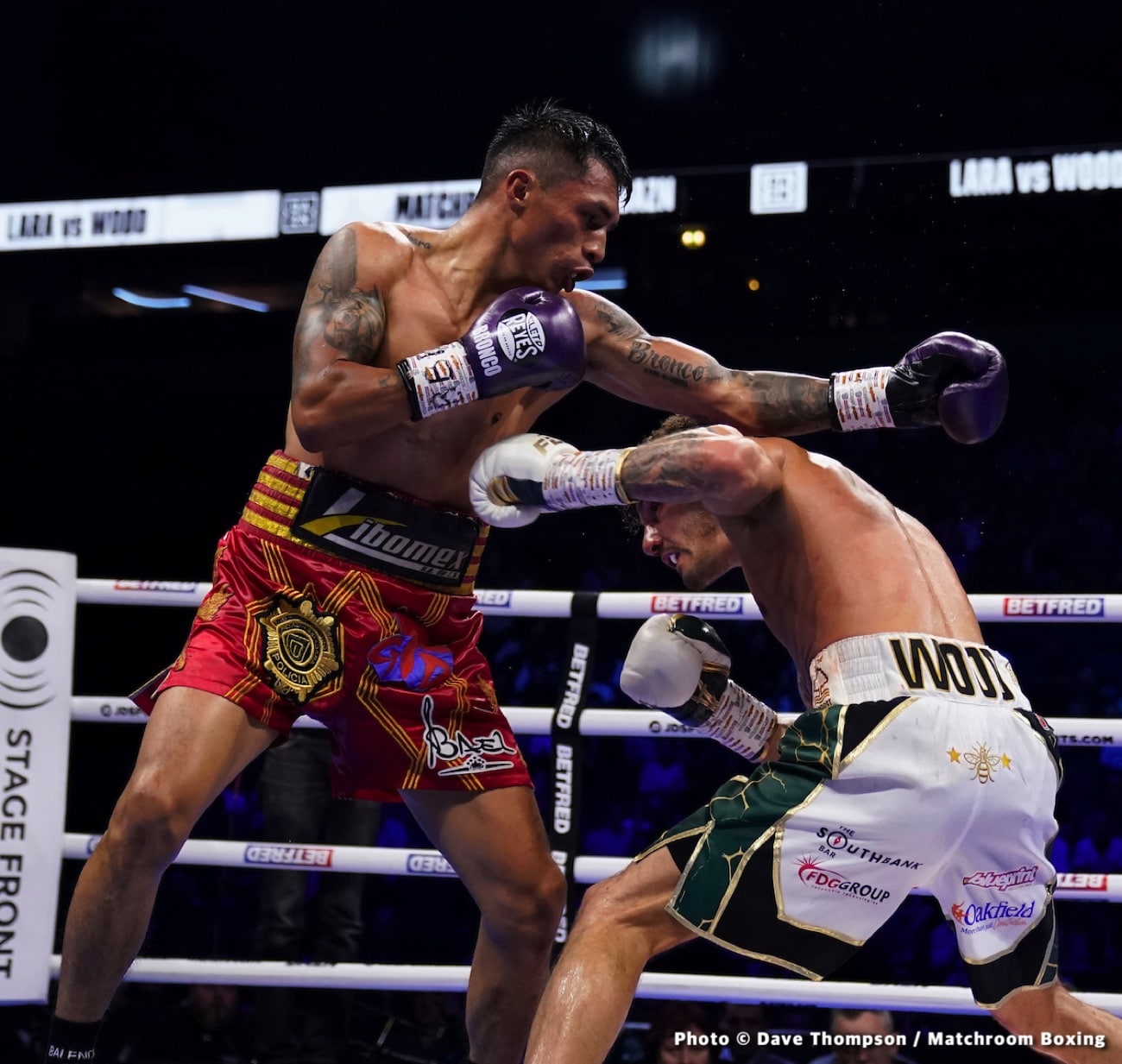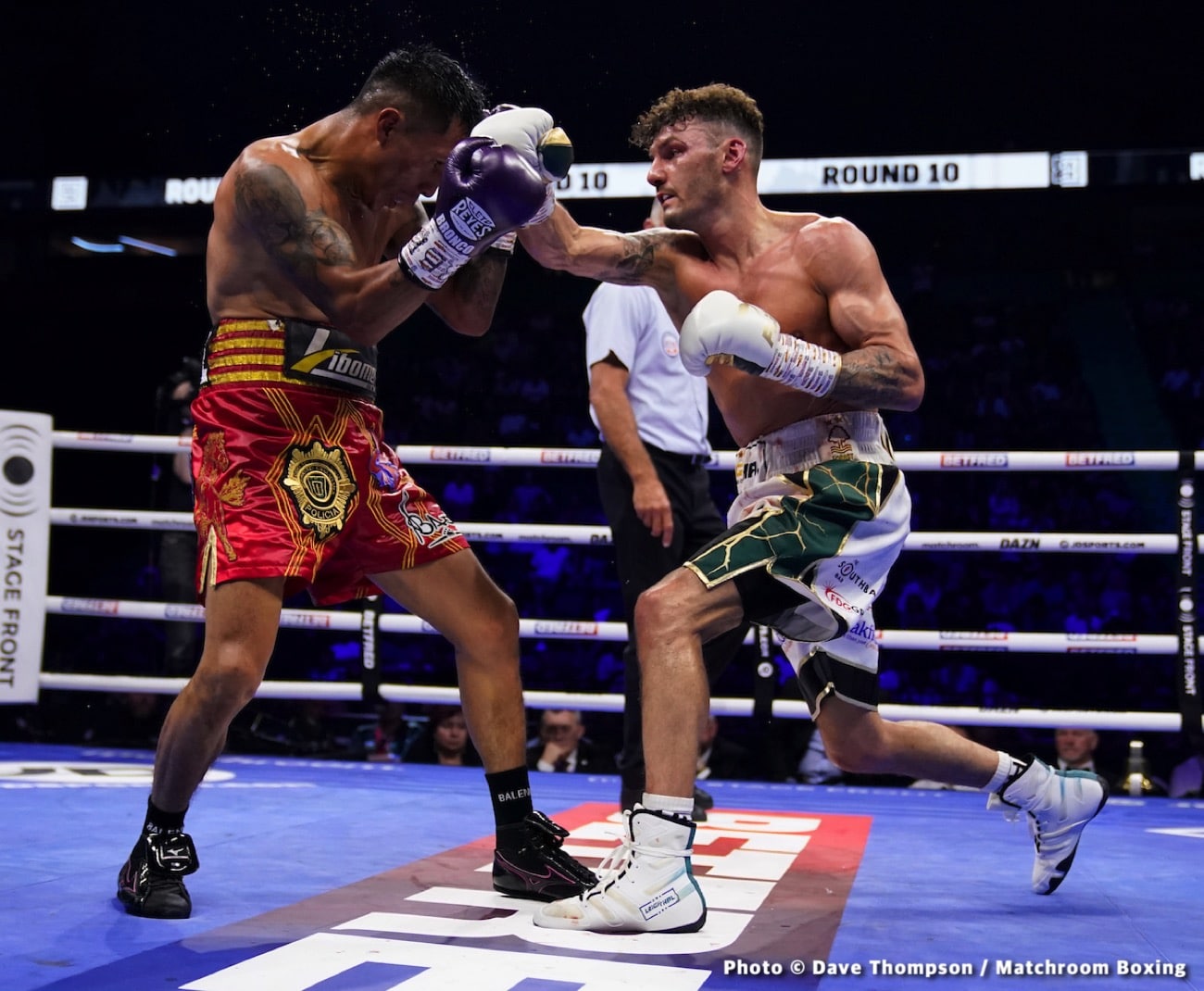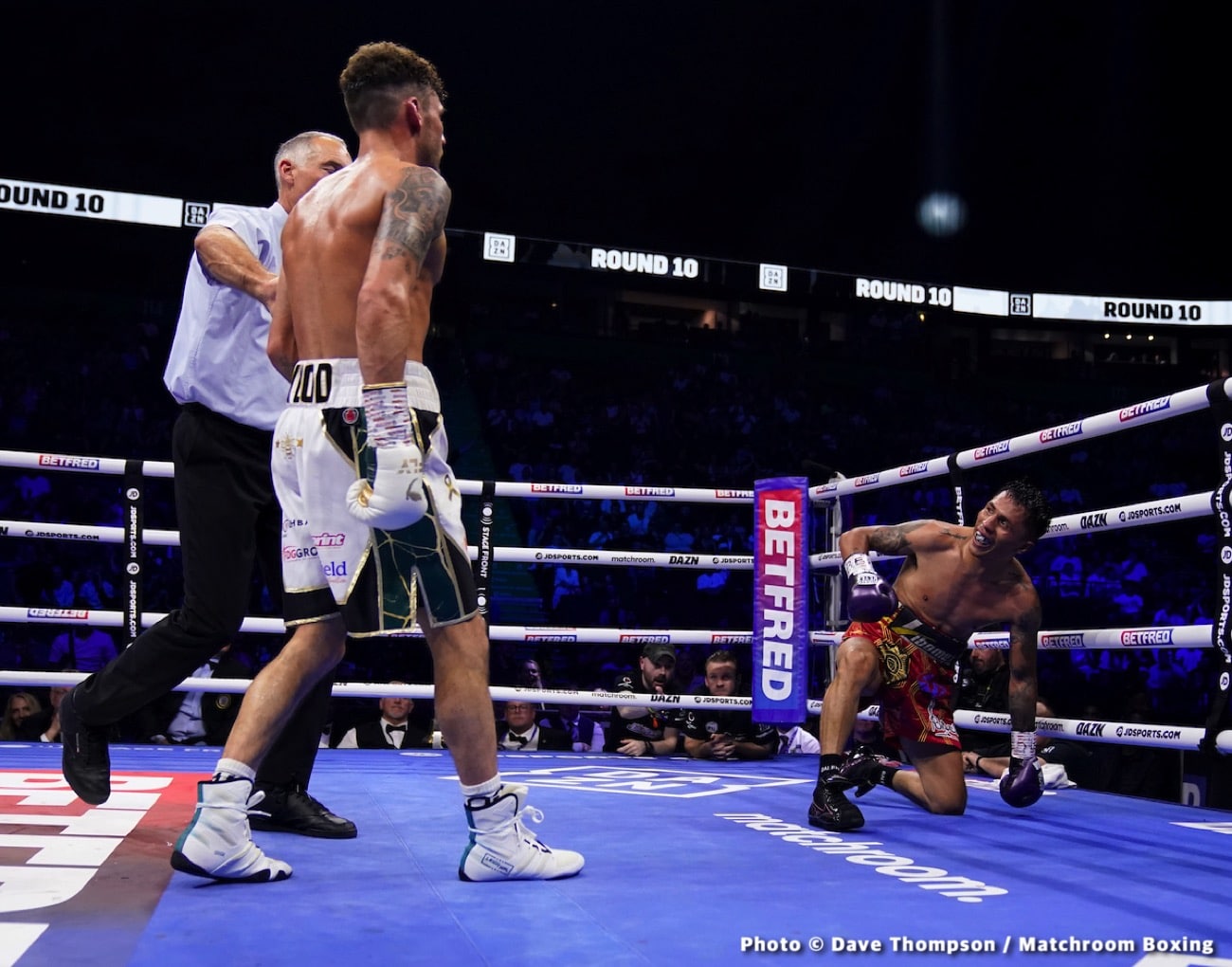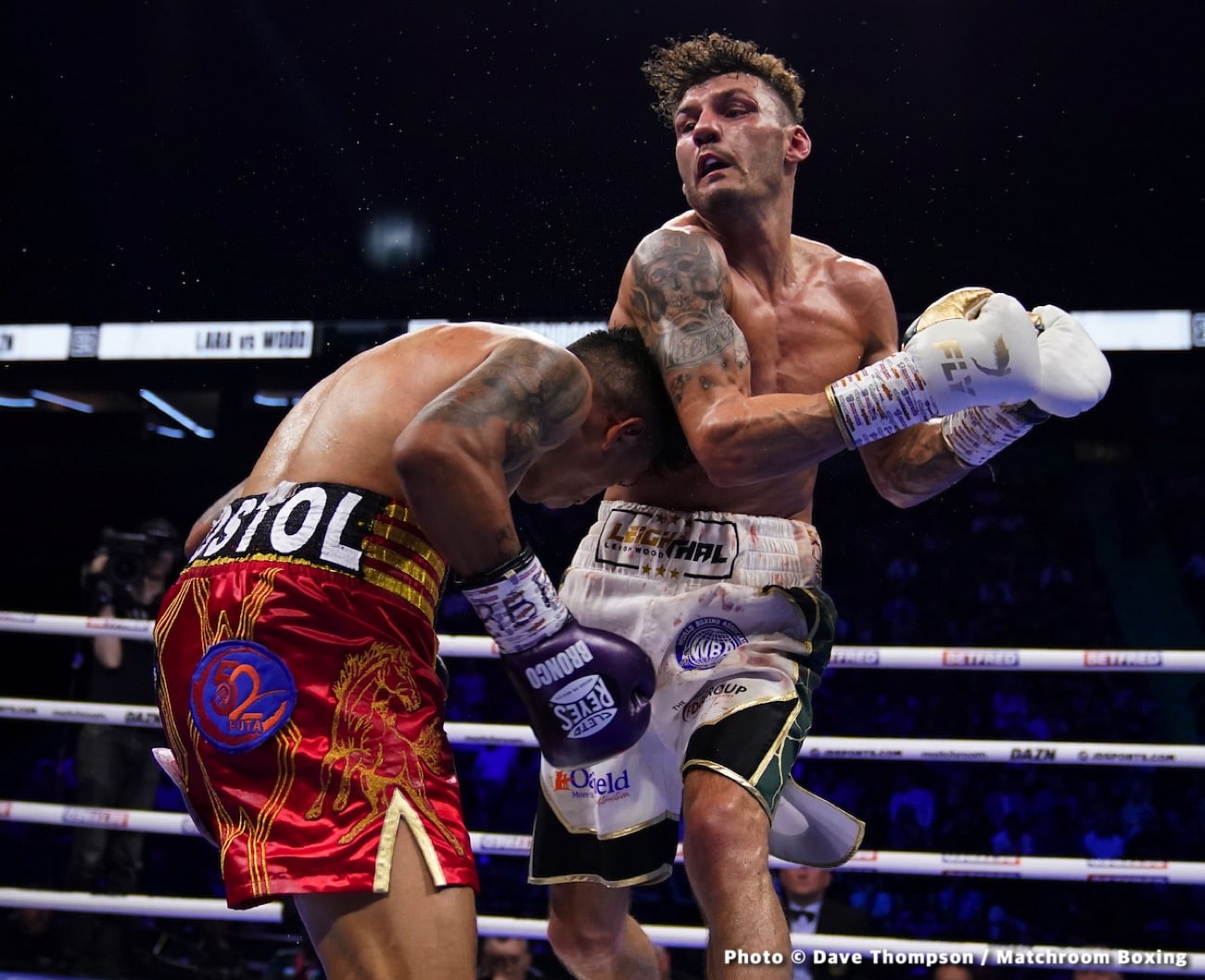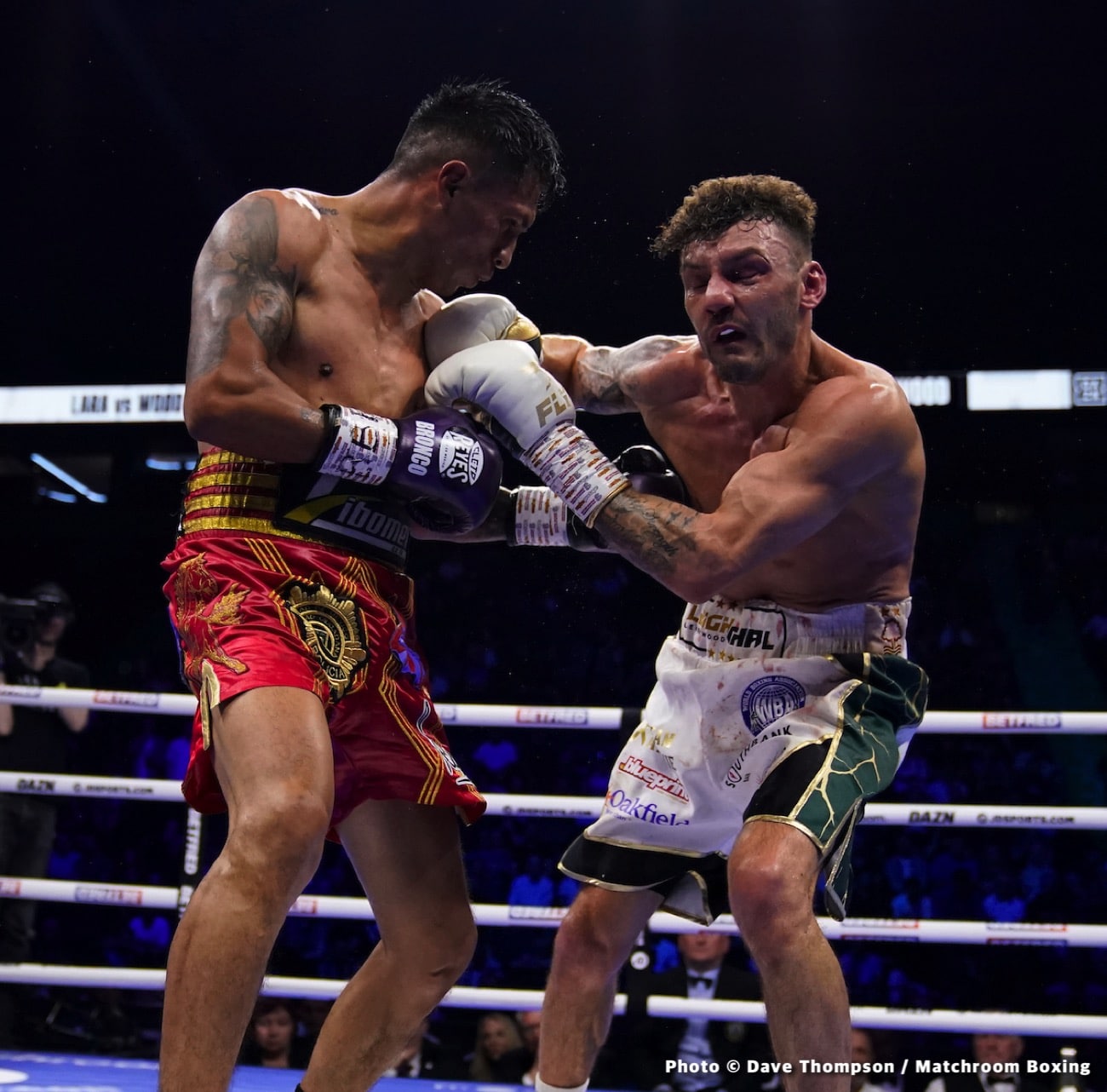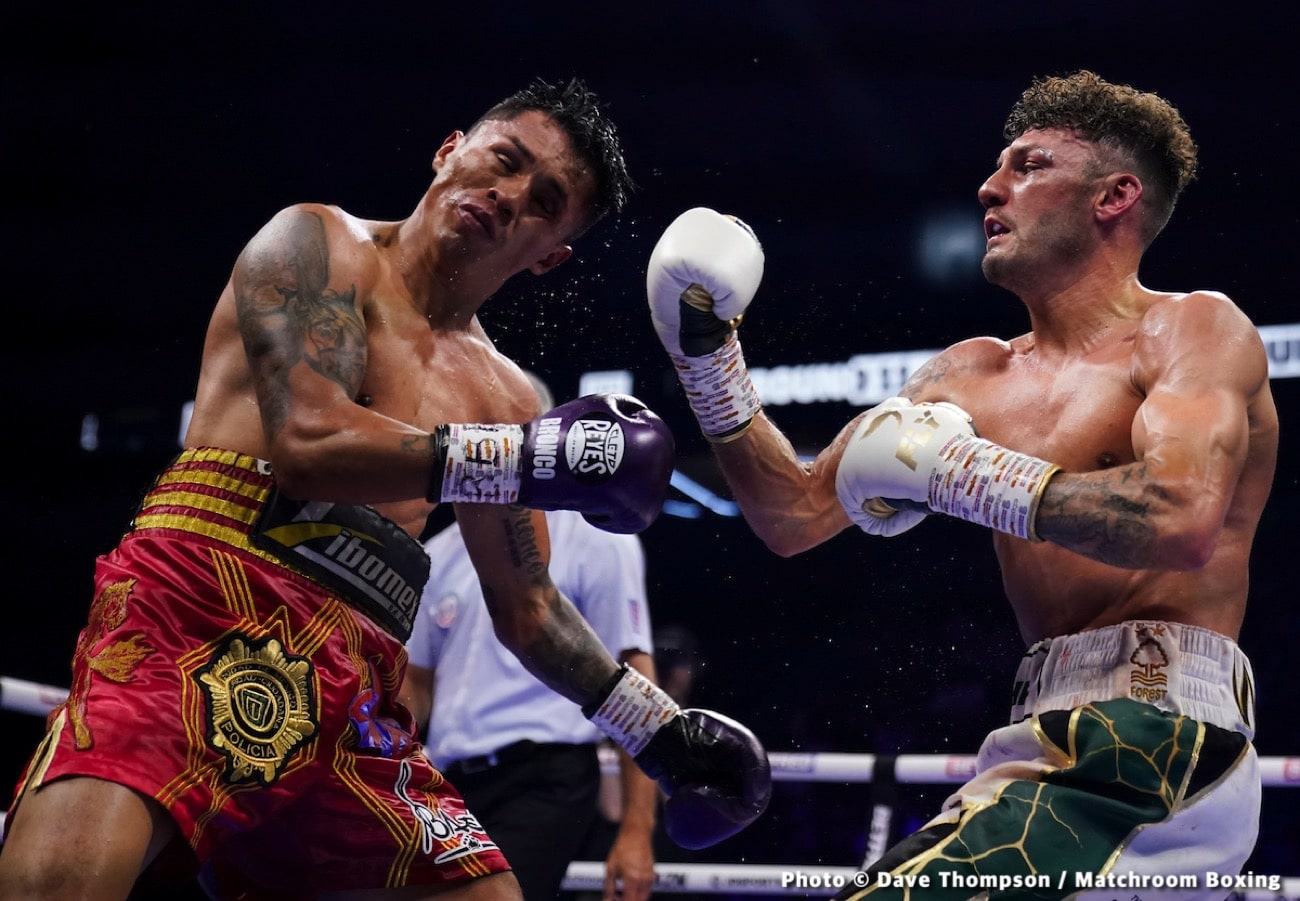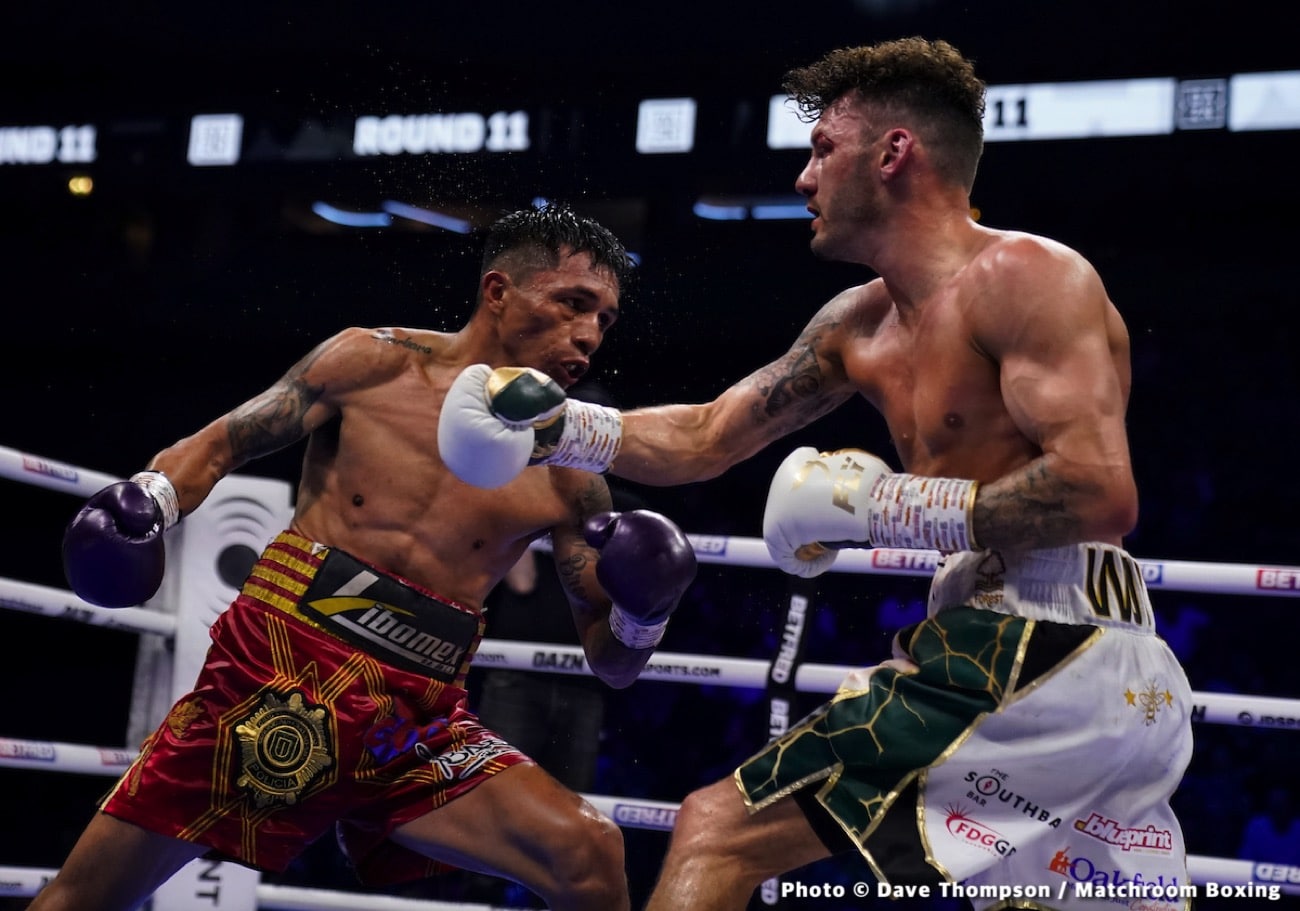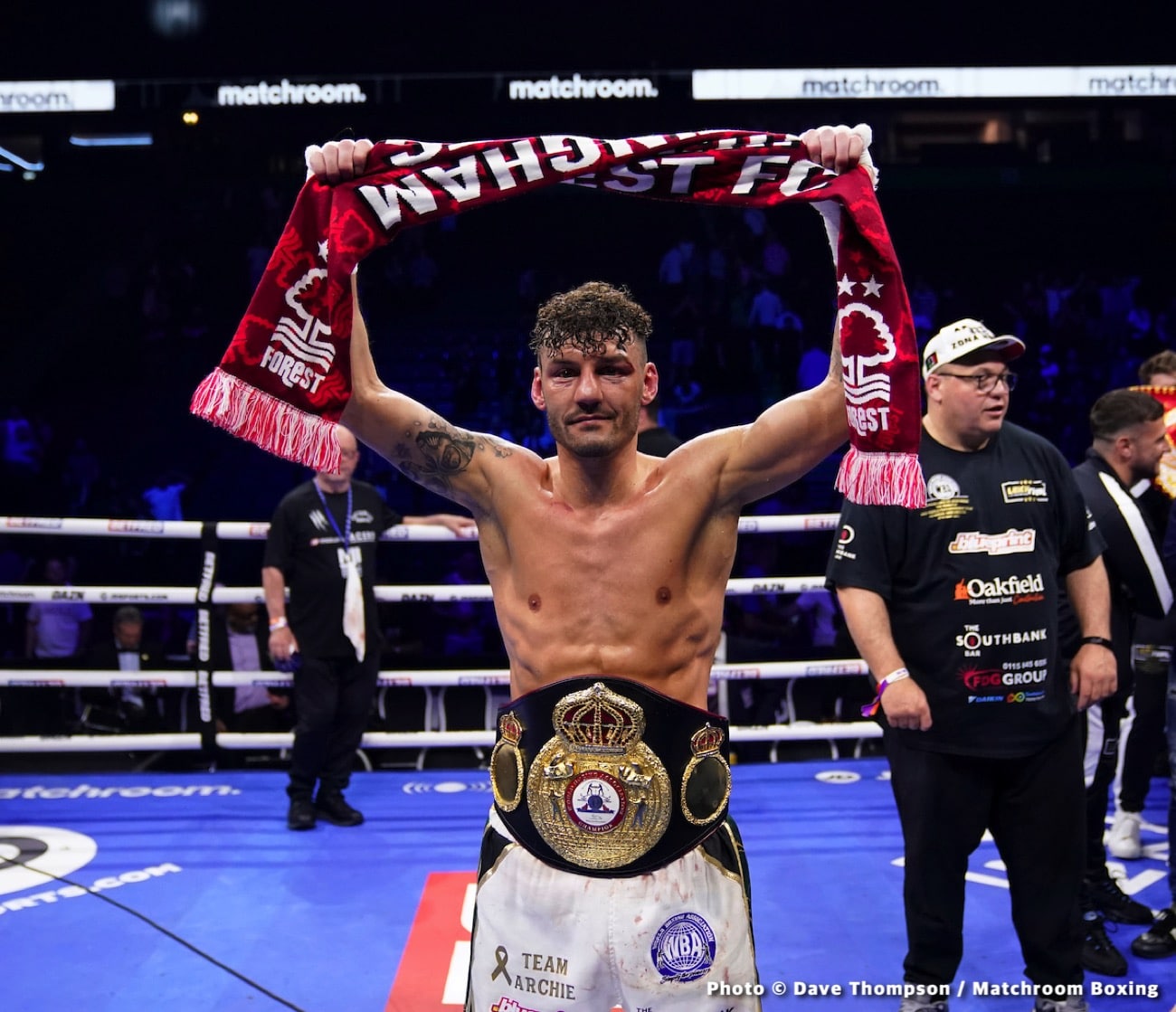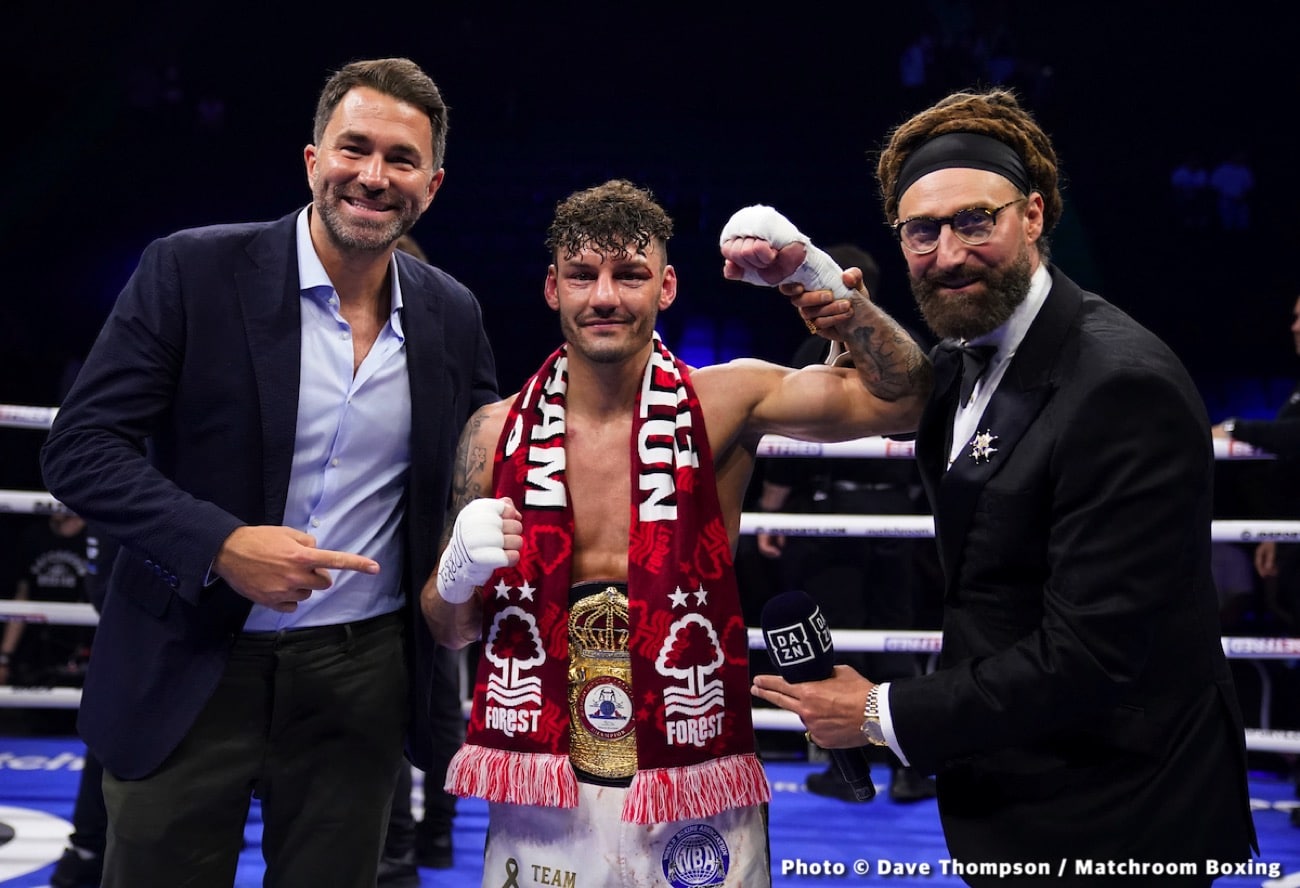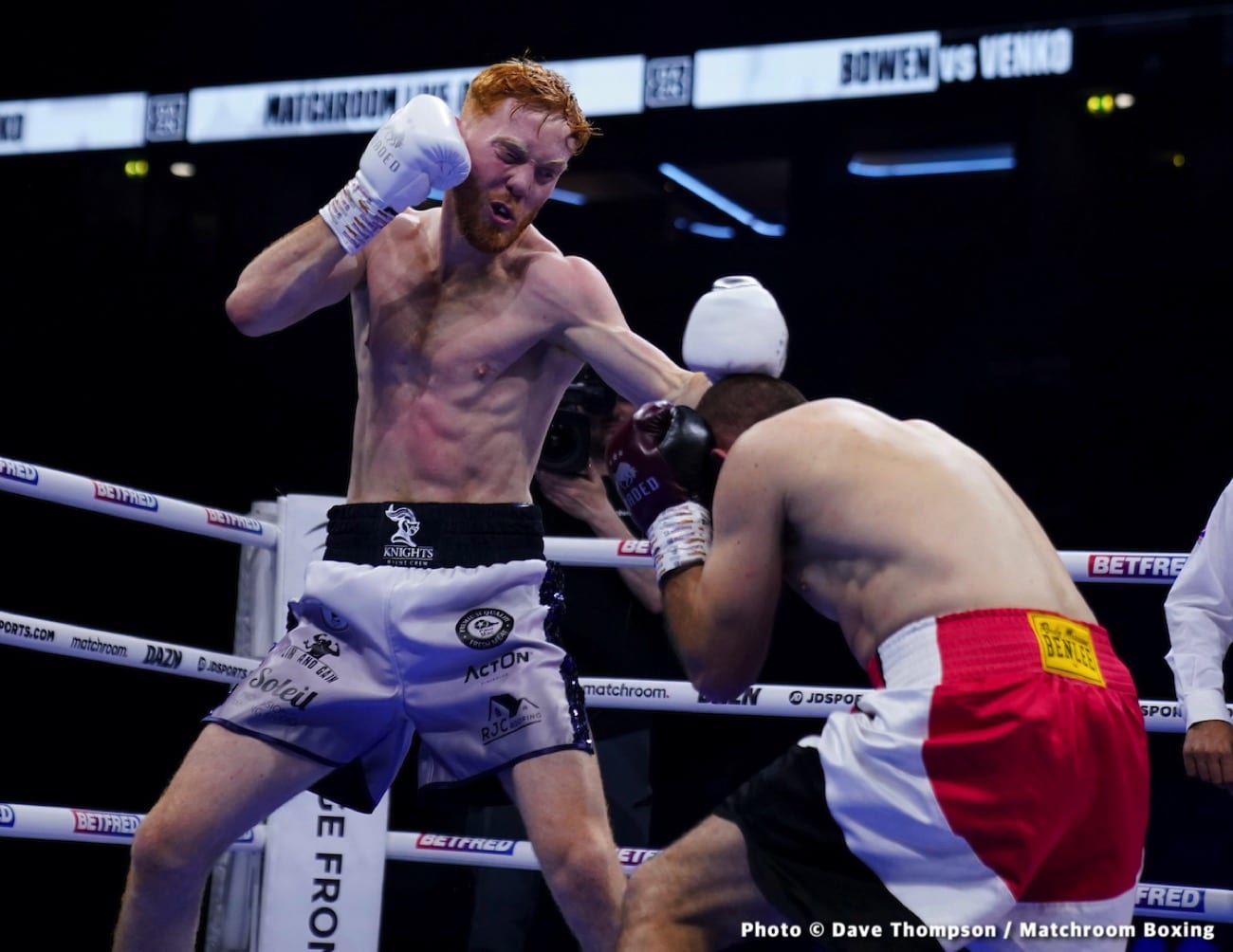 Preview – Leigh Wood must be wary
"I think Leigh Wood is going to be super wary, super cautious, and I think he might actually get Mauricio Lara late," said Tony Bellew to DAZN Boxing, picking former WBA featherweight champion Leigh Wood to win tonight.
"All will be revealed in the first three or four rounds, to be honest."
"If you're Leigh Wood, you're trying to take crumbs and comfort from that defeat. You're up on the scorecards on every single scorecard. Prior to the towel coming in, you were ahead," said Ade Oladipo.
"Yes, so maybe he'll look at that and think, 'This is why we've gone for the immediate rematch,' because it is a quick turnaround for a rematch."
"It is, but when you say, 'Crumbs,'  you're absolutely spot on," said Bellew. "You know what you're getting yourself into with Mauricio Lara. You know what you can and can't do. He's not someone you prepare for, and he can change game plans midway through a fight.
"He's not someone who can adapt. He comes with a certain set of skills and a style that is quite easy to prepare for. It is not easy to stay away from. That is what Leigh Wood has to do on Saturday night."
"I look at Leigh Wood's record. The punch power is there. He has 16 knockouts among his wins, which isn't incredible. We've seen bigger punchers over here," said Ade. "His style is awkward, but you can read what he's doing. Why is it so difficult to beat him then?"
Lara willing to get hit
"Because he's willing to get hit, and that's the difference," said Bellew about Wood. "With big punchers, you usually find that punchers are vulnerable, and they're not as willing to engage. But this guy [Lara] is a bit of a wrecking machine, and he'll take three to land one.
"That's very rare to see in boxing, especially when they are the punchers. As I've said before, punchers are vulnerable. I've never come across a serious puncher that doesn't have vulnerabilities himself," said Bellew, forgetting what happened to him in his knockout loss to Adonis Stevenson.
"It's very rare you see it. They always hit the floor, and Mauricio Lara, I haven't seen him taken apart yet and really smacked and on the floor. He's fought some big punchers, and they just bounce off him.
"You seen what it was like against Josh Warrington. Everyone that fights Josh Warrington always says."
"Underrated power," said Ade about Warrington.
"Carl Frampton says he's the strongest puncher he's ever faced," continued Bellew. "It's insane when you think about the people that Carl Frampton has faced because Scott Quigg is a ferocious puncher. Leo Santa Cruz can really bang. There are multiple people that he's fought, and for him to say Josh Warrington is the strongest is something else.
"Now, there's no debating that Leigh Wood is pound-for-pound one of the biggest punchers in the country, and I know his record doesn't suggest that, but he just is," said Bellew.
"Jazza Dickens says he's not that big of a puncher, but that's because Jazza is nuts. Everyone he faces, he gets a reaction, barring Jazza Dickens. I just think that he [Wood] has to go in there and be super wary of engaging head-on.
Wood can win late
"He has to create angles and dictate the space and the rhythm of the fight. If he does that successfully, I think in the championship rounds of this fight, I think he can get rid of Mauricio Lara. If he keeps hitting Mauricio Lara consistently, it will have an effect at some stage," said Bellew.
"I guess the problem for Leigh Wood is that he has to go in that space, that danger zone where Lara wants him to come into," said Ade. "Are you surprised how quick a turnaround this is for the rematch? The first fight was the backend of February, and here we are, the backend of May. So that's twelve weeks or thereabouts, which I guess, for calculations, you take three or four weeks off, and your straight back into fight camp. That's quick," said Ade about Wood.