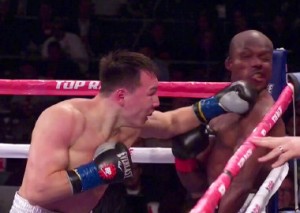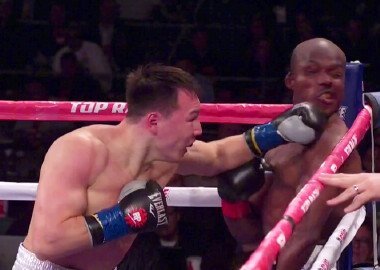 By James Slater: Bradley's 12-Round UD over Provodnikov thrills the fans!
Where to start with last night's absolutely mesmerizing battle between Tim Bradley and Ruslan Provodnikov! We saw a truly special, wild, brutal and utterly captivating war at the Home Depot Centre, one that will hopefully result in a part-two.
Bradley, so much the better, more polished fighter, was expected by many to box smart and outclass the big-for-the-weight, hard hitting Provodnikov, but – almost certainly due to the frustration Bradley has felt since winning that controversial, death threat-producing decision over superstar Manny Pacquiao and the lack of a big name opponent since last June – the defending WBO welterweight ruler wanted to "make a statement" and punish and KO his challenger and he fought an ultra risky fight.
And, oh, how close to disaster the man known as "Desert Storm" came as a result!
Hurt and knocked down in the 1st-round (called a slip by ref Pat Russell) and then hurt very badly in the 2nd, to the point where Bradley was all over the place, his legs looking totally gone, Bradley was made to pay for fighting Provodnikov's fight. Fighting on the inside, Bradley was almost asking to be KO'd; giving the Freddie Roach-trainer challenger all the chances in the world. As a result, the entertainment unfolding made it impossible for fans to know what was going to happen next.
Bradley did fight smart at times, keeping the fight at distance and boxing Provodnikov's ears off. But whenever Bardley made a mistake – of either warring in the pocket or switching to southpaw – Bradley was teetering on the precipice. Reduced to swinging like a drunken sailor when hurt, Bradley showed amazing heart but none of his usual class. Provodnikov was soon busted up and badly cut above and below the left eye (Bradley was also swollen around the eye, his right, by the end of the epic) but he kept coming and coming.
Then, when fans had almost screamed their lungs out, they needed more lung power in the 12th and final session. Almost pulling the fight out with what would have been a stunning stoppage, Provodnikov once again landed a smashing right hand, stiffening the WBO welterweight champion's legs. Bradley was in bad shape and soon Provodnikov had the satisfaction of finally sending the pit-bull of a teak-tough warrior on the canvas. Bradley may not have survived another minute, but the bell came and the fight, and possibly the round of the year thus far, was over.
What now?
Here are some of the things we came away with after last night's slugfest:
Bradley certainly succeeded in making a statement as far as proving he is no boring fighter as some have claimed (how foolish do those people look now?)
Provodnikov has arrived on the world stage and is deserving of more big fights.
A rematch would be a great, great idea.
Bradley has one of the sturdiest chins in all of boxing.
Both Bradley and Provodnikov have an absolute ton of heart.
A pre-fight war of words (this one between rival trainers Freddie Roach and Joel Diaz) can strongly affect how the ring action unfolds.
Bradley cannot afford to fight such a dumb (albeit hugely entertaining) fight ever again!
In closing, we must all say a big thank you to both warriors for a very special fight. One that reminded is what makes boxing such a great sport!