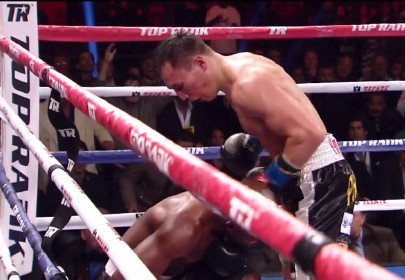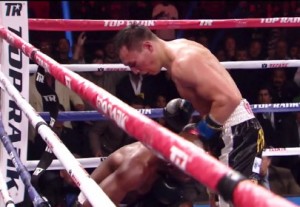 By Bill Phanco: WBO welterweight champion Tim Bradley (30-0, 12 KO's) defeated light welterweight challenger Ruslan Provodnikov (22-2, 15 KO's) by a 12 round unanimous decision tonight at the Home Depot Center in Carson, California.
Bradley, 29, was knocked down in the 12th round by Provodnikov, and badly hurt in the 1st, 2nd, 6th in addition to the 12th round. It looks like the referee blew a call in the 1st that would have caused the fight to end in a draw by ruling it a slip after a badly hurt Bradley was knocked down by Provodnikov. The judges scored it 114-113, 114-113 and 115-113.
After the fight, Bradley, with bad swelling on both sides of his face, said "I think I have a concussion. This guy is a power puncher. He'll beat any 140 or 147 pound fighter out there. I wanted to start fast and jump on him. I'm feeling dizzy right now; the warrior instinct came in, the will to win. Even though I got rocked, I still fought hard. That's the warrior in me."
Provodnikov said "Everybody saw what I did in the ring. It's up to the judges. I felt I did enough to win. I did not feel his punches. He felt my punches. Everybody knows that."
***
Fringe welterweight contender Jessie Vargas (22-0, 9 KO's) defeated Wale Omotoso (23-1-1, 19 KO's) by a 10 round unanimous decision. The final judges scores were 96-93 96-93 and 97-92. The scores seemed a little out of wack from the actual fight that took place because Vargas appeared to lose at least four of the rounds with one of then, the 2nd, seeing him get knocked down.
At best, you can call it a draw, but the judges scores seemed to give zero credit to Omotoso's much, much harder landing shots. The judges seemed to be focusing on just the jabbing that Vargas was doing in the rounds he was getting tagged.
Vargas moves on but it wasn't an impressive performance by him at all, and if Omotoso had a fought a little bit better he could have taken the judges out of the equation by knocking Vargas out.
Other boxing results:
Oscar Valdez TKO 4 Carlos Gonzalez
Andy Ruiz, Jr. TKO 1 Matthew Greer
Gabino Saenz KO 2 Cesar Valenzuela
Victor Sanchez TKO 1 Ramon Valadez
Jessie Magdaleno TKO 3 Carlos Fulgencio
Egidijus Kavaliauskas UD 4 Eridanni Leon Quintero