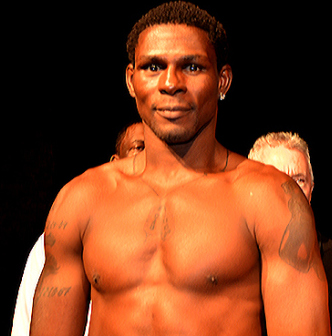 It's July 16th 2005 in a stiflingly airless MGM Grand arena. After a scrappy, evenly contested encounter a landmark juncture in modern boxing history has been reached. A dumbfounded crowd of 12,000 have bore witness to the end of Bernard Hopkins' historic reign of twenty straight defences as Middleweight Champion; the man to upend him is a young buck from Little Rock with a jarring jab, a follow-up right and a porous defence. These tactical observations matter little, as the new Middleweight kingpin holds aloft his hard-earned belt in one hand and his adorable kid in the other. Speaking to Larry Merchant after the bout he is respectful of Hopkins, exudes gratitude to HBO for the opportunity and initiates every answer with a deferential "Yes, Sir." Every inch the modest all-American hero, right? The scene elapses, the audience spills into the Las Vegas night and life moves on.
Fast forward to January 19th 2015 and an altercation unfolds in the driveway of one of the more flamboyant houses of a residential district of Arkansas. Staged below the home's impressive Roman portico, an ageing champion has been parading his assortment of boxing trinkets to a gradually swelling gathering of curious locals. The mood of the principal is light and mild, that is until a one year old boy held in the arms of his father, his fragile fingers grappling with the leather of a sizeable championship belt, loses his grip. The mood curdles instantly. The experienced pugilist transforms form amicable host to gun-toting menace as he pulls a pistol, discharges the weapon twice into the air before aiming it squarely at the temple of the boy's father. An onlooker manages to wrest the firearm from its position, and although the unhinged gun-wielder pulls the trigger a final time, the distressed boy and father are able to flee the scene unscathed. Every inch an American psycho, right? The police arrive, a mental health evaluation is served and a pitiful narrative reaches its nadir.
To a reader unversed in the current affairs of boxing, these two opening paragraphs bear little resemblance and offer few parallels. But despite the stark incongruence, the two separate yarns document two disparate moments in the same protagonist's life. Their incongruence only serves to emphasise how the hopeful story of boxer Jermain Taylor has spiralled into a deep, raging sadness.
The obvious question dancing on everyone's lips: what happened to the hero titlist of 2005 to reduce him to the impulsive felon of 2015? It is beyond doubt that depression and mental disharmony affect people around the globe indiscriminately. But on this occasion, to peddle this well-worn trope would be to sorrowfully dance around a pressing issue beginning to encroach on all contact sports.
The ten years that spanned the void between our two opening scenes were not easy on Taylor. If two dogged victories over Hopkins were to embody the highlights of Jermaine's career, an imperceptible dimming of the lights ensued thereafter. An eyebrow-raising tussle with the defensive maestro Winky Wright resulted in a draw, before two indifferent wins over Kassim Ouma and Cory Spinks elicited scorn from critics who expected definitive triumphs from an Olympic medallist. It would be an injustice to discredit Taylor's ability so glibly as in his brief prime his jab could deter any contemporary middleweight whilst his heart could lead him into rounds that his body and mind shied from. Yet as time progressed an alarming tendency to wane in the later rounds surfaced compounded by an inclination to swallow an undue number of punches. The product of these traits came to fruition with a harrowing knock-out defeat at the hands of Kelly Pavlik which preceded an ill-conceived renaissance at Super-Middleweight. Despite securing a world title against inferior opposition, an undersized Taylor fell victim to his untrustworthy stamina once more as he was flattened by a Trojan Carl Froch in the final round of a barbaric encounter.
But still we have not reached our tipping point – the axle upon which we can determine the irretrievable deviation from the hero narrative.
That crossroads befell Jermain on the 10th October 2009 in the foreign surroundings of Berlin, under the glare of a baying partisan crowd. It is near impossible to distinguish whether the unforgiving canvas met during the 12th round collapse or a blow from the fusillade of hooks and lunging rights launched by the Armenian Arthur Abraham rendered the damage. What is incontestable is that an action that evening catalysed a severe concussion and a cerebral haemorrhage in Jermain. What dispiriting cruelty for victim and adversary alike that one instance can render every blow inflicted before and after utterly irrelevant.
Nevertheless, that is what happened and that is our axle.
The first declaration to be asserted is that the science surrounding brain injury in sport is still unsubstantiated and emergent. High profile cases across all sporting disciplines point towards a clinical diagnosis of Chronic Traumatic Encephalopathy (CTE) which is a neurological disorder precipitated by concussive blows to the cranium and resulting in a web of connected symptoms including but not limited to memory loss, slurred speech, impaired co-ordination, depression, emotional disturbance, impulse control problems, parkinsonism and even dementia. To a layman like myself, the colloquialism thrown around in boxing circles during the 20th century has been the distastefully phrased "Punch-drunk" syndrome. No two cases are the same, and symptoms can materialise during or post career for sports stars.
The condition is not just haunting the lives of celebrated Boxers either. In fact, CTE has probably received more coverage in the NFL realms where high-profile cases to titans of the playing field such as Mike Webster, Tony Dorsett and Junior Seau have begot even higher profile compensatory lawsuits. This week in the UK, Welsh rugby's latest heartthrob George North has been barred from appearing in this weekend's Six Nations meeting against Scotland after he experienced two concussive traumas in his last outing. As expected, the backlash from the public was vehement at the omission of their star, but the tide may be turning in contact sports' perceptions of head injury. Self-preservation supersedes short-term accomplishment is a mantra coming into vogue.
Whilst no member of the media, esteemed or lowly, has the neurological prowess to propose how boxing should amend its licensing procedures to appease the spectre of CTE, here's what we do know. Jermain Taylor passed the rigorous medical testing of the Nevada State Athletic Commission in 2011 which invoked consultation from leading doctors in the field. With this medical accreditation in hand: a licence was granted; a comeback was launched; an alphabet Middleweight title was eventually reclaimed, before that same title was quietly stripped from him. We also know that, Taylor was charged with first-degree battery and first-degree terroristic threatening in 2013 when he shot his cousin after a domestic dispute. Equally, we know that Taylor aimed a loaded gun at the brow of a man on his driveway this January. We now know that Dr David Street, the psychiatrist that evaluated the mental health of the ex-champ this week, declared that Taylor "likely suffered brain damage from his boxing career, which makes it difficult to control his impulses when using marijuana and alcohol."
Whilst these facts are absolute, it is my own fallible opinion, and that of many others, that Jermain Taylor should never have been permitted to lace gloves again in a licensed ring after he incurred that hellacious beating on that perishing evening in Berlin. With the requisite healthcare intervention, social conditions and career pathways emplaced, it is a prodigious likelihood that a man of Taylor's resolve can still go on to lead a life imbued with quality and meaning. However, Taylor's comeback has only injected further depravity into a sport noted for its seediness and facilitated a media-scrutinised unravelling that has jeopardised his rehabilitation.
Boxing has a long, storied history of unashamedly draining every ounce of entertainment from its gladiatorial champions at the expense of their wellbeing after the final bell has tolled. The greatest fighter of all time, Sugar Ray Robinson, died penniless and oblivious in a shaded state of boxing induced Alzheimer's after plying his enfeebling trade until his mid forties. Unpardonably, just last year, boxing deities Shane Mosley and James Toney who have captivated millions with their in-ring heroism over the last two decades, were welcomed into further bouts despite overt signs of slurred speech. To dispense of the euphemisms, slurred speech is a symptom of brain damage. Watching their gradual submission of the senses bares no semblance to the principles of sport; rather, it is a voyeuristic act more akin to rubbernecking as one passes a traffic accident.
So, it's decided then. This scandal will be resolve, immediately redressed and further abuse of boxing's aging icons will be expunged from the sport; but, how do we set about this? Do athletic commissions conduct social behavioural examinations on fighters? Is there a means by which a doctor could have identified Taylor's compromised impulse control back in 2011 and ascribed this to early onset CTE? Would this have swayed a decision? Could a brain bleed and out mandate be legislated across all national federations? Is clarity of speech factored into fighter assessment?
Undoubtedly the drawing up of stringent parameters will be problematic given the vast span and continuum of vague symptoms in which brain injury cases can exist upon. I certainly do not have any acumen for groundbreaking solutions and with the fragmented make-up of boxing's governance no answer is elementary, but undoubtedly these are the questions that need to be posed.
It is not as if boxing is an anachronism with no capacity for change. The sourcing of essential medical apparatus at ringside prioritised in the mid 1990's has been an intervention that has safeguarded the lives of thousands of fighters across all continents.
Furthermore the act of addressing the early symptoms of "Punch-Drunk" syndrome cannot be perceived as an affront to the sport; conversely it is a timely opportunity. The majority of people who will read this article will be the staunchly enamoured fanatics of prizefighting. However, there was a time in 1950's America where horse racing, baseball and boxing were dubbed "the big 3": a reference to the coast-to-coast fixation with this triumvirate of sports. Bad-news fables, undue punishment and repugnance over the failed health of legendary fighters are some of the keystone rationales for the wider public disassociating itself from boxing.
Eradicate the cases of damaged fighters outstaying their welcome in the squared circle and the longstanding contempt held for boxing in pockets of society will be primed for eradication too.
As ever with boxing journalism, there are far more glamorous discussions to be documented than Jermain Taylor's current predicament and its relevance to the debate on CTE. It has been telling how few column inches have been dedicated to Taylor's case over the last fortnight. No doubt there will be some who opine that examining minor to extreme brain injuries is ghoulish or "anti-boxing", or further, the act of veiled abolitionists who would prefer to watch an intense serving of International Bowls. Regrettably, such naysayers are fools. Granted, casting an eye over an article exploring the razzmatazz of a Floyd Mayweather is sure to humour, whereas an expose on Gennady Golovkin's dietary and training regimen is sure to engage. Nevertheless, to overlook the troubling case of Jermain Taylor is to be complicit in the eventual death-knell of what is, more often than not, a noble and emancipating sport. (After all, no statistics have ever been compiled on how many young adults have been liberated from a life of abject poverty by the emancipator of boxing.)
Equally, to petition for the swift retirement of pugilists with perceptible symptoms of CTE or a predisposition for brain bleeds does in no way detract from fans passion for the ferocity inherent in boxing. Let the adrenaline coarse through your veins as Corrales divines a left hook to halt the charge of a savage Castillo in that tenth round, or feel your jaw drop as Micky Ward sinks another liver shot into the slackened frame of Gatti during the febrile tenth stanza of their first fire-fight. It shouldn't be denied that the primal bloodlust which overtakes the viewer during the peaks of violent exchanges will always be prominent amongst the many addictive appeals held by the sport of boxing – after all as Middleweight Hall of Famer Rocky Graziano once pithily uttered "the fight for survival is the fight."
But by the same token, when the fight for survival is already compromised – or worse if a competitor is entering the fray neurologically wounded – can enjoyment remain with the spectre of mortality so palpable? Are the any real boxing fans that derived gratification from the spectacle of watching a symptomatic 44 year old James Toney slowly sacrificed to the sport with every pulverising blow in his loss to Lucas Browne in 2013? If the answer is yes, perhaps it is time to halt the subscription to Ring Magazine and relocate to the befitting confines of an underground cockfighting racket on the outskirts of Manila.
The humour is black, but the sentiment is honest. Boxing should always be a wilful sporting examination, not a slaughter.
One final angle from which to survey the expanse of this debate from is here: have you ever caught yourself imagining what a healthy Muhummad Ali would have contributed to the world if his career would have been curtailed at the first signs of his slowing speech and ponderous movements in the late 70's? A diplomat, a comedian, an orator – his repertoire would have been unfathomable. You snap yourself out of the reverie like it's a dirty thought given how commendably he has remained unbowed and eminently inspiring despite, or perhaps because of, his burden of Parkinson's Disease. But the thought has come and passed, you can't erase it.
The ages have demonstrated that no man can call time on his stand in the spotlight – not Jermain Taylor, not Muhammad Ali.
Like a fatherly trainer who knows the opportune moment to withdraw his fighter from an irrepressible harm, the moment has arrived for boxing to draw its line in the sand on the topic of brain injury.
by Michael McEwan
Hate mail or job offers at: mcewan4747@yahoo.com