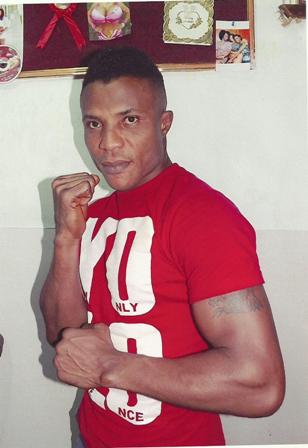 Nigeria's reigning Commonwealth Super Middleweight champion, Isaac Ekpo has called the bluff of George Groves, Carl Froch, Callum Smith, Steven Smith and other highly rated Super Middleweights in world boxing.
Ghana-based Ekpo (25-2, 18 KOs) who fought for the WBO Super Middleweight world title in a decision loss to Robert Stieglitz in Germany in October 2013, has targeted another crack at the world championship but first he wants to beat some top boxers in his weight division and he is talking tough.
"I am ready for the top Super Middleweights in the UK like Steven Smith, brother of Callum who is fighting for the WBO Super Middleweight title on February 28 in Germany, that's the perfect fight I am looking for," Ekpo told Boxing247.com exclusively in Accra.
"I also want to fight George Groves, he has fought for the world title and lost, so why don't we fight each other before the WBC world title," 32 year old Ekpo questioned Groves as if he was speaking directly to the man.
He went ahead to taunt the 26 year old Groves: "I know your answer will be no because you've always been a chicken. I'm a current Commonwealth champion and you were a Commonwealth champion and you got a shot, Carl Froch was a Commonwealth champion and he got a shot so give me a chance to send you into retirement."
Hurt by the refusal of WBC International Silver super middleweight champ, Luke Blackledge to face him in his own country in Africa, Ekpo is so determined to return to the big table of world super middleweight boxing he has even declared war on hitherto IBF world champion, Carl Froch.
"After Luke Blackledge refused to fight me in Nigeria, I will go on the road to fight any of you out there including Carl Froch. If you are good enough, come out to face me," former WBO Africa champ, Ekpo has declared.