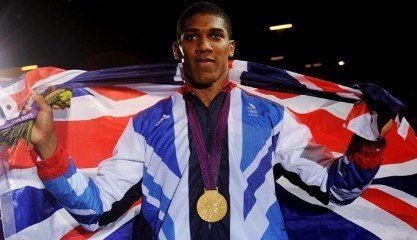 Over the following three Saturdays five of Britain's leading top prospects will be live in action up and down the country. All five, three of which gained medals at the London 2012 Olympics, have not only the talent to become world champion but could potentially go on to one day be great, legendary even.
Britain is currently a melting pot rich with young, brilliant talent but what can this recent sprout of success be credited to? Surely the funding now available to young amateur boxers plays a significant part, which has vigorously developed since Audley Harrison became the first British fighter to win an Olympic gold medal in the super-heavyweight division in the 2000 Sydney Games and, four years later in Athens, Amir Khan taking home a silver medal in the light-weight division. In the 2008 Beijing Olympics Britain had another gold medallist in James DeGale, further strengthening the position of our young amateur fighters.
Harrison, Khan and DeGale are all at different stages of their careers. Harrison is pretty much done; he won the 'Prizefighter' tournament twice, became European heavyweight champion in 2010 and challenged for the world title against David Haye. However as a professional he may be best remembered for failing to have lived up to his full potential. Khan is a former world champion and is still an active(ish) fighter but has a long road to walk if he is to establish some sort of legacy (unless of course the world turns briefly mad and he ends up convincingly dethroning Mayweather, should that fight ever come to fruition of course). DeGale is only just about on the fringe of world title contention and is yet to face elite opposition so there is no basis for determining any legacy that 'Chunky' may or may not leave behind at the end of his career.
Although he didn't represent GB in the games, Lennox Lewis was the last Olympian gold medallist (1998 Seoul Games) to have left behind a professional legacy in which the UK public could be proud of; indeed we still are (though personally I have always felt like the refusal of a rematch against Vitali Klitschko has left a small, inerasable stain upon his record, but that's somewhat irrelevant to this article).
The point is that the healthy funding of amateur boxers due to the Olympic success, first and foremost of Harrison, and then followed by Khan and DeGale, allowed for a very strong boxing team to represent Britain in the 2012 London Olympic Games and progress to potentially become stars of the future.
Leeds' Nicola Adams became the first woman to win an Olympic boxing title, earning a gold medal in the flyweight division; Luke Campbell took gold in the bantamweight division; Anthony Ogogo took bronze at middleweight and Anthony Joshua, following in the footsteps of Lewis, W. Klitschko and Harrison, took gold in the super-heavyweight division.
In Campbell, Ogogo and Joshua Britain at last has a very real chance to have moulded a cluster of boxing legends across the weight divisions. The three have only had a few professional fights each but their careers are all off to a flying start.
Campbell fights this Saturday in his hometown of Hull; the Matchroom Sport promoted fighter campaigns professionally at lightweight and the initial concerns regarding his move up from Bantamweight have all been eradicated by sensational performances.
Ogogo is promoted by Golden Boy Promotions and therefore fights equally on American and British soil. He can next be seen fighting in Glasgow Saturday week on the undercard of Ricky Burns' WBO lightweight title defence against Terence Crawford. He is also the first British boxer since Frank Bruno to have signed an endorsement deal with Nike.
Joshua also features on the Glasgow bill in what will be his fifth professional fight against experienced Argentine Hector Alfredo Avila, who took Derek Chisora nine rounds last year and accordingly presents Joshua with a comparable guide to test himself against. In my opinion Joshua is the one out of the 2012 Olympic British boxing squad to have progressed the quickest. In his first professional fight in October last year he faced 8-0-0 Emanuele Leo, halting him within the first round. Just to put this into perspective, the first undefeated opponent Harrison faced came in his fifth professional fight; for Lewis it was his fifteenth and Wladimir Klitschko did not face an undefeated fighter until his twentieth professional bout.
The difference between Campbell, Ogogo and Joshua to the likes of Britain's current world champions and leading contenders comes back to that single word 'legend'.
Joe Calzaghe has cemented his legacy in the sport and will soon be inducted into the Boxing Hall of Fame. It remains to be seen how Carl Froch will be remembered but surely at the least he will go down in history as a warrior who fought absolutely anybody. One leading British contender who I can see as possibly leaving a positive permanent mark in boxing is Lee Selby, arguably my favourite active British fighter.
Champions come and go but legends that live through history are a rare entity and I am certain even now that Anthony Joshua will become a 'superstar'. As I stated at the beginning of the article, there are altogether five boxers who undoubtedly have the talent to reach such heights.
The other two I was referring to are Hughie Fury and Callum Smith.
Fury can be seen next on March 1st in Bristol, fighting on the undercard of James DeGale's next clash (something of a warm-up bout before his WBC eliminator clash against Badou Jack). Hughie, 13-0-0 (KO 8) cousin of Tyson, is ahead of Joshua in the sport experience wise but even the prospect of a domestic dust-up between the two down the line is utterly enticing. Fury represented England as an amateur and in 2012 he became the first British super-heavyweight boxer to win gold at the Youth World Amateur Boxing Championships. At the risk of not wanting to repeat myself from a previous article I will leave Hughie Fury there.
I have saved probably the best British prospect to last year in Callum Smith, fighting next on March 15th in his home city of Liverpool on a bill that also features two of his three brothers.
Smith 9-0-0 (KO 7) made rapid progress last year. Now a British record, he built up a run of six consecutive first round stoppages, the sixth of which was against Patrick Mendy for the vacant English super-middleweight title. In his last outing, Smith claimed the vacant WBC international super-middleweight title via a sixth round stoppage of experienced campaigner Ruben Eduardo Acosta. He was very unlucky not to have represented the GB boxing squad in 2012 as through a mixture of disappointment and controversy he didn't qualify; it would likely take an entire article to explain the ins-and-outs of that situation.
Britain's current crop of world champions (Froch, Burns, Quigg and Hall) and the notable leading world contenders are raising the profile of the sport by shining a positive light on our nation. But in time the young British prospects of today may raise the bar to a whole new level.