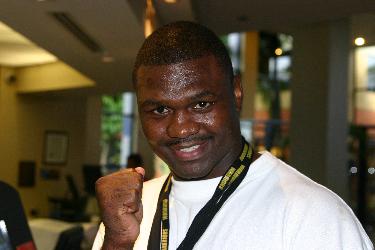 Perennial heavyweight contender Ray Austin returns to the ring tonight in Cleveland. The match — against Earl Ladson — is Austin's first in two and a half years. "I'm getting back into the heavyweight business," he says. "I'm taking on all comers…it don't matter who they are. I'm not looking for media fights, that ain't gonna do it. I want to fight guys in the squared circle. Tell the rest of the heavyweights that all they gotta do is sign their name on the dotted line. That will make me happy."
The Cleveland, Ohio native, who has been fighting professionally since 1998, is now 42-years-old. For a professional boxer, obviously, this is an advanced age. But Austin is not daunted. "It feels like I'm 32, to be honest," he states. The 6'6″, 246 lbs slugger reports that he has had no difficulty resuming training after his layoff."Technically, I was never laid off," he explains. "I have always trained two or three times a week, even when I was out of the ring for two years. Preparing to fight comes naturally to me. It's like learned behavior. I'm used to doing certain things."
"I'm training here in Cleveland, at the DNA Level C Boxing Club," says Austin. "I've been sparring with a couple of boxers. One of them, he's a big guy who is fast and hits like a bear. I've also got a small heavyweight that I spar with, a UFC fighter. I use him for speed."
Austin's career has been long and eventful. A veteran of 34 professional fights, his record looks like "Who's Who in the Heavyweight Division." His biggest bout was a 2007 title shot against the then IBF belt-holder Vladimir Klitschko. Austin boxed draws with Sultan Ibragimov and Larry Donald, and he scored important wins against DaVarryl Williamson, Andrew Golota, and Owen Beck. In 2010 and 2011, Austin fought WBC Heavyweight Title Eliminator matches against Odlanier Solis and Bermaine Stiverne. Both bouts resulted in defeats, although Austin looked competitive each time.
When asked to reminisce about about his Cleveland roots, Austin says, "Growing up in Cleveland was rough. I'm from the Kinsman area, you know. There were a lot of gangs back then. Lots of street fights. For some reason, I was a trouble magnet. I was known as a big, tough guy, so everyone wanted to beat the piss out of me." Austin laughs and adds that, "Even on the streets, guys wanted to win the title. That's probably why they came after me."
"I ran into a guy named James Botts," Austin continues. "He trained me and kept me out of trouble. He had a business outside of town, so he couldn't be in Cleveland all the time. But he told me to go the Glenville Gym on St. Clair Street. In my first sparring session, I fought a kid who won the Golden Gloves. The other kids in the gym, they tricked me. They told me I was fighting a nobody; they didn't tell me that he was a Golden Gloves champ. When the bell rang, he hit me first and hurt my jaw. After that, I threw ten punches and put him down. I was a street fighter, so I kept punching him while he was on the floor. Everyone in the gym had to jump in the ring to pull me away."
It has been 28 years since Austin first entered a boxing gym. Today, he hopes to fight again for the world championship. Tonight's bout against Ladson is just a tune-up, but it is probably the first of several such matches for Austin. Afterward, another crossroads bout against a world-rated foe is certain. "They say the heavier you are, the harder you fall. I don't care what you've done or who you are. Let's fight," he says.