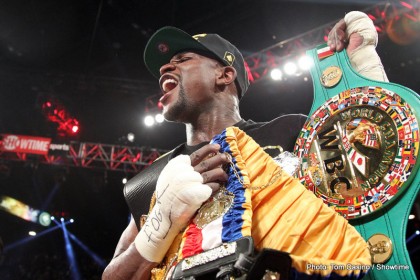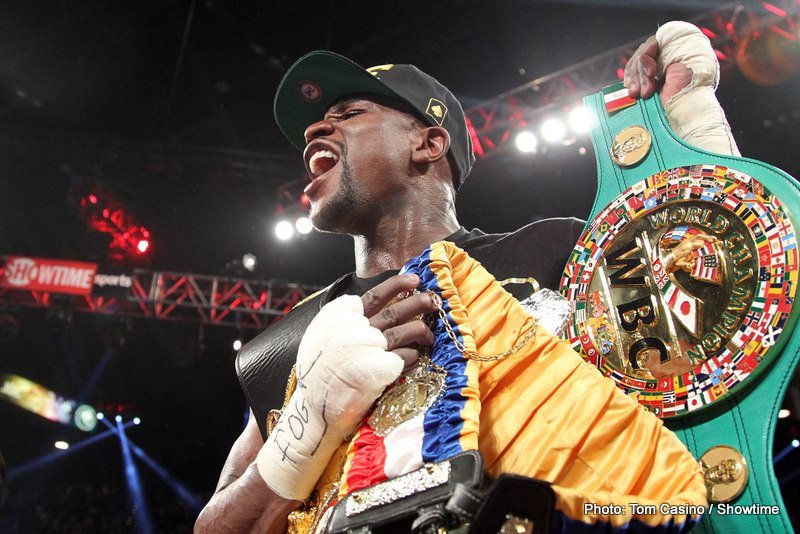 Jeff H. (Orlando, FL): I thought Mayweather's effort was an amazing one. The limited time off seemed to only help his reflexes and sharpness. How did you rate his performance and what do you see next for him?
Vivek W. (ESB): I plan to elaborate on a very deep level about Mayweather a little later in the week in a separate piece. But in short context, I would just have to say that yet again, he proved to the masses precisely how strong of a talent he truly is. It's one thing to acknowledge how gifted he is. But what amazes me to a depth that knows no end is the fact that this is a man who has done everything from party like a rock star to take two year lay-offs, and in between; yet the level in which he performs is still light years ahead of anyone in the sport. All at the ripe age of 36. A point in which every other fighter (not named Hopkins) is winding down.

He's literally in another galaxy, from a sheer talent standpoint. The reflexes, the speed, the precision, the ring intellect; those are things that you simply can't teach. 
Coming into the fight, like many others, I had Canelo rated as an extremely dangerous opponent. This is a man whose ability is far underrated, and many critics have consciously decided to subtract from his growing greatness. People said the guy was flat-footed, yet he has landed with great accuracy on everyone he faced, boxer or puncher. They said he had stamina issues, yet his punch output from the 6th round thru the 12th has averaged nearly 60 punches per round. They said he didn't have much defense. Yet with fundamentalist like Andre Ward and Bernard Hopkins on the scene, it was he who stood 2nd behind Floyd Mayweather in the compubox plus/minus ratio's.
He's only been fighting for 8 years, but the kid has stood across from 40+ men. Everything about Canelo, from his speed, to his power, to his combination punching, and all in between spelled danger. So much to the point where this became a record breaking affair of epic proportions. The pre-fight script was the same as all others in the past. Unfortunately for him, in the end, the storyline remained the same as well. I think you have to tip your hat to Mayweather. Love him or hate him, this is the best boxer alive and arguably one of the best of all time. I watched his performance in complete amazement.
Relative to what I see happening next with him? I think it's a bit hard to say. He has always talked about going to the U.K. to put a show on. Amir Khan is the biggest name from that circle, but it's not a fight many would care to see. Goldenboy Promotions CEO Richard Schaefer stated that "Mayweather proved power isn't totally the key to solving his puzzle….so we'll have to see if maybe it's speed"! That tells me that if Khan can continue to win, that Wembley Stadium fight Mayweather has talked about since promoting the Hatton showdown will happen next year. Cinco de Mayo wouldn't work too well in the U.K., so perhaps it'll happen on the September date. He has roughly 4 more fights, and you can add one more to that if he can remain undefeated and decides to go after Marciano's record by eclipsing the half century mark of 50 wins!
He basically just shut out the greatest threat to him below 160lbs. I don't know how you produce 4-5 more credible names shy of the middleweight division. But we'll have to see what happens. Garcia may get a shot if he continues to win. Providing he can defeat the aging Marquez, Bradley could also land a shot. We'll have to see how it all plays out, but regardless, I think it's safe to say we should savor this journey, as I can tell you without flinching that we're witnessing arguably the best boxer in the history of the sport. More to come on that topic soon.
Charles O. (St. Louis, MO): Judge C.J. Ross has been one of the most suspect judges in the history of the sport when you look at her resume and how she scored over 90% of her marquee fights. What do you think is really the deal with this problem in the sport and how do you think it can be addressed?
Vivek W. (ESB): I've long felt that there's a secret code to boxing officiating once you get behind the lines. A code of silence that few know, and even fewer give thought to truly understanding. When you look at the way officiating has been handled over the course of time in the sport, there are certain inconsistencies with a very consistent logic. My personal theory falls somewhere square between two angles. Which one actually holds weight? Possibly neither. But I have no doubt that there are 3 officials chosen for three specific purposes each major fight. Many of us who follow the sport intensely can validate that there's never a case of bad officiating for a fight that has no value.
Borderline fans can't relate. But if you've sat at as many fight cards as those of us who actually dedicate ourselves to this craft, you can attest that there is never a wide swing margin on the cards in a fight that means nothing. Yet when there's something major on the line, things change. Now, that doesn't mean it has to be a televised fight. There have been times when a young stud on the rise had a close call and the powers-that-be kept his record clean as well. But more often than not, if it's a meaningless fight, you're bound to get a call straight down the middle.
In one theory I've long considered, you have a judge who leans toward the house fighter (or champ), giving him the benefit of the doubt in all close rounds. A judge who leans in favor of the non-house fighter, giving him a slight benefit of the doubt. And a judge who's main assignment is to serve as a wrench, tying things up down the middle with the same score. The other theory has one judge who shows affinity to the effective aggressor. One who shows affinity to the cleaner puncher. And a third judge who again serves as the wrench, tying things up in a fight that's even remotely close. Some would laugh at this logic, but C.J. Ross' past history falls completely in line with such theories.
This fight followed that trend, with one judge scoring a wide margin for Mayweather, the other giving as many "benefit of the doubt" rounds as fundamentally possible to Canelo, and Ross, who scored properly over the first 6, yet later tilted her card to balance things out in the end by scoring 4 of the final 5 rounds for Canelo. A quick glimpse at her credentials on boxrec.com shows at least 10 fights where she has gone totally against the grain, giving the nod to a fighter who lost decisively; or locking up results, forcing a draw. Many have referenced the Pacquiao/Bradley score she pledged as her defining moment. But a closer look identified a slew of other fights she botched.
Of the 10 or so examples posted on boxrec, each of the other judges scored practically all of the fights by margins of anywhere from 4 to 6 points a piece in favor of the better fighter. Without question, there's something behind the scenes going on in these fights that isn't healthy, and it baffles me how this continues to happen. It just goes to show exactly what a joke the inner-workings of this sport truly is. One could never get away with this in the NBA, NFL, or MLB leagues, consistently. I think it's sad, and I think this is a woman who lacks moral fiber. It's a sad day in the sport when a judge accomplishes the feat of being both a "judge" and a "criminal" in one simultaneous motion.
What's even sadder is that the NSAC leader, Keith Kizer, went public stating that she "was shocked" to learn she was the one who scored it a draw. According to Kizer, "good judges don't keep a tab on their scores throughout the fight". How she felt Mayweather won without question, yet scored it a draw is beyond me. I can understand the first few feel out rounds. But anything beyond the first 3 was a clear grasp for straws! And even those weren't close. This tells me it was a bona fide tilt aimed at playing the role of the "wrench" in the end. She needs to be banned. It was an absolute disgrace. And so is she.
Brian C. (Charlotte, NC): Danny Garcia showed me something I didn't know he had. I was totally impressed. What were your thoughts on his performance? And what do you think about him declaring that he's ready to go to 147lb weight class (Welterweight division)?
Vivek W. (ESB): I knew that Garcia had underrated skills, and as I said before the bout, anything beyond 8 to 9 rounds and all bets are off, as Garcia would probably coast to victory beyond that point. Matthysse is a very solid fighter, but we continue to learn in the sport that these guys who make a living knocking people out always flat-line when someone across from them has the skill to out-think them and enough power to keep them honest. Garcia's skills allowed him to totally dismiss the power of Matthysse. It was a non-factor. Similar to Canelo, everyone said in the end, "Matthysse didn't fight aggressively like he usually does". What's so funny to me about that statement is that no one ever gives the fundamental fighter credit for blunting those attacks because they don't do it in a totally crowd-pleasing way.
Nothing about Garcia's performance was to be taken lightly. The kid is very solid. He has heart. He has skill. And he doesn't come to lay down. When you add a Father to the mix who genuinely loves his son and prepares him for battle like everyone is his last, that leaves a very difficult task in the ring. I think Garcia proved himself to be the best 140lber in the sport. And I think he has now justified his position to earn million dollar wages in the sport. If Khan can, certainly I think he should. He has earned it, and I have the utmost respect for him. Relative to who he should face next, I really think it's sad that Top Rank has such an itch with Haymon fighters, Showtime, and Goldenboy Promotions. Rios would have been a very intriguing matchup, but it's one we'll probably never see.
Now that he's talking 147lbs, I think we can all see the path being laid. Without question, at some point within the next year and a half, we can fully expect to see him lock horns with Mayweather. Personally, I'd like to see him tackle the Bradley/Marquez winner first. But if that doesn't happen, I think we can bank on a Mayweather fight. I don't know about you, but the "All Access" for that one would be epic in my mind! The characters on both sides would be in rare form, for sure! The action in the ring may not be epic by the end of the night, but on the strength of bizarre antics alone I think we'd be looking at a cool 1.3M ppv buys! I think it would be a lot of fun. And I think you can count on seeing this soon in a theater near you! Stay tuned….
(Vivek "Vito" Wallace can be heard every Tuesday night on "Left-Hook Lounge Radio" at 9ET/6PT. He can also be reached at 954.300.5692, Facebook, Twitter (@vivekwallace747), and Instagram (ViveksView).