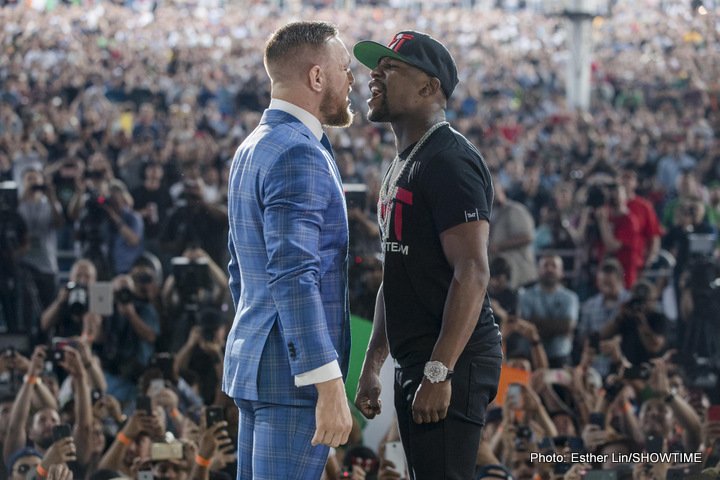 With two stops done in their four-city press tour, fans in attendance, and the two fighters themselves, have had a whole lot of fun with Floyd Mayweather Junior and Conor McGregor. The stop in Toronto proved eventful, with McGregor getting off a few good lines (along with plenty of expletive language!); but Mayweather perhaps got off the best line with his challenge to his rival to bet his whole fight purse on himself if he's so sure he will win on August 26.
McGregor, who had a dig at Floyd's alleged money problems, as well as Mayweather's alleged problems with the written word – "you can't even read," McGregor shouted at Mayweather – also called Showtime's Steven Espinoza "a weasel," for, he claims, deliberately muting him by having his microphone switched off.
McGregor really is full of himself, as a fighter and as a person and though Mayweatger says he is currently 2-0 as far as winning the two pressers, most fans feel McGregor has shown the faster, smarter, more aggressive mouth. Of course this will count for absolutely zero when the two finally clash in the ring in Las Vegas – and we can only hope that somehow, this fight lives up to the considerable hype – but if McGregor takes Mayweather up on his challenge and indeed bets his whole fight purse (he won't of course) then we will know for sure that the Irishman really does believe in himself.
"If you believe in yourself like you say you believe in yourself, bet your whole fight cheque," Mayweather said to his 50th ring opponent. "Turn the pressure up. I don't quit, I don't fold under pressure. I'm the best and I know I'm the best. We're not talking about being at the top for one year, two years, three years, four years. We're talking about 21 years."
McGregor verbally accepted Mayweather's bet, "no f*****g problem," he shot back at the challenge, but with so much cash at stake, it seems almost certain there will be no such actual bet.
Despite all the fun and games and McGregor's ability at scoring more verbal points, there really is only one winner in this fight; one that will pit a boxing novice having his debut against possibly the greatest, cleverest defensive fighter of all time. McGregor insists how "one shot is all it takes" to win a fight, reminding us how he "bounces heads off the canvas," but many good judges feel the Irishman will fail to land even one blow on Mayweather.
We can expect more fun and games in the remaining two stops on the press tour, but the real stuff, the only stuff that counts, will be witnessed in the ring in around six weeks' time.