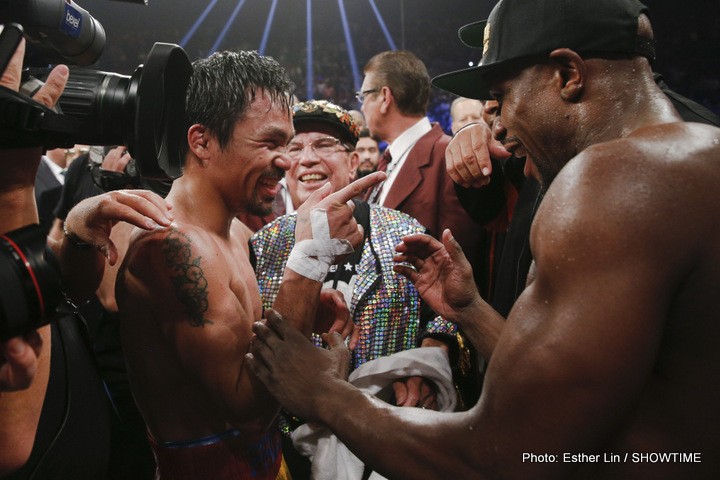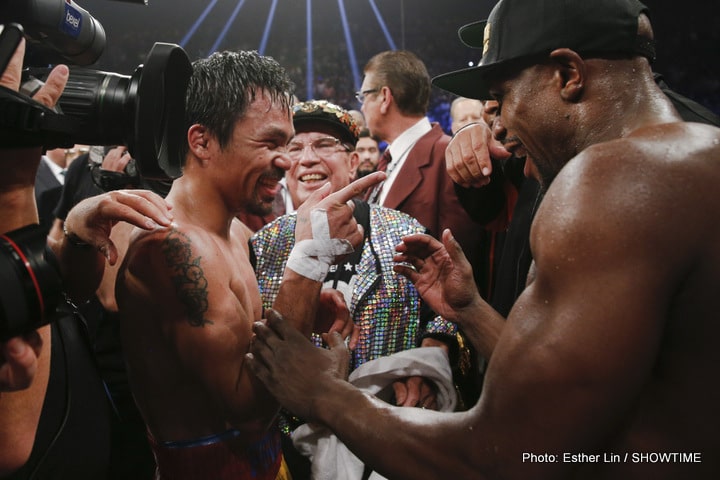 This isn't an article about "the" fight, in fact I will confess to not having watched "the" fight yet at all. Where I live it will be bright outside shortly after Manny and Floyd enter the ring and whilst there are still fights every other month that I will stay up all night for, this isn't one. Why? Well allow me to explain: there are few things on which I ever agree with Dan Rafael of ESPN but a few years ago following another breakdown in negotiations for Mayweather-Pacquiao he commented that one of the things he looked forward to most in boxing was flying home from Vegas the morning after the fight. Essentially he recognised that in staging every other fight just as a build-up to what could be a historical clash, we were cheating ourselves as fight fans as well as dozens of top-level fighters out of the attention and celebration that should come with championship boxing.
The era of multiple sanctioning bodies, catch-weights and alphabet titles already represented a low point for a sport that had long lost its way but the commercially-driven career paths of these two have, since 2008, led to a situation where even the meaning of a title has been lost. Pacquiao's rise through 8 weight classes has seen a belt materialise for each division he fights in regardless of opponent while Mayweather for his part has reigned as WBC 147lb champion since 2006 despite two retirements, occasional fights at light middleweight and having no concept of the term "mandatory challenger". Indeed Floyd's 2010 domination of Shane Mosley highlighted just how meaningless the idea of the championship belt has become; an argument over who should enter the ring first led to both men agreeing to make it a non-title fight (Mosey was the WBA title-holder) and Mayweather was permitted to make the traditional champion's ring-walk after Mosley. Ego and brand were now worth more even than championship belts.
Competent, experienced and dangerous opponents were overlooked by both boxers (excepting J-M Marquez in Pacquiao's case, a mistake he surely regrets) in favour of undefeated challengers who brought little to the ring but a story that the TV networks could build drama around. How many nights were wasted "marvelling" at the way in which Chris Algeiri, Robert Guerrero and Tim Bradley lost their first fights? Boxing since 2009 had essentially become akin to the heavyweight scene immediately prior to Tyson's release from prison -there was big money to be had by fighting two men and if you blew it and lost to anyone else in the meantime you were out of the picture.
Britain's Amir Khan was the most high-profile casualty of this as he abandoned a competitive boxing career and fought the bare minimum of barely-there opponents while hoping to win the Mayweather lottery. Let's not forget how this fight came about either – despite being roundly defeated by Mayweather two years earlier, Canelo Alvarez had regained standing in the sport and regularly drew huge support from both the Mexican and Hispanic American fans, a support that threatened Mayweather's box-office domination. Alvarez planned to fight lineal middleweight champion Miguel Cotto, himself a big seller of PPVs, on the traditional cinco de Mayo fight weekend in a clash that would almost certainly have outsold any fight Mayweather could have staged with Khan, Brook or anyone else but Pacquiao. Concerns over legacies, drug testing and chance meetings at a basketball match can therefore be dismissed: "the" fight happened because the money dictated that it would.
Above all, the circus surrounding this rivalry has brought people to boxing who truthfully have neither love nor understanding for the sport. A dietician defecting from one camp to the other becomes another storyline in "Keeping up with the Mayweathers" and every utterance of Freddy Roach makes the headlines whilst Kell Brook and Keith Thurman struggle to get a mention in even the sports pages. This and other boxing sites would regularly draw 400+ comments on any story relating to either fighter and these stories thus became 60-70% of all content. Much of the commentary and rivalry wasn't even about boxing so much as thinly-veiled racism. These above all are the things that I hope retire with last night's boxers.
"The" fight does have an element of theatre it though and in the wake of seven years' worth of column inches it would have been a tragedy had it never happened even if it does come at a point where it has little meaning for the sport. Make no mistake, regardless of the outcome or the direction both men take afterwards, neither will ever again be as relevant to the sport as they are today. This fight won't give us a unified champion or even settle endless pound-for-pound debates because neither Mayweather nor Pacquiao will ever again fight a genuine rival. This is personal, business and theatre. There are genuine stars emerging at welterweight but they will never fight Pacquiao nor Mayweather and their era will only truly begin on Monday morning.
So whatever way it goes (and for the record I'm predicting Floyd to frustrate, dance and hold his way to a comfortable UD) there will be a reassessment of the landscape in boxing tomorrow morning. Showtime and HBO will both have one fewer cash cow against whom they can match anyone and still make a PPV. Bob Arum and Oscar De La Hoya will surely see that Al Haymon is aiming to become the all-controlling Dana White of boxing and that the best fights have to be made at all costs if boxing promotion is to continue in its current system. Mayweather may win and then take a well-deserved soft opponent for a final bow and a 49-0 legacy. Pacquiao may dig deep and summon the power that has made him a household name to finally take Floyd's "O". Both have a place in the hall of fame, both winner and loser have enhanced their legacies by making this fight happen but when the final bell sounds and these two warriors enter the final chapter of their careers, the real winner will be the sport of boxing.