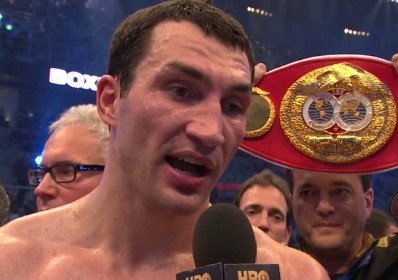 Ten years ago this very day, July 7, 2007, in Nordrhein-Westfalen, Germany, Wladimir Klitschko avenged the most brutal yet at the same time strange and unsettling pro defeat of his career. A decade ago today, Klitschko, then the IBF heavyweight belt-holder, forced Lamon Brewster to remain on his stool after a dozen one-sided sessions.
Avenging his shocking April 2004 TKO loss to "Relentless," Klitschko exorcised some serious demons. The first Brewster fight really was an odd one. Klitschko unloaded everything on Brewster in the early going of the fight held in Las Vegas, blasting Brewster's rock of a chin with all manner of hard shots. Somehow, Brewster held on, and then, in quite stunning fashion, Wladimir collapsed from sheer exhaustion, his legs, his punch resistance, his everything – totally gone!
There were strange tales of how Klitschko had allegedly been drugged, how his legs had too much Vaseline plastered on them (!) and all manner of other things were attributed to the loss that almost convinced "broken man" Klitschko to retire. To this day, the rumours persist. But instead of calling it a career, the 28 year old regrouped and began an unbeaten run of almost 12 long years.
It's interesting that the Brewster loss is the only defeat Klitschko either avenged or even tried to avenge. His earlier losses; inside the distance setbacks against Ross Puritty and Corrie Sanders (a quick, 2nd-round blowout) remain unavenged, as does the 2015 loss Wladimir suffered at the hands of Tyson Fury. Maybe the loss to Brewster really bothered Klitschko bad, to the extent that he simply HAD to get his own back?
There could, however, be another loss Klitschko avenges, or at least tries to avenge, soon. Will Klitschko come back and fight Anthony Joshua for a second time? If he does, will "Dr. Steel Hammer" give AJ the Brewster treatment as he brutally wipes away his April 2017 loss?
Klitschko has shown that he can learn from either a bad showing or a loss: see the Brewster return and Klitschko's second, dominant fight with Sam Peter, a fighter who gave him hell the first time around.
Can Klitschko, at age 41, avenge the second most punishing loss of his career? Joshua, and the rest of us, wait and see.