For the past three years these two titans have been constantly linked to one another. The lightweight realm is flooded with talent unlike any other division in the sport. Despite this reality, no other tandem contains more intrigue than the 'elements', as Davis and Garcia represent a true clash of "thunder" versus "lightning". Now that this fantasy fight has become a reality, we take a moment to review the Keys to Victory, Four to Explore, and an Official Prediction.
KEYS TO VICTORY
Gervonta Davis – Entering the ring as the smaller fighter with a slightly shorter reach, Davis needs to make it a phone booth fight, pressing the action and smothering the range of the longer Ryan Garcia. An old adage tells us that "pressure burst pipes". Davis' fearless pressure will be his best bet, as the more uncomfortable Garcia feels from the opening bell, the more likely he'll make costly mistakes. Aside from intelligent pressure, Tank will also need to bring a solid defensive plan to the ring tonight, as Garcia's offense is equally dangerous. If Davis can start fast and avoid the speed traps, he'll likely get the nod in the end.
Ryan Garcia – Ryan will enter the ring with every possible advantage, short of power, that a fighter can have over an opponent. In order to get the job done, he'll have to use each of them to his advantage in every way he can. That all starts with making Tank very uncomfortable. There's no better way to break a bully than to give him a dose of his own medicine. The best way to do that? A busy jab and intense bodywork. There are many things Garcia can do to win, but a consistent jab and dedication to the body would make this a very easy (and potentially short) night for the young Garcia..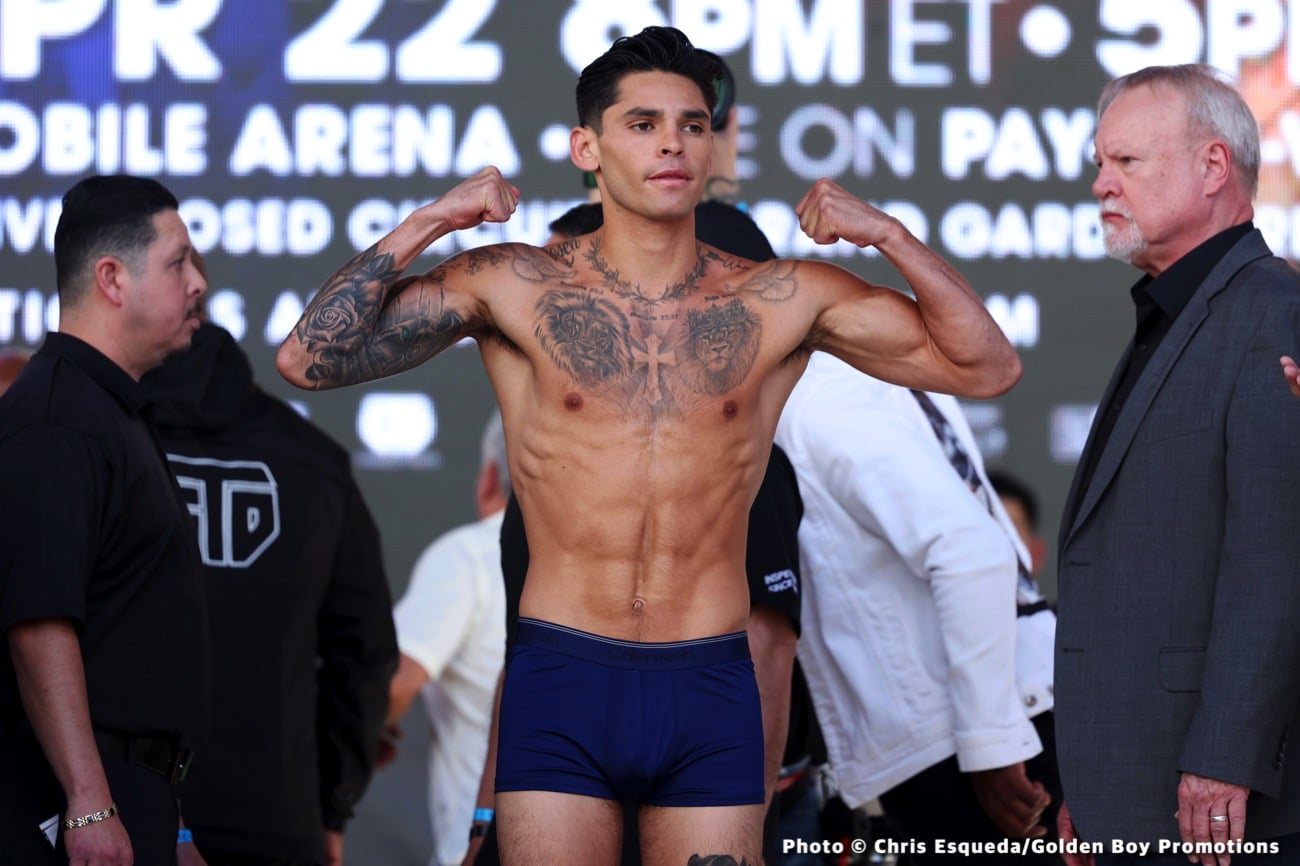 FOUR TO EXPLORE
(Great Weight Debate?): Since there's so much talk about the weight clause, let's provide a bit of context. Yes, Garcia is the naturally bigger man. That said, it was the significantly smaller Gervonta Davis who bounced 10lbs from 129 3/4lbs against Santa Cruz in October of 2020, to 139 3/4lbs against Barrios 8 months later in June of 2021. While Tank took that leap of faith, Garcia didn't venture north of 135lbs until almost a full year later (April of 2022). To date, Garcia only has one fight in his career at a higher weight than Tank's 139 3/4lbs. To add to this point, it should be noted that Garcia not only dropped the weight, but he went one pound below the contracted weight. If this was truly a "struggle", there's no way his team would even consider that option. Translation: Moving right along….
(Beauty or the Beast?): The perception going in is that Garcia is this fragile "pretty boy" that somehow ventured inside the vacant lot of a junkyard dog. Truth is, although Tank is viewed as the more rugged of the two, it was Garcia who proved that not only can he pick himself up off the canvas; but he also proved he could turn such a pivotal moment into an afterthought by pulling the curtains on the opponent who did it. We saw Barrios stun Tank, and we saw a smaller Santa Cruz cause him great trouble. To think Garcia is the one who has to prove himself here couldn't be further from the truth. The real fight will break out with Tank gets punched in the mouth and has to respond! Watch close for this….
(Long Distance, Short Mission?): The jab of Barrios had most feeling the score was a lot closer than the judges were actually scoring it. While Barrios' jab was pretty consistent, it wasn't dispatched with the same speed and pop that we could see from Garcia once the bell rings tonight. If Tank isn't able to penetrate Garcia's reach and speed in the first half of the fight, will desperation lead to the type of mistakes that could force the referee to hit the brakes? Not totally probable, but in the sport of boxing, ANYTHING is possible! Watch close for this…
(Pressure Burst Pipes): These two resumes tell a story. The resume of Davis shows us a core group of recent highly notable, mostly-prime opponents and perhaps at least one potential Hall of Famer. The resume of Garcia? A totally different story. In 23 pro fights spanning seven years, it's not too far-fetched to say that Garcia has only truly faced two notable talents. One of which was a faded star (Fortuna); another whom never quite reached the upper echelon of the sport. Translation: this will be the first time Garcia will be tested on a stage this big. Is he the "rose" or the "thorn"? The "rose" is beautiful but it's cosmetic and wilts under heat and pressure. The thorn is on point and ready to cut at all times. WHO IS RYAN GARCIA? Tonight we finally find out.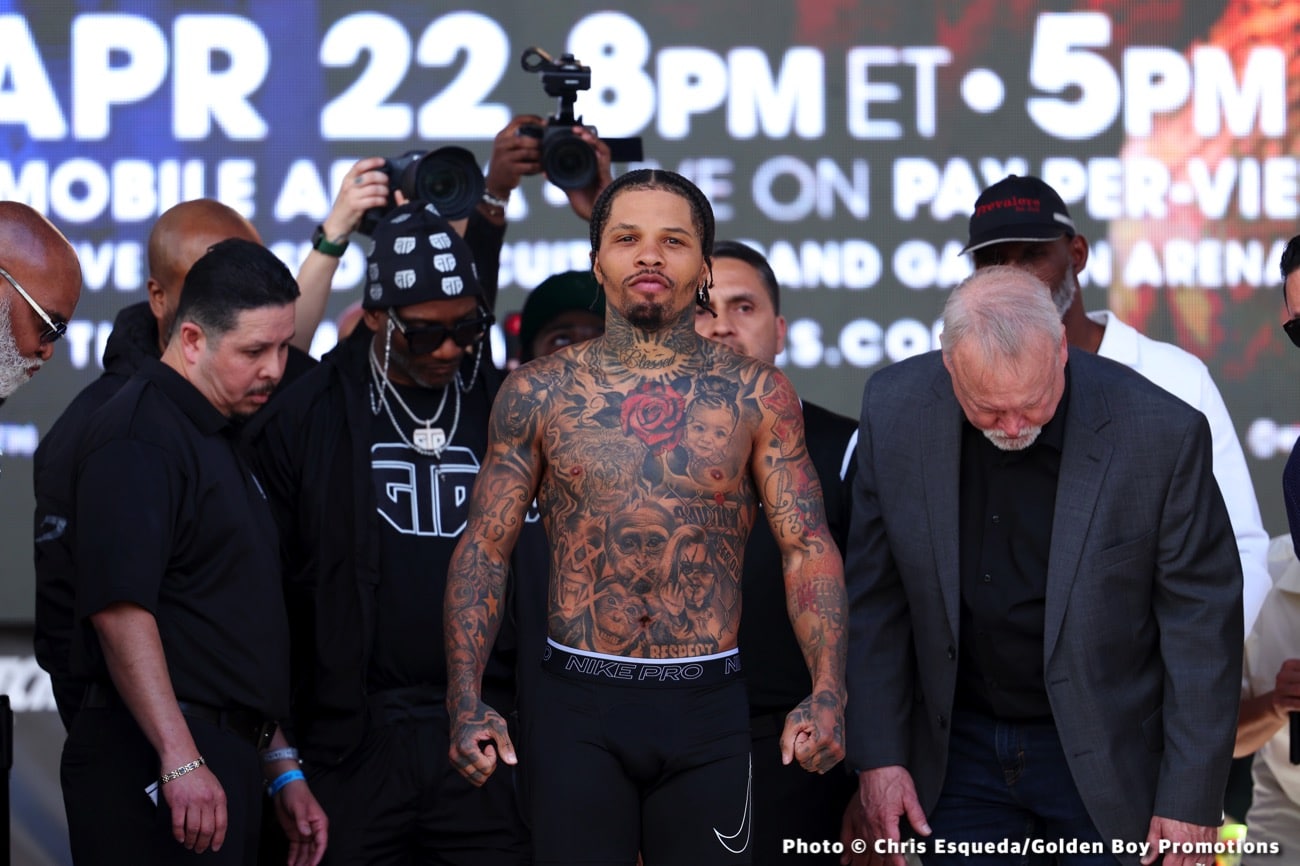 OFFICIAL PREDICTION
The safe bet here is a strong start for Ryan Garcia with Tank working very hard to figure out how to mount an attack. During that stretch, expect Garcia's speed and quickness to land him a few flash moments, popping Tank as he adjusts to the speed factor. In the end, it will all come down to how disciplined Tank fights after he taste Garcia's power. Without question, this is the biggest, most accurate puncher Tank has faced. The respect those early landing shots will get Garcia may be enough to help him squeak out a decision. While I could see that, don't bet on it! The "smart money" (safe bet) is on an outcome where Tank uses a very underrated ring IQ to pick his spots, and systematically break Garcia down.
GERVONTA "TANK" DAVIS – TKO10 (UPSET BAROMETER PEAKS AT A 5 of 5 – IF GARCIA LANDS THE LEFT HOOK, ALL BETS ARE OFF)
(Vivek Wallace is a Fight Scribe here at Boxing247.com