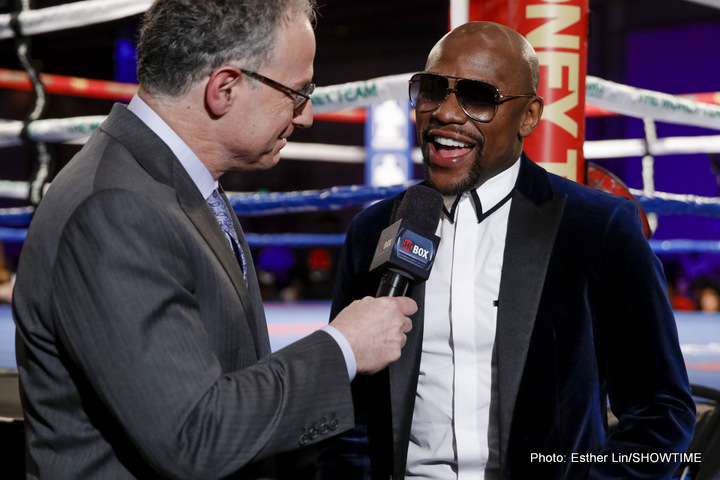 Unbeaten, talented and hugely confident star of the future (most likely, as in reality there is no such thing as a "sure-thing") Ohara Davies believes Floyd Mayweather Junior is avoiding him; at least the boss man of The Money Team is keeping his fighters away from him.
The brash 25 year-old super-lightweight – last seen crushing a shop-worn Derry Matthews into retirement on the Tony Bellew-David Haye card – got into a social media beef with superstar Mayweather recently, and Davies has again called on Floyd to let him face one of his fighters – Ashley Theophane in particular. Speaking with Sky Sports, Davies, 15-0(12) said no way does Mayweather risk one of his fighters against his talents.
"To be honest, I don't think Floyd wants any of his fighters to fight against me, because he knows what happened with me and him," Davies said. "Once I beat one of his fighters, it will look bad for him, and he will probably feel like I have won the argument that we had. I think he's advised his fighters to keep away from me. Floyd is a fighter too, he knows how the game works. He knows that I will beat anyone that he's got and doesn't want to give me the last laugh. Floyd should just find me an opponent."
A fight against one of Mayweather's stable of fighters would of course be great exposure for Davies, and if he won, he would get noticed in the U.S (if he hasn't done so already, as gifted as he is). According to his promoter Eddie Hearn, an offer has been sent to Theophane, yet so far, no reply has been forthcoming from TMT.
"We have already offered the fight to Ashley Theophane for June 3 at The O2," Hearn said. "We haven't heard back from his team yet. I don't think they really fancy that fight. Ohara, we're going to call him 'The Problem,' because I don't think anyone is going to fight him."
Is Davies really that good, or is the jury still out on that score? Certainly, "Two Tanks," as the Londoner is nicknamed, has looked terrific in his most recent fights; if not in all of them. Does manager Mayweather really see something to fear!