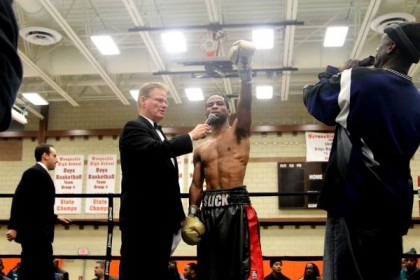 Newark, NJ (November 24, 2013) – Popular welterweight Michael "Slick" Anderson had all that he could handle from dynamite-fisted George Sosa in the eight round main event of All Out Promotions and Edmonds Promotions' "Fighting For Attendance" at Weequahic High School in Newark.
Backed by a large group of supporters, Anderson was clearly the most popular fighter of the evening, but Sosa quickly made it evident that he wanted to silence the hometown favorite's fans by knocking him out. Anderson, who accommodated Sosa, a late replacement, by agreeing to fight at 152 pounds, stepped on the scale Friday evening at 148 and was visibly smaller on fight night.
The opening stanza was a close one, with Anderson using his speed and boxing while the aggressive Sosa threw every punch with bad intentions. In the second, Sosa landed a number of hard head shots, forcing Anderson to retreat. Shortly thereafter, a hard right hand by Sosa opened a gash above Anderson's left eye but Anderson returned the favor and bloodied Sosa's mouth.
Throughout the rest of the contest, Sosa came forward throwing and landing hard punches, buzzing Anderson on a few occasions, while the faster Anderson used speed along with good left hooks to the body in attempt to keep his rugged foe off of him.
When the final bell sounded, the crowd got on their feet and gave both fighters a standing ovation, though they weren't sure who would emerge victorious.
After eight outstanding rounds, Judge Larry Layton scored the bout 77-75 for Sosa, but was overruled by Eugene Grant and Shafeeq Rashada's tallies of 77-75 for Anderson.
"George Sosa is very strong and definitely the strongest guy I've ever fought," said Anderson. "He definitely came to win tonight but I did as well and we put on a good show. He landed some good shots and did honestly buzz me one time. A lot of it was that my legs were cramping up and that caused me to look more hurt than I was, but I had to pull through."
Anderson also acknowledged that the bout was close but didn't believe his opponent was robbed.
"Sosa threw a lot of bombs he wasn't trying to box at all or work a jab. I was doing a lot more pure boxing than he was. Going into the eighth round, I honestly wasn't sure what the judges were thinking. I have no control over what they decide but went into the ring with a problem and overcame it."
Sosa and his team vehemently disagreed.
"We are filing a formal complaint with the New Jersey State Athletic Commission," stated a furious Mike Melendez, trainer of Sosa. "We have this fight recorded and I want everybody to go back and watch the fight. One round went well over four minutes and there's no doubt that we were robbed!"
Sosa echoed his trainer.
"Everybody saw how he could not continue. All he did at the end of the fight was say that the issue was a cramp in his leg? That's admitting a loss! Everybody in his hometown approached me after the fight and said that I won. We're filing a protest!"
With the win, Anderson improves to 13-2-1 with 10 knockouts, while Sosa slides to 12-5 with all of his wins by KO.
In the eight round co-feature, rising Newark heavyweight Tyyab Beale, 9-3-1 (3 KO's), ran his unbeaten streak to eight fights by outpointing hard-hitting New Yorker Jon Bolden, 6-7 (5 KO's). Beale and Bolden were familiar with one another, as they put on an exciting bout in June 2011 with Beale taking a spit decision. On this night, the confident Beale was able to outbox Bolden, who lost a point for holding during the sixth round.
Scores were 80-71 and 78-73 twice.
Throughout the city of Newark, attendance is a major problem that is only getting worse, with the average student missing more than 30 days of school annually. To help promote getting children into the classrooms and off the streets, All Out Promotions and Edmonds Promotions donated more than 70 tickets to students from multiple district schools that had outstanding attendance. They also hosted assemblies at Weequahic and Newark Vocational High Schools. Weequahic's principal, Faheem Ellis, spoke to the crowd about improving attendance and also honored two alums that went onto have successful athletic careers.
All Out Promotions and Edmonds Promotions held a special 50/50 raffle for the family of Dwayne "Dutch" Vanderveer, a friend of Anderson's who tragically passed away in a motorcycle accident on August 31 at the young age of 33.
UNDERCARD RESULTS:
MIDDLEWEIGHTS: "War Machine" Michael Mitchell (Paterson, NJ), 2-2-2, UD4 (40-36, 40-36, 39-37) Eddie Edmond (Newark, NJ), 2-3-2 (1 KO)
CRUISERWEIGHTS: Ibn Akbar Richardson (Newark, NJ) 1-0 UD4 (40-36, 40-36, 39-37) Eric George (Niagara Falls, NY) 0-6
SUPER MIDDLEWEIGHTS: Godson "Soldier Boy" Noel (Bloomfield, NJ), 3-0 (2 KO's) MD4 (49-36, 39-37, 38-38) Lavon Slade (Philadelphia, PA) 0-1