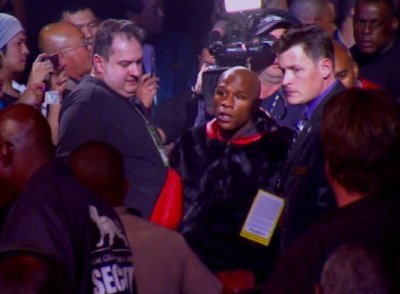 By Bill Phanco: Richard Schaefer of Golden Boy Promotions is trying to put together a fight between WBC interim welterweight champion Robert Guerrero and Floyd Mayweather Jr. WBC junior middleweight champion Saul Alvarez wants a fight with Mayweather too, but Schaefer is looking to put Guerrero in with Mayweather instead for some reason. It could be that Mayweather isn't all that eager to get back in with another junior middleweight after taking a lot of punishment in his win over Miguel Cotto last May.
Schaefer told RingTV "Robert [Guerrero] really wants that Mayweather fight, and so I'm going to see what I can do. I've already started negotiations for the Guerrero fighting Mayweather, so we'll see where it's going to end."
Let's hope that Schaefer can put that fight together because it could be a huge one due to Mayweather's big fan base and the large amount of fans that Guerrero captured with his win over Andre Berto last Saturday night.
It's hard to gauge what Mayweather will do. He probably won't want to waste 2013 doing nothing because he's getting up there in age at 35, and he's already showing signs of aging in his last few fights. If Mayweather doesn't take advantage of all the time that he has left in his career he could be kicking himself later when his skills are gone and his opportunities at getting big paydays melt away with it.
Guerrero is the one guy that Mayweather can probably beat without getting his hands dirty because Guerrero is slow and not a big puncher. Golden Boy would like to match Mayweather with Manny Pacquiao and Saul Alvarez, but those would be bouts where Mayweather would get hit a lot and the outcome isn't nearly as guaranteed like it would be if he fought Guerrero. If Golden Boy can't put the Mayweather vs. Guerrero fight together, then they're going to have to look to find someone else to match Guerrero against like Amir Khan.