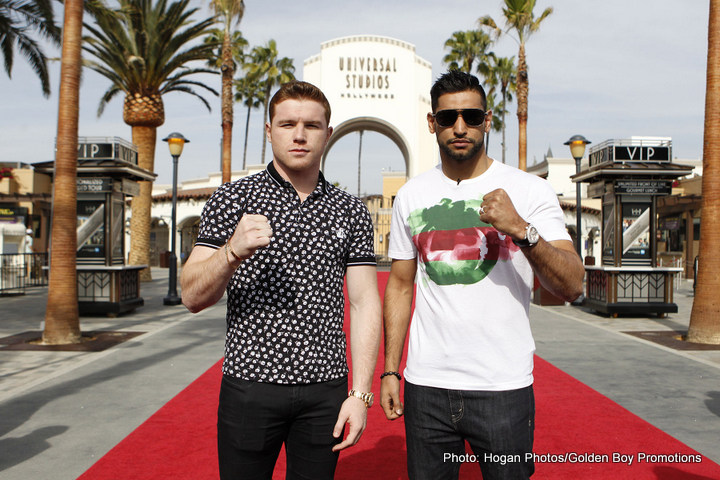 This Saturday's ludicrously intriguing fight between Saul Canelo Alvarez and Amir Khan is very much a speed Vs. power affair; with the former belonging to Khan, of hands and of feet, the latter belonging to the once-beaten Mexican star. Which will win? Heavyweight legend George Foreman is giving Khan and his speed a great chance of overcoming the betting odds in Las Vegas, with Big George telling the Los Angeles Times how Canelo could have a tough night if he is overconfident.
Foreman, who of course went up against the fastest hands in heavyweight history when he rumbled in the jungle with the incomparable Muhammad Ali, still maintains his overconfidence, or lack of fear, cost him dearly in October of '74. And Foreman says an overconfident Canelo could wind up blowing a decision against Khan.
"Khan is so fast and he has a knack for landing body punches, which could assure him he'll get a 12-round decision," George said. "He's a good body puncher, it's part of his repertoire. The one who lands the most will pull it out. Canelo has been in with the most elusive of fighters, Floyd Mayweather, so he's not going to see anything he hasn't seen before. But if he comes in overconfident, Khan, with that speed, will overtake that power and there will be a new outlook in boxing. The thing about power is you can become overconfident. With Ali, I lost my fear. You come out not worrying about protecting yourself. With just 12 rounds now, it's over quick, so Khan can pull it off with his speed."
Foreman makes some great points. Khan is a fierce body puncher (remember when, in his toughest fight to date, he dropped and almost stopped the feared Marcos Maidana in the very first round with a sizzling body punch?) Will Canelo walk into the ring convinced the one-time 135-pounder does not have the power to hurt him? Would a 15-round fight have suited Canelo, an often slow starter who most figure will look to wear Khan down for a late-rounds stoppage? Can Khan stay elusive enough for 12 rounds to nick a points win?
Foreman does not have the best record when it comes to picking fights (he picked Pacquiao to beat Mayweather) but he might be right with this pick. When the fight was first announced, there was hardly anyone willing to give Khan a chance. Not so now. David Haye, Andre Berto, Andre Ward and now Big George all give Khan a good chance of pulling it off on Saturday. And Oscar De La Hoya did insist on that rematch clause, didn't he!