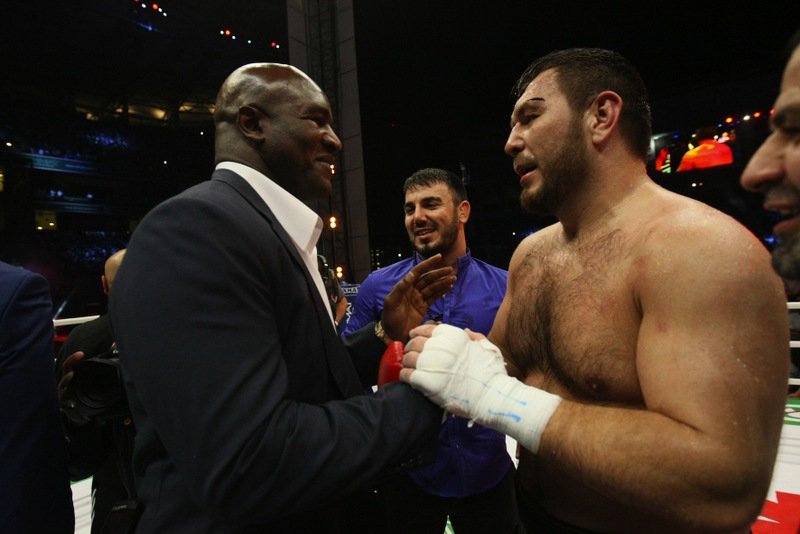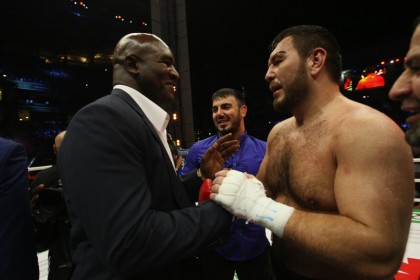 Tonight in Grozny, Russia, former WBA heavyweight champion Ruslan Chagaev became a two-time champ, as he won a 12-round majority verdict over Fres Oquendo to pick up the "regular" WBA strap. The scores were 115-113 twice and 114-114. 35-year-old Chagaev is now 33-2-1(20). 41-year-old Oquendo, who felt he had won, fell to 37-8(24).
It was a bizarre night in many ways. The setting for the fight was quite impressive, as was the ring set-up and the pre-fight entertainment. The presence, too, of Chechen President Ramzan Kadyrov was quite unique. As for the fight itself, the action was intriguing enough in the early rounds, with southpaw Chagaev pressing the action in his usual bull-like fashion. Fast-handed, Chagaev out-jabbed the taller Oquendo, winning the early to middle rounds. Neither man was noticeably hurt, until Chagaev picked up a nasty cut above the left eye in the 7th.
It was after the injury occurred that Chechen President Kadyrov went over to Chagaev's corner and both inspected and gave advice on how to treat the cut. This added to the overall weirdness of tonight's spectacle. Also, the tape on Chagaev's glove came loose on numerous occasions, too many to keep count of really – maybe about as many times as the two fighters touched gloves during battle. There was certainly plenty of respect between the two; maybe too much respect from Oquendo.
"Fast" Fres came on in the later rounds, catching a tiring Chagaev with some classy punches, his left uppercut and his jab really looking good. But, with the fight catching fire, was it a case of too little too late from the older man? Certainly two of the three judges felt so. Oquendo appeared far less fatigued than did Chagaev at the end of the fight, but the result is all that matters.
Chagaev can now look towards bigger fights, maybe one with former WBA champ, the soon to return David Haye, who was a ringside observer. Also at ringside were Evander Holyfield, Kostya Tszyu and Sultan Ibragimov.
Tonight's fight was derided by many due to the critics' attitude to the "regular" WBA title that was up for grabs. Politics aside, however, Chagaev fought a good fight and he proved he is far from finished, if nothing else. Oquendo will likely be kicking himself for leaving it too late to force the issue, but it's tough to see where he goes from here.
My prediction: get ready for Chagaev-Haye later this year.