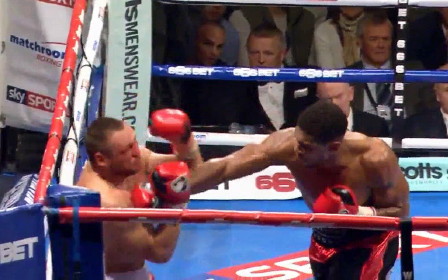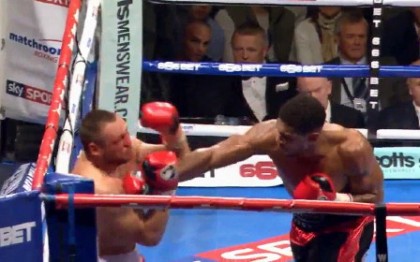 As boxing fans – be it writers, ticket buyers or the fighters themselves, we are all interested in good, solid, competitive and meaningful fights – as often as is humanly possible – preferably as part of our normal Sky package, terrestrial TV or even on a specific subscription fight channel like Boxnation – who provide the very best international content from America and beyond, week in, week out.
After a barrage of criticism over the quality of their 'regular' domestic cards and the decision to make ANY card of championship quality a PPV – I'm beginning to wonder just how well the buy rate is doing for this Saturday's 'Rule Brittannia' show from London's O2 – that in my eyes, is one of the very best British fight cards in a good long while.
Eddie Hearn has stated previously that the financials of such bumper bills as this are essentially what means a (Sky) Box Office charge is the only feasible option in order for everybody involved to get paid – and even if people (inc me) don't like it, I mostly understand and accept it – and was actually really pleased when this O2 show was announced – and am begrudgingly prepared to cough up the PPV fee yet again because I always believe it will be worth it.
I was praying for a Brook v Khan main-event like the rest of us – but it's not Matchroom's fault that Khan didn't want that fight and Frankie Gavin stepping into that slot for the headliner is a great little bout for British boxing on the world stage – and for Frankie himself.
It's a chance for the Brummie to fulfill the potential as a pro he once showed in becoming our only world amateur champion.
Dagenham's Kevin Mitchell is taking on dangerous Venezuelan Jorge Linares for the South American's WBC 135lb title – hoping it's going to be 3rd time lucky on the world stage – realizing this might be his final shot at world title glory – and slick Welshman Lee Selby – one of our British P4P best, is looking to announce himself to the world by fighting Russia's IBF 126lb champion Evgeny Gradovich.
3 world title contests that should hopefully ALL entertain for different reasons in different ways – and for me personally – the Mitchell v Linares fight is one of the most intriguing thanks to both men's individual frailties and high skill level when on form.
Also on the bill, is Matchroom's future face of heavyweight boxing Anthony Joshua (12-0, 12ko) in his 13th professional contest.
And here is where the problem of mis-selling lies!
The big punching prospect faces American veteran Kevin Johnson in a 10 round non-title fight that really isn't going to be setting the world alight anytime soon – it's just another seemingly routine step in what will hopefully be a very successful career for the prodigious talent – yet throughout the build up all this week on Sky – the promotion of the Olympic gold medalist and his fight has been eclipsing that of ALL the other clashes of real interest on the card.
The so called 'danger' of the fight, Johnson's 2009 pinnacle and his 'experience' against Vitali Klitschko, the fact he's never been stopped etc. It has been marketed to the hilt and been made out and mis-sold as if it's the headline fight and a really big deal when in reality – it's totally not.
While promotion of a fighter is usual in boxing, it is tragic in this case when the big deal fights & fighters seemingly aren't getting the attention they deserve and are being comparatively overlooked.
On Sky Sports News especially this week, we've had constant interviews with Anthony. A poll to choose his ring walk song. Paulie Malignaggi offering his (sensible) insight more times than I can count. (Not Paulie's fault – they asked him!) and today I think I've heard more from Kevin Johnson than I ever care to again thanks to the (oft repeated) presser coverage.
You'd think it were a world title fight.
Go on the Sky Sports boxing website too – the first things that come up alongside the words "Brook v Gavin", are proportionately more prominent and larger pics and stories of Anthony Joshua and Kevin Johnson!
Johnson is claiming that the fight will be the best heavyweight bout in 13 years, that Joshua ludicrously has no power and he's also been quoting nursery rhymes as forms of analogy in terms of the fight narrative! Crazy American.
I mean, really?
It's crazy and the type of hype only a "casual" fan – who by definition isn't a regular week-in-week out follower of the sport – would buy into. Anthony Joshua, for his part – has been paying lip service and doing his media duties and will surely do his job on the night – He has a big future down the line, you can't blame him!
Yet we've heard little in comparison about or from IBF 147lb champ Kell Brook, challenger Frankie Gavin or Kevin Mitchell – and even less about Lee Selby, who is in the most important fight of his career against Evgeny Gradovich alongside being one of the UK's most standout talents.
And that's not even mentioning the John Ryder v Nick Blackwell fight for the British 160lb belt lower down the bill. There is quality there for sure.
My guess is the PPV buys thus far are most probably extremely poor and not even all of the 'hardcore' fans are buying into the event – preferring to stream even though they are the only ones who can best appreciate the depth of quality that we potentially have from these headline world title fights.
These fans are bitter. And they're not stupid, that's for sure. They have long memories. Most, 3 days out from Saturday – are still undecided whether to buy or not.
The thousands and thousands of 'casual' fans who jumped on the PPV bandwagon for both the massively successful Froch/Groves fights stayed on board until last years much hyped and horrific Bellew v Cleverley 2 PPV card – of which Hearn was supposedly "setting the precedent" yet was later forced into admitting was a monumental disappointment – It dampened a few appetites, that's for sure.
That show killed PPV for boxing fans of all kinds up and down the country and was universally SLAMMED on social media. It was only last November remember – and even for those who do dip in and out of the sport on a Saturday night – they have witnessed a shocking run of 'regular' domestic mis-match cards like Leeds, Newcastle and Birmingham as of late – and are hardly going to be enticed into shelling out extra for this PPV- no matter what they hear about it's potential.
Sky Sports are also looking panicky to me and hoping that by being mis-sold over a big heavyweight fight (it is the marquee division afterall) that will likely be another quick blow out – (Joshua's next fight is already booked) – the man in the street will tune in, cough up – and be pleasantly surprised by 3 quality world title fights involving a couple of fighters they might just have heard of – who in reality are among the very best in the business.
Just only known to "boxing" fans.
As a broadcaster, Sky dug deep to secure the UK rights for Mayweather v Pacquiao earlier this month and one senses, with their exclusive relationship with Matchroom Boxing, this domestic PPV charge 28 days later was always part of the plan to help recoup some of those costs?
Or am I being cynical?
With that fight not living up to the 'all-action" expectations of the masses either – why would those who are not among the hardcore bother to buy any fight again for a good while? Especially if they did buy the Bellew v Cleverly 2 tragedy almost 8 moths ago?
If those were was the first couple of fight cards you'd watched in a few years – and it cost you extra to watch it via Sky Sports – you'd be unlikely to shell out again. Whether it's for a headliner fight or the whole card.
It's now Anthony Joshua – the heavyweight hope of the UK, the next Lennox Lewis, the Olympic gold medal winner – who is being forced into carrying this card in terms of misleading marketing – despite the fact he is involved in one of the more routine fights on it. Marketed as a significant test for him, it's just a question of how long it will take him to be the first man to stop Johnson.
It's a cynical ploy from Sky and Matchroom, that's for sure.
Also significant to the potentially low PPV buys are the endless re-tweets of any positive 'fan' comment about the show from Eddie Hearn's 200 hundred thousand-odd twitter followers (not something he usually does to such an extent)
It makes me sense further that both he and Sky are worried that 'Rule Britannia' isn't going to hit it's projected targets – nowhere near them in fact.
Of course, my own tweets to both parties echoing the sentiments of this article were ignored!
Eddie has recently called this the best British fight night since Frank Warren's "Full Monty" card back in 1997 that featured Naseem Hamed v Jose Badillio and the start of Joe Calzaghe's epic world title reign when he beat Chris Eubank for the WBO 168lb strap. Also on the card that night were then 'Spice Boy' Ryan Rhodes, Paul Ingle and Johnny Nelson.
I'm a tiny bit younger than Eddie, so while I think that's not a totally unrealistic claim (we don't have hindsight on both yet!), that was a great card to watch as a young teenage fan and is still romantic for me to this day as both a teen Calzaghe and Naz disciple .
It may seem that many people are not going to see this card though – for various reasons – and it may well end up, that like the Warren show – it grows legendary with time?
If I'm honest, I'm glad. Another PPV so soon after how poor EVERYTHING has been from the Matchroom/Sky partnership since last November is pretty sh***y, yet the minority of fans who DO pay will be in for a treat I reckon.
A big one. And while I'll be one of them and they have MY money, they don't have the buck off the man in the street/the casual fan – the buck they need to turn a HUGE profit and bolster their rep for further PPV cards.
It's sad for the other fighters involved – but it'll all be up on YouTube the next day – and it certainly won't dent THEIR reputations as everyone will see it in the end anyway. In fact, it will only enhance them in the public domain if it is a great card.
But it WILL be a financial bloody nose on Sky Sports Boxing and their Matchroom monopoly on the British game if the numbers are indeed poor –
and for that I'm glad.
After hand, hopefully they can sit up and take notice of the demand for competitive 50-50 fights that ARE not PPV. They'll have to work on the financials to deliver. Yet that's what efficiency is in business.
I'm not saying we want bumper world title cards involving elite fighters week in, week out for fu** all – I'm not that stupid, but it's totally possible at domestic level – as the now defunct "Friday Night Fights" showed for years over in America much of the time – albeit on a bigger playing field – though look at the stable of fighters Matchroom have.
Main Fight Picks For Saturday
Either way I am looking forward to this show.
For the main event I predict Gavin to last longer than people expect, possibly until the end – although he would be better down at 140lb. I just feel Brook is too strong and will beat him up slowly and consistently on the counter as Gavin tries to box nervously around him. A late stoppage from Kell wouldn't be a surprise.
Mitchell and Linares is totally dependent on what version of Kevin turns up and it's why it is so intriguing. Both can box, both can punch a bit and both have frailties and can be stopped. Could be fight of the night that! I'm thinking Mitchell does it – 3rd time lucky. SD.
And Lee Selby will surely look to put on a points masterclass against Gradovich – who is a resilient, come forward fighter, who compared to the Welshman is quite limited in terms of skill-set in my eyes. If he is one thing, he is relentless and Selby's biggest challenge will be to keep the Russian off him for 12 rounds, although I think he can box his way to a points win.
As for Joshua. I think he knows that even if he has Johnson done early, he needs to go further than the 3 rounds he has gone previously and will hold off and make the statement by being the first man to stop the American. I'm saying 6 rounds – his first real test.
John Ryder, for me, becomes the new British 160lb champion against the vastly improved, yet light punching Nick Blackwell – and was unlucky coming up short against ex-Olympian Billy Joe Saunders in 2013. He is a future Euro champ at least for me at 160lb.
Overall we will be in for a great night of boxing. Of that I'm sure. And it may well be a very good gauge of just where the demand for (PPV) boxing is in this country as a whole right now.
After all, the recent ITV Carl Frampton fight – aired for free – was well received, channel 5 are still dipping in and out of the sport with Golovkin v Murray in Feb – and Boxnation subscriptions are at their highest to date.
This Saturday, Spike UK also air free boxing for the first time when Ross Burkinshaw fights Klass Mboyane for the WBO inter-continental bantamweight title on the Dennis Hobson Promotions card from Rotherham.
One for those who don't buy the PPV for sure!
Let's just see what happens at the O2, yet I'm convinced it will be big!
Many thanks for reading. Please follow on Twitter for everything boxing and rock n' fucking roll!