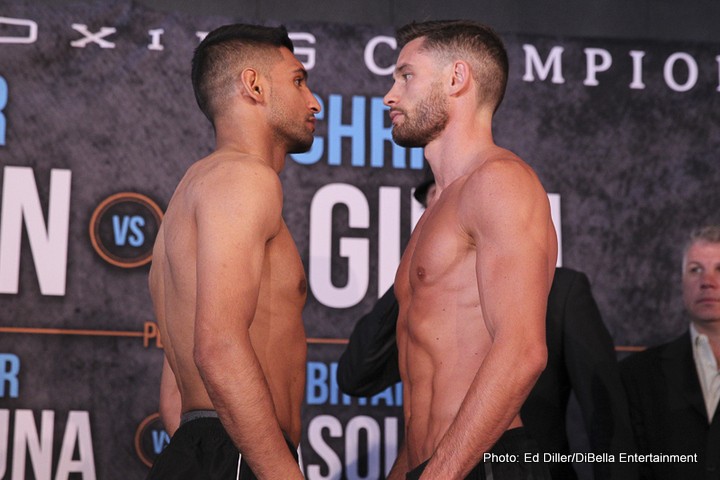 The fight will take place on May 29 at the Barclays center, a high capacity indoor arena in Brooklyn, NY. Usually boxers need excuses why they do not take a certain fight but Amir Khan (30-3) has been trying to justify his choice and has offered excuses why he should fight Christopher Algieri (20-1). The British boxer can gain credibility only from a stoppage win over this opponent even though Algieri went the distance with Pacquiao and holds a win, albeit a controversial SD, over rough and tumble Ruslan Provodnikov.
Chris Algieri is a little taller and his reach is a little longer but he lacks in experience and skill compared to Khan. In fact he lacks in experience compared to any high-level boxer. Khan is an Olympic silver medalist and his transition to the paid ranks was not seamless but he has more fights than Algieri, a journeyman with little if any amateur experience. The American has been floored 8 times in his last two fights and it would take a stretch of imagination to conjure up a winning path for him in this fight.
Algieri has hired a new coach after his loss to Pacquiao and his former coach will be missed for his lines between rounds, especially between the 10th and 11th against Pacman when he said: "Are you ready for round two? This is round two. I am letting you out of your cage now". Any new coach will have to deal with the severe deficit in the basics department and when the fighter is 31 years old, the order is too tall. On the job training is not a sound practice in boxing.
Amir Khan has under-performed as a professional so far and Algieri is not an acceptable opponent for him. The Brit has demonstrated progress in certain areas since he hired Virgil Hunter and he has become a more efficient prize-fighter. Khan has not been taught new skills, in fact he has been trained to less and to curb his enthusiasm. His bad habits have been addressed and his tactical and defensive discipline has been upgraded. If he is looking for a big payday before he avenges his losses and wants to make a case for it, he must stop Chris Algieri. If Khan finds a way to lose, he should simply retire.