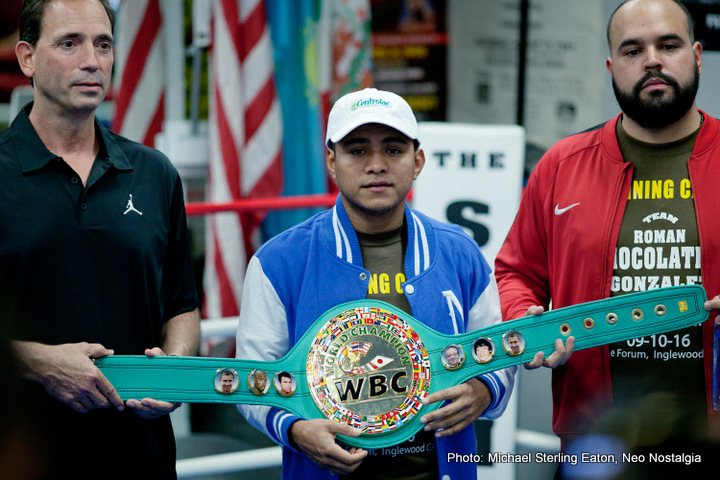 BERNIE BAHRMASEL: Good afternoon and Good Morning to the international press and thanks very much for joining us on this Media Conference Call promoting the highly anticipated World Middleweight Championship between Unified Middleweight World Champion GENNADY "GGG" GOLOVKIN, (36-0, 33 KO's) and WBA Middleweight World Champion and Mandatory Challenger DANIEL "The Miracle Man" JACOBS, (32-1, 29 KO's) set for Saturday, March 18 from THE Mecca of Boxing, Madison Square Garden in New York City.
The Championship Event presented by K2 Promotions will be produced and distributed by HBO Pay-Per-View starting at 9pm ET, 6pm PT. Tickets for the live event which are moving fast, may be purchased online through Ticketmaster and TheGarden.com
Joining us first on the call today is the Consensus #1 Pound-for-Pound Fighter in the World from his training camp in Costa Rica, ROMAN "CHOCOLATITO" GONZALEZ. Sporting a record of 46-0 with 38 knockouts, Roman is joined on the call by his longtime manager CARLOS BLANDON to discuss his WBC Super Flyweight World Championship defense against Mandatory Challenger SRISAKET SOR RUNGVISAI, (41-4-1, 38 KO's), in the co-main event on March 18th.
Later in the call, we will joined by former WBC Super Flyweight World Champion CARLOS "PRINCIPE" CUADRAS and his trainer RUDY HERNANDEZ who are wrapping up camp in Los Angeles, California.
In a special attraction 10-round super flyweight bout on the HBO Pay-Per-View, Cuadras will battle Mexico City cross-town arch rival DAVID "SEVERO" CARMONA.
This past September 10 at the Fabulous Forum and telecast, "Chocolatito"and Cuadras clashed in one of the best fights of 2016, as Roman Gonzalez won his fourth division world title.
TOM LOEFFLER: We couldn't be more excited to have 'Chocolatito' back on the show with Gennady and it is a great match-up. On any other show it would clearly be the main event. 'Chocolatito' headlined the show last September at the Fabulous Forum and had a tremendous victory over Carlos Cuadras winning a world title in his fourth weight division and is universally considered the No. 1 pound for pound fighter in the world. We are excited for this match-up. It is a tough match-up that's mandated by the WBC against Rungvisai from Thailand who is a very big puncher and I know many boxing fans are really looking forward to this fight. With that I would like to introduce Carlos Blandon to say a few words. He has been with Roman in training camp.
CARLOS BLANDON: I would like to thank everyone that is making this possible – HBO, Teiken Promotions and K2 Promotions and Madison Square Garden for hosting us once again on March 18. Roman and the whole 'Chocolatito' team is very excited and happy once again to be showcasing Roman's talents at Madison Square Garden, The Mecca of Boxing, and we think it is going to be an excellent night of boxing on fight night. And thanks to Gennady, who we admire and we are very happy to be fighting under his name once again. At the same time having Carlos Cuadras with Rudy Hernandez being able to fight before us makes for a full program of action.
ROMAN "CHOCOLATITO" GONZALEZ: First of all I want to say that we are ready for next Saturday. I want to thank God and I want to thank HBO and K2 Promotions and Madison Square Garden. Everything has gone great during this camp and once again it is an honor to be on a card featuring Gennady Golovkin and Daniel Jacobs.
How was it to be a headliner on your last show?
ROMAN "CHOCOLATITO" GONZALEZ: It was a great opportunity in Los Angeles that HBO gave me to fight Carlos Cuadras in the feature fight. It was a great fight with an amazing atmosphere. The fans from Mexico and Nicaragua came out. I think it showed that I have the power that I can fill a big arena like the Forum. I was very happy and to be the co-feature with Golovkin is another great opportunity and I realize that there are going to be a lot of fans of Nicaraguan descent that will descend upon Madison Square Garden and I want to give them a very positive result.
How was it fighting at the heavier weight? You got touched up a little in the Cuadras fight. Do you feel you can dominate at the heavier weight?
ROMAN "CHOCOLATITO" GONZALEZ: I have always had respect for my opponent and it was a very tough fight at 115. Never did I think it was going to be easy campaigning in this division at 115 – it takes time to get used to and I think that's what is happening at the moment but I think I will be fine.
What was the reception like when you returned home after not only winning another world title but passing the legend of Arguello by winning a fourth world title?
That day was very memorable when I returned home. People were lined up in the streets and they were greeting me all over and to be honest, being home, they gave me their love. The people of Nicaragua gave me their love and without question it makes me so happy to represent the country of Nicaragua, that now after winning this world title I have to hold onto it.
Do you feel a need move to move to higher weight divisions or do you feel you are fighting for the guys in the lower weight classes?
ROMAN "CHOCOLATITO" GONZALEZ: From a legacy standpoint I have already accomplished a lot and now my goal is to hold onto my fourth world title in order to gain higher purses and more money and I want to continue to show that I am a quality fighter and I am a great fighter and I want to move forward and I think a second fight with Cuadras will certainly do that. But I am fixed on holding on to this world title moving forward.
What do you want to accomplish next?
ROMAN "CHOCOLATITO" GONZALEZ: A fourth world title was something that was an absolute blessing. I want to thank God and it meant so much to me. No, aside from holding onto my world title, I could possibly go for a fifth world championship – in a different weight division – but first I understand that I need to hold onto to this title at the moment.
How many tickets are left for the fight at Madison Square Garden?
TOM LOEFFLER: The tickets are selling very well. The last show where Gennady and 'Chocolatito' had fought together at the Garden in October 2015, we were completely sold out and right now the tickets are ahead of that. So we expect a sold out arena and the fans have reacted to the combination again of Gennady and 'Chocolatito' on the same show.
How does this opponent compare to Cuadras and what type of challenges do you expect?
ROMAN "CHOCOLATITO" GONZALEZ: I always know it's going to be a different rival and challenge. Against Carlos Cuadras it was a great fight and I certainly learned a lot in that match-up and especially in my training camp. On this one coming up on the 18th of March, I expect a great fight and I want to put on a great fight for the fans and I realize what I have to do because at the end of the day I want to have my had raised in victory.
Do you want to fight Cuadras again? How did that fight compare to the toughest you have had?
ROMAN "CHOCOLATITO" GONZALEZ: As I look at a fight coming up against Carlos Cuadras again I realize I have to train harder. Every opponent presents different challenges. I do believe that the second fight, the rematch, will be better. But heading into the rematch, assuming all goes according to plan, I will be confident and I know he will be a little bit more because of the time we shared in the ring. I do believe I can go out there and get the knockout in the rematch.
Do you feel better training in Costa Rica than in California?
ROMAN "CHOCOLATITO" GONZALEZ: Every camp is very good. Every camp runs very well when it comes to training in Costa Rica. I like it because I almost feel at home as if in Nicaragua. There are mountains here and water and I just feel so comfortable in Costa Rica.
You have a tough fight coming up on the 18th and Cuadras says that you didn't want the rematch immediately…
ROMAN "CHOCOLATITO" GONZALEZ: It doesn't really matter what he says. If he wants to go ahead and get into a verbal match with me, that's not what I am going to focus on. I am the champion right now. I realize that the rematch is down the line. I have a lot of respect for him. I am fighting for the lower weight classes and a rematch will be in the cards if it does transpire. That will happen down the line and I am all about fighting for the lower weight classes to make them prominent in boxing.
This is a tough time in the United States for Hispanics and Latinos . . .
ROMAN "CHOCOLATITO" GONZALEZ: My fight is for the public. I am always very happy for the adulation. These days I want to move forward and make people happy by my performance.
ROMAN "CHOCOLATITO" GONZALEZ: Thank you very much to all of the public, God bless you and we will see you Saturday on March 18.
CARLOS BLANDON: We are so appreciative of everything and getting ready for March 18 – Roman is training his heart out. You are going to see a faster and stronger Roman and wee are putting everything in God's hands. Thanks again to HBO Teiken and K2 and The Garden for making this possible.