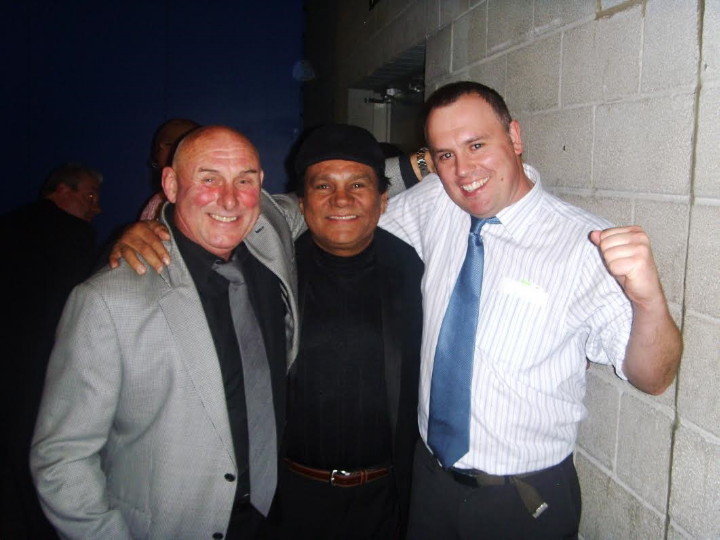 The great Roberto Duran turns 65 today, June 16th. Arguably the finest living fighter, the finest lightweight in history and one of the greatest Hispanic boxers of all time, Duran, Hands of Stone, is a hero to millions and a huge influence on many thousands of fighters, both past and present. Duran turned pro way, way back in February of 1968 (LBJ was president, Muhammad Ali was in exile, George Foreman had not yet won his Olympic gold medal) and he won his first world title, the WBA lightweight crown, in June of 1972 ("Tricky Dicky" was now president, Ali had returned, lost to Joe Frazier and was on the comeback trail anew, Foreman was an unbeaten 35-0 contender).
This is how long the cherished Duran had been a part of fight fans' lives. Duran would beat everything in his path at 135-pounds, then beat the new US superstar Sugar Ray Leonard at welterweight, then win world titles up at 154 and 160 and fight to earn a quite astonishing, 103-16-(70) pro record! Imagine that today? No, I can't, either.
Duran was recently seen trying his best to train and corner-man Sugar Shane Mosley to success as a 44-year-old in search of one more title. This proved unsuccessful, but Duran does not fail at too many things. His popularity has certainly never failed and he will likely attract a whole new generation of fans with the August release of the bio-pic, "Hands of Stone," starring the great Robert De Niro.
The Duran story is one well worth telling, and fans hope the new flick does the fourth pound-for-pound greatest fighter of all time justice. Duran was simply born to fight (he later said he did not know anything else to do) and during his career – one that began in '68 and ended, only after a car crash forced it to, in 2001 – he met anyone and everyone. Look at this for a resume: Ken Buchanan, Esteban De Jesus (X3), Ray Lampkin, Edwin Viruet, Saoul Mamby, Carlos Palomino, Sugar Ray Leonard, Wilfredo Benitez, Pipino Cuevas, Davey Moore (coincidentally, on this exact day, June 16th, in 1983), Marvin Hagler, Thomas Hearns, Iran Barkley, Vinny Pazienza, Jorge Castro – whew!
And Duran beat most of these fighters, many of them greats/Hall of Famers in their own right. Not only that, but despite the tough, rough, gruelling and also artistic fights he engaged in during five, yes, five decades, the Roberto Duran of today is undamaged, in full possession of his faculties and he is a walking, talking advertisement for the good that can come from being a boxer.
Happy Birthday, Roberto!