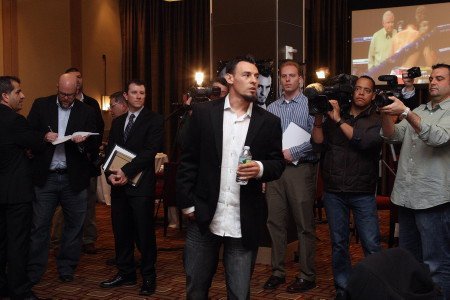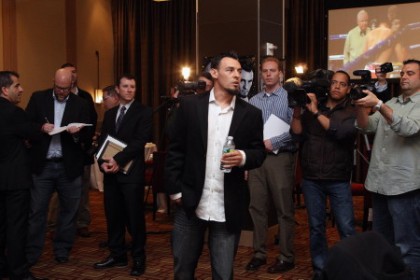 (Photo credit: Casino/Showtime) Robert "The Ghost" Guerrero (31-1-1, 18 KO's) turned 30-years-old today, March 27th. Guerrero has been spending a lot of time meeting with different media personalities in the past couple of weeks as he's getting ready for his May 4th fight against Floyd Mayweather Jr. (43-0, 26 KO's).
Guerrero was on Good Morning America, ESPN, and most recently meeting with Sean Hannity from Fox News. Guerrero seems to be really milking the opportunity to make a name for himself outside of the ring.
It's hard to remember a fighter doing as much meeting with the media than what Guerrero is doing now. He seems to live for this. It's too bad that this can't go on forever because this is something he's good at. The problem is he's going to have to perform in the ring on May 4th, and I just don't think it's possible for him to pull off the upset over Mayweather.
I saw some training photos of Mayweather today from the Mayweather gym in Las Vegas, and he looks in seriously good condition. There's no hint of age at all, and looks like a fighter 10 years younger than his chronological age. He may have looked great in his last fight against Miguel Cotto last year in May when he went out of his way to fight Cotto's game, but I have a feeling that Mayweather is going to have no problem whatsoever with Guerrero on May 4th.
Guerrero should perhaps take some time off from all the marketing of the fight, and try to spent a little more time working on his speed and power, because he's going to need both of those for him to pull off the upset. Of course, it doesn't hurt for him to try and make this as big a fight as possible because it may be his last time he gets to the big stage. If Guerrero loses badly, it's difficult to imagine him getting a crack at Mayweather ever again.