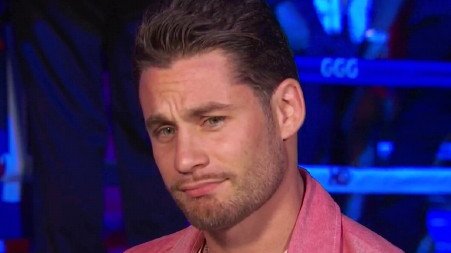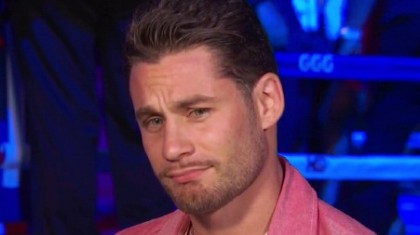 Trainer Robert Garcia really likes what he sees in WBO light welterweight champion Chris Algieri (20-0, 8 KOs) in terms of the talent he has. Garcia doesn't train Algieri, but he's seen him sparring his fighters and he became a fan of his after that.
Algieri will be facing Freddie Roach trained WBO welterweight champion Manny Pacquiao (56-5-2, 38 KOs) on November 22nd in Macao, China. Pacquiao will be giving away 3 ½ inches in height against the 5'10" Algieri and close to 6 inches in reach.
It's definitely going to be difficult for Pacquiao to put hands on the tall fighter, and might see a possible upset if Algieri is able to keep Pacquiao bottled up on the outside.
Garcia doesn't say whether he thinks Algieri will beat Pacquiao or not, but you'd have to believe that he's giving him a good chance of defeating him.
Pacquiao is 35 now and not the fighter he once was. He's won his last two fights against his promoter Bob Arum's Top Rank stable fighters Brandon Rios and Tim Bradley, but he hasn't beaten anyone really good for many years.
"He (Algieri) is unbelievably talented, strong and fast," said Garcia to esnewsreporting.com. "He's not the same as he was four years ago but four years ago he was just above limits. Right now he's still great, he's still fast."
Garcia knows what Algieri brings to the table in this fight, and he no doubt saw how Pacquiao was blasted out by Juan Manuel Marquez in the 6th round in 2012. Arum had to pull Pacquiao back from facing top opposition after that fight by matching him against Rios after Pacquiao was out of the ring for nearly a year.
In Pacquiao's fight against Bradley last April, Bradley decided not to box him. Instead of boxing Pacquiao, which had given Bradley a win in their previous fight in 2012, Bradley stood in front of Pacquiao and punched it out with him for 12 rounds. By choosing to slug with Pacquiao, Bradley gave away his only chance of winning the fight. It was an insane move by Bradley to fight that way, because he already saw in his win over Pacquiao in December that Pacquiao can't handle movement and can't cut off the ring.
If Algieri chooses to hit and move the way that Bradley did in 2012, then you've got to give Algieri an excellent chance of beating Pacquiao in this fight. Arum might end up being very sorry he picked Algieri for this fight because he could make Pacquiao look like an old man in November 22nd.