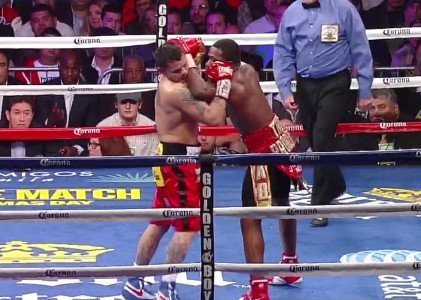 Former three division world champion Adrien Broner (28-1, 22 KOs) doesn't see either Amir Khan or IBF welterweight champion Kell Brook as being able to beat him. Broner feels he beat both of them if he shared the same ring with them.
When asked by esnewsreporting who would win between Khan and Brooks, Broner said "I don't give an [expletive], neither of them could beat me."
Khan and Brooks are in the welterweight division; whereas Broner fights at 140. Broner is currently on a different path than those guys because he's already captured a world title at 147, and he's now looking to win a world title at 140. After that, Broner wants to unify all the light welterweight belts before he decides what his next move is.
Khan has problems taking head shots from guys that can punch. Broner is an excellent puncher and he would definitely give Khan a lot of problems if a fight between them were made.
Broner brings up a good point. Khan and Brook both are flawed in their own way, and they would definitely struggle against a fighter like him. We saw how Brook was exposed by former Shawn Porter last Saturday night as having no skills to fight on the inside. Brook had to hold often in order to distinguish Porter's offense.
It was a good thing for Brook that the referee allowed him to hold so frequently because if he hadn't been allowed to hold, he'd have had to fight Porter on the inside and he would have taken a lot more shots to the head and body.
Brook was clinching 6-10 times per round. If you subtract those clinches and assume that Porter would have hit Brook at least 7-10 times for every clinch that was taken away, he'd have landed close to 100 additional punches in the fight. I believe that could have changed the outcome of the fight in a big way.
Broner will be fighting on September 6th against the always tough Emmanuel Taylor (18-2, 12 KO) at the U.S Bank Arena in Cincinnati, Ohio. This is a showcase fight for Broner to get him ready to challenge for a world title at 140.