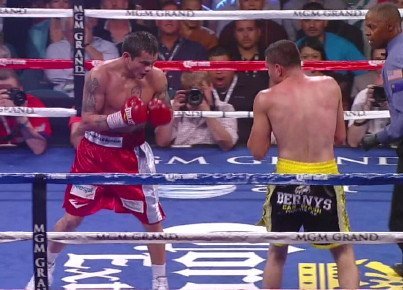 Brandon Rios is picking #2 WBA to defeat WBA welterweight champion Adrien Broner (27-0, 22 KO's) in their pay-per-view fight on Showtime on December 14th at the MGM Grand, Grand Garden Arena, in Las Vegas, Nevada, USA. Rios thinks that Broner isn't unhittable like Floyd Mayweather Jr., and he likes the power that Maidana has after sparring 10 rounds with him. Rios says the sparring with Maidana was pretty brutal.
Rios told esnewsreporting.com "I think it's going to be a tough fight, but I think he [Maidana] can pull it off. Broner showed [against Paulie Malignaggi] that he can be hit. He's not like Mayweather. When Maidana cracks, he cracks hard."
It's going to be a whole different experience for Broner to be facing a slugger like Maidana because he's never faced anyone with that kind of power before during his career. The closest thing that Broner has come to in facing a slugger like Maidana was against super featherweight Daniel Ponce De Leon two years ago in 2011. Broner won the fight by a controversial 10 round unanimous decision, but Broner really struggled in that bout.
De Leon kept pressuring Broner and nailing him with big shots, and it had Broner looked pretty worried. Against Maidana, Broner will be facing a bigger fighter with more power and with an equally aggressive fighting style. Broner will need to be able to use his legs more in this fight than he did in his other fights.
Last June, Broner fought like his feet were stuck in glue against Paulie Malignaggi. Broner stood in one place and would lean backwards to try and keep from getting hit, and it didn't prevent Malignaggi from nailing him with shots. Maidana will be able to do a lot of the same things that Malignaggi did but with more power behind his punches.
Broner can always take a page out of Devon Alexander's play book by choosing to clinch Maidana 10 times per round to keep him from getting his shots off. Alexander worked Maidana perfectly landing 1 or 2 punches and then grabbing him immediately. Alexander was fortunate that the referee working the fight Steve Smoger allowed Alexander to clinch Maidana all night long without taking points away. Some referees would have taken away a lot of points from Alexander for the clinching he did against Maidana. Broner might want to think about trying to clinch if he starts taking a beating from Maidana because it might be the only way he can win the fight. If things start looking bleak for Broner, he might have to pull out the clinching strategy from his toolbox to use against Maidana to get the victory.