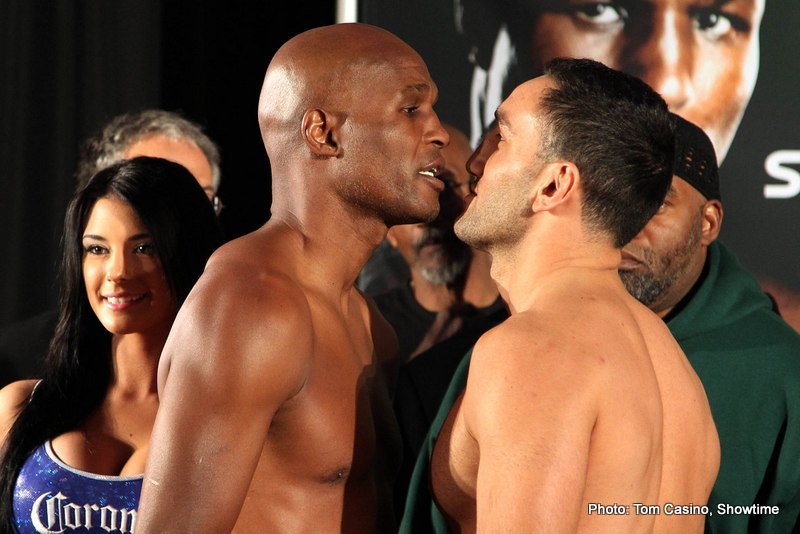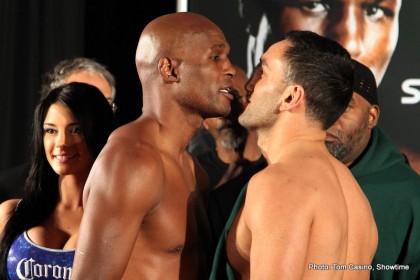 #2 IBF contender Karo Murat (25-1-1, 15 KO's) isn't beating around the bushes for what he plans on doing against the soon to be 49-year-old Bernard "The Alien" Hopkins (53-6-2, 32 KO's) in their fight this Saturday night at the Boardwalk Hall, in Atlantic City, New Jersey, USA.
Hopkins will be making the first defense of his IBF light heavyweight title.
Murat wants to send Hopkins into a retirement that he won't come back from. Murat feels that Hopkins time has passed and he's going to be the one that puts him out of his misery.
Murat said this about his fight with Hopkins via Fightnews "I am here to end Bernard's career. He is an old man and needs to stop now."
Murat is a big underdog in this fight. So if he does pull off an upset, he'll really shake up a lot of people because Murat is seen as little more than just the latest sacrificial lamb for Hopkins to slaughter. There's nothing in Murat's past that suggests that he'll be the one that sends Hopkins to the old folk's home, but it's possible.
Hopkins is about to turn 49 in January, and when you get that old anything can happen. For Murat to have a chance of winning the fight he's going to have to put a great deal of pressure on Hopkins by staying in his face for 12 rounds the way that Joe Calzaghe did when he beat Hopkins in 2008.
Hopkins used to be able to throw a lot of punches when he was a younger fighter, now that he's nearing 50, he throws around 20 punches per round and he's definitely beatable if you outwork him. Murat isn't the fastest light heavyweight or the tallest that you'll ever see at 5'10", but he is capable of throwing a lot of punches. We saw that in his fights against Sandro Siproshvili, Gabriel Campillo and Nathan Cleverly.
The problem that Murat has is his lack of defense. He gets hit flush too often and his nose tends to puff up when he gets hit a lot. Hopkins has already said that he wants to aim his shots at Murat's prominent nose to inflict damage. Hopkins isn't a huge puncher, so it's possible that Murat will be able to make it through the full 12 rounds if Hopkins is only going to throw his customary 20 punches per round.
Murat will need to prepare for a lot of clinching in this fight because there's a possibility that Hopkins will grab a lot of Murat throws a lot of shots. Hopkins likes to slow the pace of his fights down to a crawl in order to save energy. He's an older fighter and he absolutely needs the fight pace to be slow in order for him to have a chance to win.
If Murat is able to keep punching while Hopkins is grabbing him then he could make things very difficult for Hopkins. One thing that Murat has going for him in this fight is that he's an excellent inside fighter and a superb body puncher. If he can keep throwing shots while Hopkins is holding him, he could then wear him down and possibly get the decision.