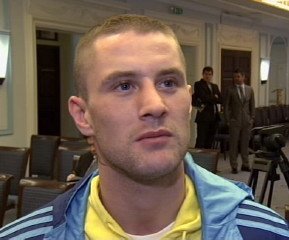 By Michael Collins: WBO lightweight champion Ricky Burns (35-2, 10 KO's) won't be back in the ring on January 26th as previously scheduled, according to his manager Alex Morrison. Burns wants to rest up a little more and then come back in February or March, according to the BBC.
Burns still doesn't have an opponent in mind for his next fight, but we do know it won't be WBC lightweight champion Adrien Broner, as Burns turned that fight down for some reason. Boxing fans really want to see Burns fight Broner, but Burns isn't ready yet.
Broner has his own theory for why Burns isn't interested in fighting him, saying to Fighthype.com "He don't want to fight me…He's trying to milk the game. He knows after he fights me, he's not going to be s***."
Burns might as well fight Broner because it's not as if he has anyone else to fight in the division. Burns already beat Kevin Mitchell, and after Broner destroys Gavin Rees next month in their fight on February 16th, Rees won't be a good option for him either.
A fight against Liam Walsh won't be a big deal, so there's really no one for Burns to fight other than Broner if he wants to get a big fight. I'd like to see how Burns would do against Broner but getting him to agree to take the fight might be difficult.
Burns would likely get badly beaten by Broner if that fight were to be made, but there's no shame in him being beaten by a talent like Broner because this guy is considered to be the best in the division. I know some of Burns' fans think he's the best fighter at 135, but I think they're in the extreme minority.
Broner is arguably a couple levels above Burns in the talent department right now, and you can make a pretty argument that Burns wouldn't even get past some of Broner's victims in Daniel Ponce De Leon, Jason Litzau and Antonio DeMarco.