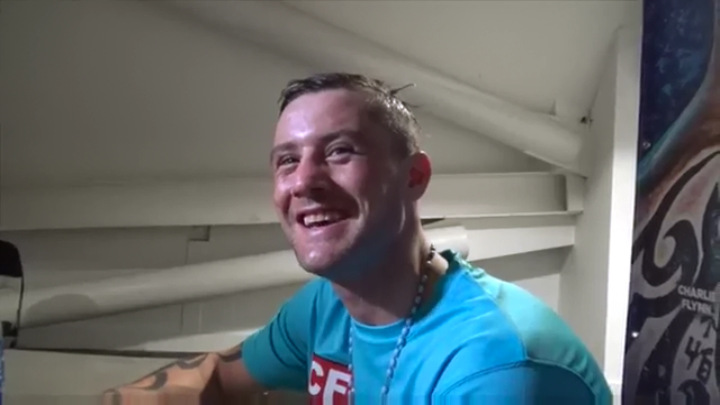 Scottish hero and reigning WBA 140-pound champ Ricky Burns has had his name mentioned as a possible Manny Pacquiao foe, what with the superstar Filipino set to embark on a "world tour" (with Australia's Jeff Horn Pac-Man's probable next challenger).
Obviously, such a fight would be massive, a real dream come true for Burns, 41-5-1(14), even more so if it took place in the UK. But first, according to STV News, 33-year-old Burns will face recently crowned IBF 140-pound champ Julius Indongo, probably on April 8, in a big unification clash.
Indongo, unbeaten at 21-0(11) shocked Russia's previously unbeaten Eduard Troyanovsky to stunning first round defeat to grab the belt back on December 3. Burns will face a very dangerous southpaw in April – the bout likely for the Hydro in Glasgow. Burns, though, has never ducked a big fight or a challenge and the Coatbridge warrior wanted a big fight with Adrien Broner; only for that fight to fall through (again).
But if Burns can get past Namibia's Indongo and become a two-belt champion, that big, big fight – either against Pac-Man or someone else – could come. Recently, Freddie Roach said he liked the idea of a Pacquiao-Burns fight, a match-up the legendary trainer said would result in an exciting fight.
"Ricky Burns is coming to the table now," Roach told Fight Hub. "I don't know the Australian guy but I know Ricky Burns and it's a very competitive fight. We'd go on a road trip to fight these guys overseas. I have no problem with either guy to be honest with you."
But will Burns – a fighter many people seemed quick to write off back when he was losing back-to-back against Terence Crawford and Dejan Zlatican – have problems with Indongo? The upcoming fight could be a great one and it could certainly go either way. How much has Burns got left? Even though the Scot is the same age as Indongo, he has had some tough and at times punishing career already; his last fight, against unbeaten puncher Kiryl Relikh in October being another war.
Still, Burns has won his last four fights – including the career-reviving title win over Michele Di Rocco last May – and he is far from finished.