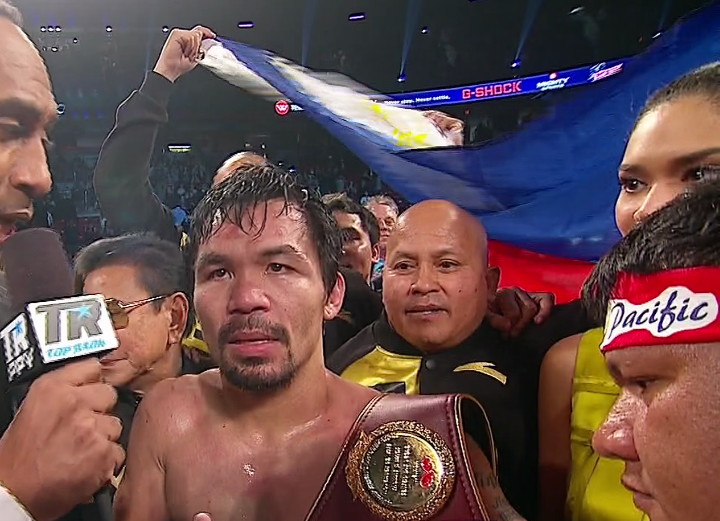 Manny Pacquiao has a new plan of action regarding the upcoming continuation of his Hall of Fame career. At least his promoter Bob Arum does. As fight fans may recall, Pac-Man was originally supposed to fight Australian puncher Jeff Horn in Australia in April. That fell through, as Pacquiao opted instead to face Britain's Amir Khan in a huge money spinner in the UAE in May. That also fell through (at least the big money that was supposedly on the table fell through; leaving Khan, who said the funds "were in place" angry and without a fight).
Having had no luck with reviving the Horn fight after the Khan fight collapsed, Arum yesterday revealed to the Los Angeles Times that the new plan is for Pacquiao to box in July – against a TBA (Arum declining to go into any more detail other than that the fight will likely take place outside of the US) – and then again in November.
Arum said that Khan remains a possibility for the November date, as do Terence Crawford (who will next face Felix Diaz on May 20, Arum has confirmed) and bad boy Adrien Broner. It's interesting, or perhaps strange, that Arum has three names in mind for the further away November fight but none as of yet for the nearer July fight.
Pac-Man against either of the three November names would likely excite fans; Pacquiao-Crawford especially. This fight, a huge risk for the ageing yet still fantastic Pacquiao, could easily be seen as a 50/50 match-up, while some would list the unbeaten and peaking Crawford as the favourite. I don't know about you, but I'd like to see Pacquiao fight Broner. Talk about a genuine Good Guy Vs. Bad Guy confrontation!
As for Khan, he is talking now about having a tune-up type fight in April or May, but he of course still wants that shot at Pacquiao. Just who might Manny fight in July? With four months or so to go, there is no immediate panic, but you'd have thought Arum would at least have a name or two in mind.