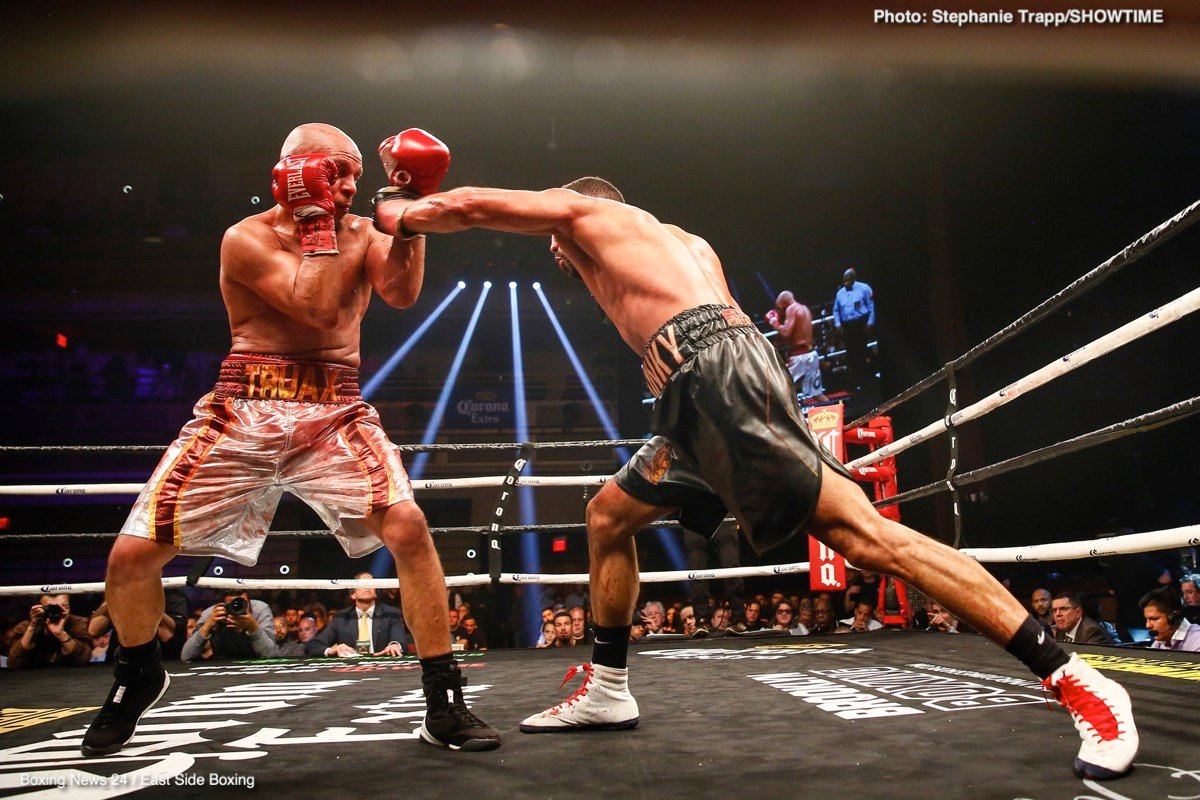 The badly shopworn James "Chunky" DeGale (24-2-1, 14 KOs) showed that he still has a little left of his old boxing skills in spoiling his way to a 12 round unanimous decision win over Caleb Truax (29-4-2, 18 KOs) on Saturday night to regain his IBF 168 lb. title at the Hard Rock Hotel in Las Vegas, Nevada. The scores were 117-110, 114-113, and 114-113. The 117-110 score by judge John McKaie was out of place with the fight that took place tonight. The fight was hard to score but it was not a wide win for DeGale. At best, DeGale won the fight by 1 round. At worst, he could have lost by a couple rounds.
DeGale lowering his head and charging Truax in the first three rounds. That tactic led to DeGale suffering a bad cut over his left eye in the 3rd. DeGale stopped using his Billy Goat style of fighting at that point and began to hold excessively in each round. The referee failed to give DeGale warnings for his holding, so he choose to keep it up for the entire fight. Unfortunately, the holding by DeGale made it difficult for him or Traux to throw more than a handful of punches in each round.
From rounds 3 to 12, DeGale would try and land a single shot and then immediately tie Truax up and wait for the referee to break the action. This pattern would repeat itself in every round. Truax was landing the harder shots when he had time to get his punches off before DeGale grab him in a clinch. Truax didn't have enough time to throw his shots in most cases before DeGale would grab him to tie him up.
DeGale pulled a dirty move in using his shoulder in the 10th, which resulted in the referee Robert Byrd penalizing him 1 point. The referee was played it cool for the most part though. He could have taken points away from DeGale for the excessive holding and the head-butting that he did in the early rounds. The holding from DeGale was clearly his game plan tonight, and did it in every round.
DeGale looked awful tonight. He needs to try and get the biggest money fight while he still can. For DeGale's sake, he needs to fight George Groves and look to get as much money as he can. DeGale looked so bad tonight that he would likely lose to any of the top 15 in the division. Truax looked like a bottom level contender, and that's the only reason DeGale didn't get pummeled.