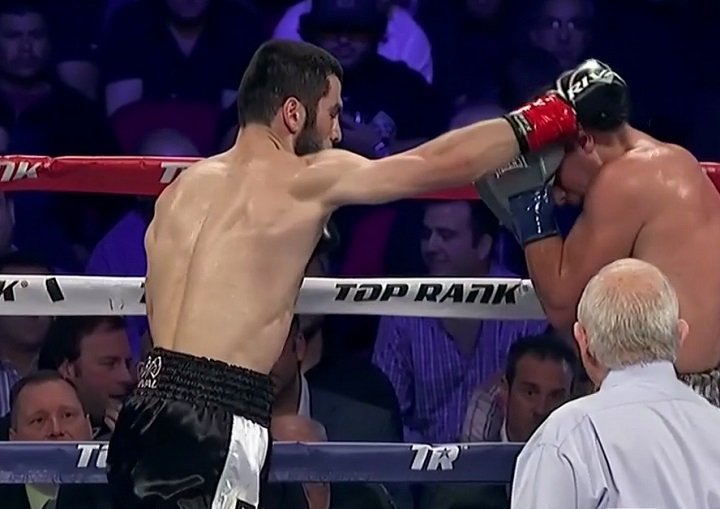 Artur Beterbiev (12-0, 12 KOs) won the vacant IBF light heavyweight title last Saturday night against a reluctant Enrico Koelling (23-2, 6 KOs) by a late 12th round knockout in front of a large crowd of booing boxing fans at the Save Mart Center in Fresno, California.
Beterbiev, 32, knocked Koelling down 2 times in round 12 in the last minute. The fight was stopped by referee Lou Murat after the second knockdown. The time of the stoppage was at 2:33 of round 12.
From the earliest moments of the fight, Koelling looked like his intent just to try and survive the full 12 rounds. Koelling wasn't even trying to throw punches. He was covering up, focusing on not getting hit. It didn't make for an interesting fight, and the boxing fans let both fighters know what they thought of them by booing constantly.
In the first knockdown, Beterbiev connected with a 3-punch combination to drop Koelling. A short while later, Beterbiev landed a hard right to the head of Koelling to drop him for the second time in the round. Koelling was trying to clear his head when the referee waived it off.
Beterbiev was fighting for the first time since December of last year, and he looked rusty. It had been 11 months since Beterbiev had seen action in a 1st round blowout of Isidro Ranoni Prieto. That fight was over with so quickly that Beterbiev didn't get much from it. His last fight in which had was able to go some rounds was 2 ½ years ago against Alexander "Woody" Johnson, who he stopped in the 7th round.
With the short fights and the 11 months of inactivity, Beterbiev was not the same sharp fighter we'd seem from him in the past when he was looking impressive in stopping guys like Gabriel Campillo and Tavoris Cloud. Beterbiev was not explosive tonight like he'd been in those fights. He seemed to be pushing his punches without any snap on his shots or speed.
Beterbiev's punches were extremely slow, and that seemed to take the power off of them. It didn't help though that Beterbiev wasn't throwing combinations. He was landing a lot of single shots. When Beterbiev did throw combinations to the head of Koelling, it was generally left-right combos. Koelling obviously had an easy time predicting what Beterbiev would throw at him, and brace for the shots.
In many of the rounds, Beterbiev smothered his own work by standing too close to Koelling and not being able to get leverage on his punches. It didn't look like Beterbiev was loading up with his shots. He was just making contact, and the crowd hated what they were seeing. They wanted to see Beterbiev and Koelling put it on the line, and neither of them were willing to.
Beterbiev's slow glacial approach to breaking down Koelling wasn't appreciated by the fans. They wanted to see Beterbiev and Koelling light off fireworks inside the ring, and they didn't appreciate the technical boxing that they were forced to witness between the two fighters. The fans had largely come to see the unbeaten light welterweight Jose Ramirez face Mike Reed. Ramirez is a 2012 Olympian with all-action fighting style.
In the future, Beterbiev's management needs to make sure they put him in the main event in cards where he's the main attraction. It was always going to be bad having Beterbiev fight on the same card as a popular fighter like Jose Ramirez. Beterbiev could have made things easier on himself if he'd opened up with his artillarly earlier in the fight before the fans started to get restless. Beterbiev waited until the 12th round to start putting his punches together in sustained combinations. By that point in the fight, the boxing fans were angry and having to sit through a tedious fight with little action.
The way that Beterbiev looked tonight against Koelling, I have doubts whether he's going to be able to hold onto his title for long. Oleksandr Gvozdyk was in the crowd, and he's the highest rated contender in the IBF's rankings. Gvozdyk has better hand speed than Beterbiev, and his power is quite good. I don't know if Gvozdyk hits as hard as Beterbiev, but his speed is better. He might be able to out-box him.
Beterbiev will have problems beating these fighters at 175:
• Adonis Stevenson
• Sullivan Barrera
• Dmitry Bivol
• Adonis Stevenson
• Sergey Kovalev
• Marcus Browne
• Joe Smith Jr.
• Oleksandr Gvozdyk
• Eleider Alvarez
• Badou Jack
This might be a very short reign for Beterbiev if he fights any of the fighters from the above list in his next fight. Beterbiev's promoter would do well to put him in with a bottom ranked contender for his first defense so that he gets another fight under his belt before he takes on the big dogs in the division lie Gvozdyk. Right now, I don't think Beterbiev is ready for Gvozdyk or other guys like Badou Jack, Bivol or Barrera. Even Marcus Browne looks like he would be too much for Beterbiev. Browne hits just as hard, but he's faster and he throws combinations.